Building Info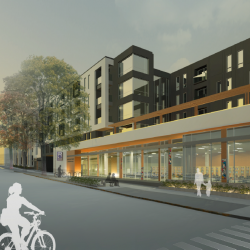 Address

:

1900-1910 E. North Ave.

Taxkeys

:

Architect

:

Engberg Anderson - Mark Ernest

Status

:

Assessment

:

$11,930,000 (2015)

Year Built

:
The Standard at East Library is HSI Properites, LLC's 99-unit mixed-use building which opened during the summer of 2014 on Milwaukee's East Side. The former East Library, at 2340 N. Cramer St., was demolished to allow for the mixed-use building to be built on the site.
The building contains a new 16,000 square-foot East branch of the Milwaukee Public Library system.
Photos
Show All
Press Releases Referencing The Standard at East Library