Press Release
Prominent Wisconsin Architecture Firm Announces Leadership Transition Plan, New Seattle Office
The 25 member firm has added five new equity partners.
Milwaukee, May, 22, 2017 – The Kubala Washatko Architects, Inc. (TKWA) is pleased to announce the unfolding of an exciting new phase in the firm's development. Co-founded in 1980 by Tom Kubala and Allen Washatko, the 25 member firm has added five new equity partners, the first step of a multi-year leadership transition plan. The newly established partners will form a management team in collaboration with the firm's co-founders, Tom Kubala and Allen Washatko. Both Tom Kubala and Allen Washatko will remain actively involved in day-to-day operations of the firm.
A New Generation of Leadership
The new ownership team is drawn exclusively from within TKWA's existing core staff, reflecting a commitment to maintaining the firm's breadth of practice and its Wholeness-based design philosophy. The five new TKWA equity partners include (alphabetically): Ethan Bartos, Matt Frydach, Erik Hancock, Vince Micha, and Chris Socha. Firm management and governance will be shared among the partners, in collaboration with Co-Founders Tom Kubala and Allen Washatko.
Innovation and Thought Leadership
The Kubala Washatko Architects will seek to further expand its influence and thought leadership through built work, advocacy, and research. TKWA embraces a design philosophy of Wholeness, where the built environment supports and enhances both human activity and natural living systems. The idea of placemaking is a natural extension of wholeness-based thinking and is integrated into every studio project.
TKWA was founded over three decades ago with the idea that buildings should be humane and beautiful places. The firm's commitment to fostering a culture of collaboration, meticulous design, humility, and reverence for the natural world is reflected in its many completed projects and awards, including the following:
TKWA has been the recipient of two national American Institute of Architects COTE Top Ten Green Projects Awards, one of only a few firms in the country recognized with multiple awards (2007 – Leopold Legacy Center; 2011- First Unitarian Society Meeting House Addition).
In 2011 TKWA received the national 'Wright Spirit' Award from the Frank Lloyd Wright Building Conservancy for its design of a highly sustainable addition to the Frank Lloyd Wight National Historic Landmark First Unitarian Society Meeting House Addition in Madison, Wisconsin.
TKWA received the 2016 Historic Preservation Award from the Wisconsin Historical Society for the adaptive re-use of a former candy factory warehouse into an upscale boutique hotel, The Charmant, in La Crosse, Wisconsin.
Prominent Milwaukee-area TKWA projects include the Milwaukee Public Market, Iron Horse Hotel, Schlitz Audubon Nature Center, Urban Ecology Center, BRIX Apartments, Dohmen Corporate Headquarters, Harley-Davidson Corporate Headquarters, numerous Colectivo cafes, the UWMilwaukee Golda Meier Learning Commons and varied projects for Marquette University.
Incremental Growth. Graceful Becoming
The TKWA approach to design traces its roots to the work of architect and philosopher, Christopher Alexander. In his book, The Oregon Experiment, Alexander writes: "We come now to the idea of piecemeal growth. By this we mean growth that goes forward in small steps, where each project spreads out and adapts itself to the twists and turns of function and site."
This belief in the wisdom of incremental growth applies not only to the actual work of architectural planning and design, but equally to the evolution our business practice as a firm. In particular, as a leadership transition plan was formulated the decision was made to allow the transition to occur gradually over time, rather than all at once.
New Satellite Office: TKWA PacificStudio
TKWA also announced formation of a new satellite office in Seattle, Washington, to be called TKWA PacificStudio. Led by Ethan Bartos, TKWA PacificStudio will focus on current TKWA education projects ongoing in China and the Pacific Rim, as well as commercial and residential projects on the West Coast. TKWA most recently completed the Zhongguancun No. 3 Elementary School in Beijing, which provides an innovative project-based and collaborative learning environment for approximately 2400 students within a highly sustainable urban campus. By incorporating approaches popular in many American school systems, Allen Washatko, TKWA Co-Founder, stated the school is seeking to become "…a model for education reform" in China.
TKWA UrbanLab: Stewards, Advocates, and Creators of a Vibrant Urban Realm
The new leadership team was instrumental in the recent formation of TKWA UrbanLab, a new venture focused on supporting ongoing community efforts in making downtown Milwaukee a more vibrant urban center. Creating a new physical presence in the City, located on S. 5th Street in the Walker's Point neighborhood, will allow TKWA to provide an active voice in shaping the future of Milwaukee at a time of dynamic change and growth in the downtown. TKWA UrbanLab will be led by Chris Socha.
TKWA design services include urban design and master planning, architecture, interior design, historic preservation/adaptive re-use, interpretive planning, and sustainability certification. Representative project types include cultural creative communities, multi-use living environments, museums, nature and cultural/interpretive centers, hospitality and recreation venues, urban farm facilities, learning environments, maker/manufacturing spaces, performing arts centers, offices, libraries, and religious institutions. TKWA projects are located throughout the United States, Costa Rica, China, Japan, India, and Belgium.
• Additional information about TKWA and UrbanLab: www.tkwa.com.
Designs by The Kubala Washatko Architects, Inc.
Mentioned in This Press Release
Recent Press Releases by The Kubala Washatko Architects, Inc.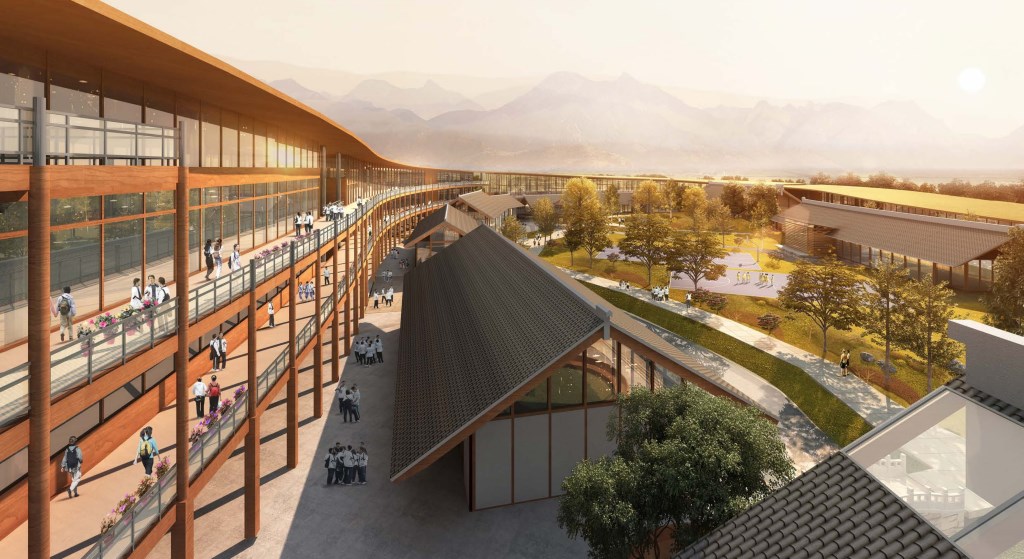 Apr 2nd, 2018 by The Kubala Washatko Architects, Inc.
TKWA's selection to design the new Xiang Lake Academy follows successful completion in 2015 of the TKWA-designed Zhongguancun No. 3 Elementary School.