Press Release
North Point Lighthouse to host the Light Keeper's Art Show and Sale, June 23.
Art Show and Sale will feature over 100 pieces in various mediums including watercolor, photography and jewelry.
Milwaukee, WI, June 5, 2017 – The North Point Lighthouse is pleased to present a group art exhibition and sale featuring the works of Julia Taylor and five local artists. The "Light Keeper's Art Show and Sale" will be held on Friday, June 23, 2017 from 5-9:00 p.m. at the lighthouse and will show over 100 pieces in various mediums including watercolor, photography and jewelry.
Six artists, their professional affiliations and their mediums to be featured in the show include:
A common thread connecting these talented artists is that each is a friend of Julia Taylor. They have come together for the first time in this collaborative fundraiser to support the mission of the lighthouse, which is near and dear to Julia's heart. A longtime East Side resident, Julia often walks her dog around the lighthouse and Lake Park, photographing the area for inspiration for her art.
"I am thrilled to have my work included among these five wonderful artists," said Taylor, president of the Greater Milwaukee Committee. "The show will offer a variety of art forms from talented artists who turn their unique perspectives into something special."
The artists will be present at the art show and their biographies are attached with this press release.
The event will be catered pro bono by Pastiche at Hotel Metro. Owner-chef Rachel Karr, inspired by this special fundraising event, will create complimentary signature champagne cocktail for the occasion.
The show will also feature a silent auction including a wine-pairing dinner for eight at Pastiche at The Metro and a cocktail party for 30 at North Point Lighthouse.
Admission is $10 per person and tickets can be purchased online at the lighthouse website, northpointlighthouse.org/lightkeepers.  
Sponsors include the lighthouse, Lakefront Brewery and the Mandel Group. A portion of proceeds from The "Light Keeper's Art Show and Sale" will benefit the North Point Lighthouse.
About North Point Lighthouse
The North Point Lighthouse and Museum, located at 2650 N. Wahl Avenue within Lake Park, is a historic, maritime treasure. Each year, thousands of people from the surrounding community, region and around the world visit the lighthouse to experience its beauty, history and charm. The beautifully restored 1888 lighthouse tower and keepers quarters are open to the public every Saturday and Sunday from 1-4 pm throughout the year. The lighthouse has been preserved and restored through the efforts of the North Point Lighthouse Friends, Inc., formed in 2002. The museum has been open to the public for tours and visits since the completion of restoration in the fall of 2007. The mission of the North Point Lighthouse Friends, Inc. is to preserve the North Point Light Station, to inspire appreciation of its importance in Wisconsin maritime history, and to promote its use consistent with the character of Lake Park and the surrounding neighborhood.
Visit northpointlighthouse.org to learn more about the lighthouse.
Light Keeper's Art Show: Artist Biographies
Julia Taylor grew up in a small farming community in Indiana and learned to draw early in life.  She earned spending money by sketching portraits at county fairs and illustrations in weekly papers. In college, her small stained glass business, The Vitreous Works, paid the rent every month. Graduating with an art minor in the middle of an economic crisis, she left her art behind for many years. Photography became a real passion. She worked with many mediums over the years from soldering, stained glass, welding, acrylic, pastels and always pencil sketching. It's funny how she shied away from watercolor over the years because she thought it too difficult. In 2014, taking an afternoon watercolor class with a friend while on vacation created an affinity for the flow, the color and the glorious accidents of the water, the paint and the paper.   http://juliataylorwatercolor.com | jtaylor@wi.rr.com
Sugarbush Designs is Kathryn Dunn's outlet for creative expressions in jewelry. Using precious, semi-precious stones and pearls, the creations are inspired by palettes and textures of nature. And, on occasion, a whimsical cartoon character or event even inspires a new design. The jewelry is wearable for everyday and special occasions. KDunn@greatermilwaukeefoundation.org
Kristine Hinrichs has a long-standing interest in photography. She has been documenting (primarily) Milwaukee life for six years via her Project 365 Facebook Project, posting at least one photo shot each day. Several local businesses display her work, notably the Pabst Theater in some of their dressing rooms. For the last year she has documented the restoration of the historic gaslight building in the Menomonee Valley. This Eischweiler designed tower and adjacent structure have been converted to City Lights Brewing Co. Her weekly photographs during the construction process provide documentation of the transformation of this historic building.  Thirteen of her photographs were part of the ZIP MKE exhibit. khinrichs@sbcglobal.net
Michael Dillon, Creative director at McDill Design, is a long time resident of the East Side. He works in acrylic and colored pencil, respectively, on watercolor paper. His other interests include food and wine, gardening and French.  mdillon@mcdilldesign.com
Katie Segel is a watercolor artist specializing in dog portraits. She is married to Matt Liban drummer of Milwaukee band Five Card Studs. They have two children and live in Whitefish Bay. katiesegel@yahoo.com | 414-339-8812 | Facebook Katie Segel Watercolors.
May Klisch's journey from the Far East through the Pacific Rim to the American Midwest colors the wash upon which the tapestry of her life is painted.  She has lived, worked and schooled in her native Singapore, Hawaii, San Francisco and Milwaukee in various industries: semiconductors and electronics; zoological gardens; hotels; reinsurance; cable; fashion and beauty; and most recently she has been the operations manager at North Point Lighthouse.  She and her husband, Russ Klisch of Lakefront Brewery, have two daughters.  In addition to a passion for creative writing, cooking, event management, gardening and fiber design, she recently discovered she has a hand for watercolor. She has most recently exhibited and sold her watercolor work at the 2017 MKE Swan Day at the Red Line Studio.  She attributes this development to inspiration by and encouragement from her talented artist friend Julia Taylor, and unconditional support from her husband, daughters, and friends. Her subject matter, drawn mostly from nature, has at once an earthy and ethereal quality, often accompanied by a healthy side of whimsy. Facebook: whimsybymay | email: mayklisch@gmail.com | 414.915.0322
Mentioned in This Press Release
Recent Press Releases by North Point Lighthouse Friends, Inc.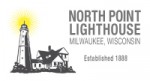 Aug 6th, 2019 by North Point Lighthouse Friends, Inc.
The North Point Lighthouse and Museum, located at 2650 N. Wahl Avenue within historic Lake Park, is a Milwaukee maritime treasure.