Press Release
North Point Lighthouse – August 14, 2019 Lecture from the Surfrider Foundation about protecting our waters and surfing
Sponsored by Landmark Credit Union
About the Lecture
The Surfrider Foundation MKE is about more than just surfing. Eric Gietzen and crew will discuss the Surfrider Foundation's stewardship of the beaches and waterways – the tribal community of people who work together with a common goal of enjoying the water, respecting the environment and what Mother Nature provides for us.
Since 1984 the Surfrider Foundation has been protecting waters across the globe. Surfrider-MKE continues that tradition on our Great Lake. Lake Michigan is a part of the world's largest freshwater ecosystem – our Great Lakes hold 20% of our planet's surface freshwater!  Surfrider-MKE educates on the beach, at inland presentations, and through community-based campaigns.
Surfrider-MKE hosts events throughout the year: sunset surf parties on the beach; gallery nights at local cafes; winter excursions into open water. Join Surfrider-MKE at the Surf @Water event August 23-24, 2019 – sun up to sun down – a celebration of surf, sun, and fun!  Visit milwaukee.surfrider.org for more information.
About the Lecturer
Eric Gietzen is an educator, environmentalist, surfer and chairman of Surfrider-MKE. He grew up in Shorewood, close to Lake Michigan, seeing the crashing waves and listening to the lore about famous shipwrecks.
"When I woke up in the morning, if there would be big waves, I could hear them," he recalls.  He never imagined that as an adult he'd surf on Lake Michigan. The Surfrider-MKE chapter is part of a global Surfrider Foundation network, dedicated to promoting and protecting water resources and beaches with coastal cleanups, community outreach and sometimes legal battles.
"In Milwaukee, our mission has been to get people down to the beach and to show the lake is not just a resource for industry," Gietzen says. "Our mission has been to get people in the water doing something they probably wouldn't normally do. We hope they fall in love with the lake. Anything you fall in love with, you are going to protect. And now, more than ever, we need people to love our Great Lakes."
About the 2019 Lectures at the Lighthouse Series sponsored by Landmark Credit Union
The Lectures at the Lighthouse series runs from January through November and features prominent historians, authors and scholars who discuss various topics and fascinating stories related to Milwaukee and Great Lakes maritime history. Lectures are open to the public and held at the lighthouse museum located at 2650 N. Wahl Avenue in Milwaukee's historic Lake Park. General admission is $10; admission for seniors and students with ID is $5 and North Point Lighthouse members are free. There is no pre-registration for lectures.
About North Point Lighthouse
The North Point Lighthouse and Museum, located at 2650 N. Wahl Avenue within historic Lake Park, is a Milwaukee maritime treasure. Each year, thousands of visitors from the surrounding community, region and around the world experience its beauty, history and charm.
Built in 1888, the lighthouse tower and keepers quarters are open to the public every Saturday and Sunday from 1-4 p.m. throughout the year (except during the Milwaukee Air & Water Show July 27 & 28), plus Thursdays & Fridays from 10 a.m.-2 p.m. until August 30.
Admission fees are $8 per person over 12 years of age; $5 for children 5-11 years old and senior citizens over 65; and free under 5 years. Children must be 5 years old and over 38 inches tall to climb the tower.  Year-round, all active armed service personnel and veterans with ID receive free admission for public tours.
Visitors can experience a maritime museum featuring exhibits, artifacts and stories and climb the 74-ft. tower. The lighthouse is also available to rent for private events and tours. The lighthouse has been preserved and restored as a maritime museum through the efforts of the North Point Lighthouse Friends, Inc. and has been open for public tours, visits and events since 2007. The mission of the North Point Lighthouse Friends, Inc. is to preserve the North Point Light Station, inspire appreciation of its importance in Wisconsin maritime history and promote its use consistent with the character of Lake Park and the surrounding neighborhood.
For admission fees and public hours, visit northpointlighthouse.org
For information about lectures, tours and events, contact Sue Grzeca, 414-332-6754 or keeper@northpointlighthouse.org.
Mentioned in This Press Release
Recent Press Releases by North Point Lighthouse Friends, Inc.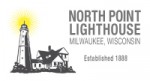 Aug 6th, 2019 by North Point Lighthouse Friends, Inc.
The North Point Lighthouse and Museum, located at 2650 N. Wahl Avenue within historic Lake Park, is a Milwaukee maritime treasure.