Building Info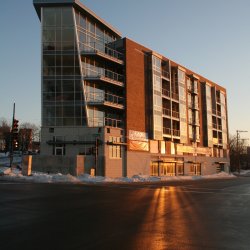 Address

:

1541 N. Jefferson St.

Architect

:

Status

:

Year Built

:
The Flatiron is a mixed-use building in the former Park East Freeway corridor. The building includes residential condominiums, parking, and retail.
The building was developed by Legacy Real Estate Development. The project's general contractor was Altius Building Company. The building received a construction loan from The Private Bank.
The building was completed in December 2007 and features 38 condominiums. The building also includes two retail spaces totaling 2,861 square feet.
In 2014, Alderaan Coffee opened in the corner retail unit of the building. Infinite Vapor, an electronic cigarette store, opened in a side retail stall in August 2014.
Photos
Show All