In Public
Hammes Building An Obvious Mistake
But is it worth fighting to stop it? Nah. Here's why.
//end headline wrapper ?>
Get a daily rundown of the top stories on Urban Milwaukee
Kathleen Klassen  —   "An architectural abomination, it defies all elements of good design."  
Eric S  — "The building looks to me like it is an over-sized suburban bank – like it belongs in a huge (perhaps Brookfield) parking lot."  
MidnightSon —  Belabored. What you find in the suburbs when a developer wants to create context and character that doesn't exist already.
Ben T  — There are many classical-style buildings in downtown, but this type of classicism looks like a cut out from Virginia, New England, or the 1700s. 
Urban Milwaukee commenters got it right in this story and this one. You can't say enough bad things about the proposed Hammes Company headquarters on North Water Street.
It's a "Jeffersonian" flavored building, according to Hammes, apparently meant to represent the developer's political views about the free-market, states rights, and traditional American values. I'm pretty sure Thomas Jefferson (a Francophile, dandy, and slave owner) attributed no such thoughts to his buildings. More than anything else he was a classicist who lined things up. Jefferson loved the harmonies, balance, and order of High Renaissance Italian architecture, particularly Andrea Palladio (1508-1580).
The Hammes headquarters, to the contrary, has none of the virtues of Jefferson's architecture and all the vices of late 20th century suburban development. You know, the sort of daft buildings that are present for only a few seconds out of the corner of your eye at 60 mph on the freeway.
Jefferson was rigorous and kind of minimalist, an ornament-free classicist. Jon Hammes is a maximalist, his building a slapdash affair. I counted nine different window types. Jefferson would maybe use three. It looks like a test to see which kind of window might work.
The scale of the elements is all wrong. There are no volumes. As a consequence, the Jeffersonian flourishes lose their meaning. The octangular dome, modeled after Jefferson's Monticello plantation, belongs on wedding cake rather than a building.
The building has so many different sorts of rectangles thrown together that it doesn't really have a shape. There are no character or core values in place. Nothing holds this building together. Hammes simply skips Palladio's and Jefferson's basic idea. Proportions matter.
It would be out of proportion with itself, if it had a self. The Hammes headquarters is just an amorphous heap of Jeffersonian tchotchkes drizzled on to a bloated box.
Jefferson wanted to be the smartest guy in the room. Hammes headquarters is going to be the dumbest building in Downtown.  Jefferson would be appalled, we all should. We'd all be better off if Hammes applied his Jeffersonian interests to a tee-shirt instead of a building.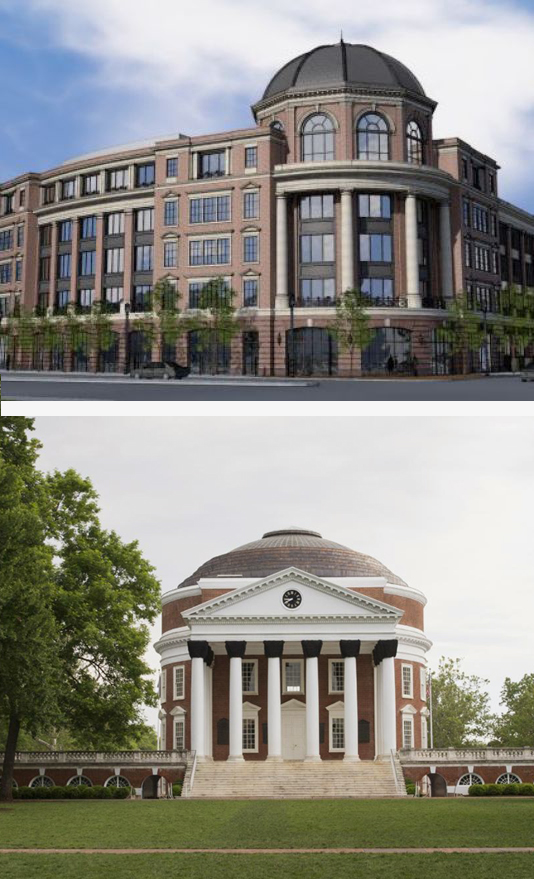 Local architect Ursula Twombly circulated an email and went to the City Plan Commission meeting to stop it. Not likely since the alderman for the area, Nik Kovac, seems to love the Hammes building, calling it a "classic, strong masonry building." The project passed five to one on November 7th, with Whitney Gould (the former architecture critic for the Milwaukee Journal Sentinel) voting against it and has since won the approval of the Common Council's zoning committee. Opponents could ask the full council to oppose it, but that would be an uphill battle.
And I don't think this is a good fight. As Rem Koolhass has noted, the great things about cities is no one is in charge. Not Hammes, Kovac, a city committee, or anyone else. There are a lot of good buildings in downtown Milwaukee and this one will, by contrast, make that all the clearer. In America we all get to learn from the mistakes rich people make in public.
Downtowns used to be where the future hung out. That was especially true when men wore hats and suits in Milwaukee, and American industry powered the nation through two world wars, when the future was bright and buildings looked forward rather than back.
And today, well… Such a deeply pessimistic building as this one will not last like the many older buildings in Milwaukee that looked to the future instead of the past. The Hammes Headquarters will not stand the test of time because it is not of its time.
Displaying political contributions between people mentioned in this story. Learn more.
In Public