Press Release
In inaugural address, Marquette's Lovell maps out future priorities, vision
President Michael R. Lovell was officially inaugurated today as Marquette University's 24th president.
MILWAUKEE – President Michael R. Lovell was officially inaugurated today as Marquette University's 24th and first lay president at the Al McGuire Center. He told Marquette community members and university delegates from across the country, "I feel so humbled to be named the 24th president of Marquette University."
After thanking family, friends and the Marquette community, President Lovell announced a series of new university initiatives that aim to propel Marquette forward and further position it as a leader in Milwaukee and beyond.
Future multimillion-dollar Center for Advancement of the Humanities
In his largest major gift announcement since arriving at Marquette, President Lovell announced a planned gift to create a future Center for Advancement of the Humanities. The news comes after President Lovell this week received a multimillion-dollar legacy commitment from an anonymous Marquette alumna and renowned research scholar. The center will bring top scholars in the humanities from around the world to Marquette to establish the university as the leading humanities institution in the Midwest.
"Even though I'm an engineer, I have a great passion and value for the liberal arts and humanities," he said.
Upon receiving the legacy commitment earlier this week, President Lovell said, "Most importantly, I am fully committed to deepening and enriching the study of the humanities in the Jesuit tradition. With the foundation provided by this commitment, we will become a beacon for scholars both nationally and internationally to teach, research and exchange ideas alongside our talented students and highly respected faculty."
$5 million strategic innovation fund
President Lovell unveiled a new strategic innovation fund, which will start with $5 million to invest in innovative ideas and entrepreneurial initiatives that align with the priorities of the university's strategic plan, Beyond Boundaries. Similar to a venture capital fund, the strategic innovation fund will provide seed funds to students, faculty and staff to explore entrepreneurial ventures. University leadership designated $2 million in its budget, and President Lovell raised an additional $3 million for the fund in just his first two months as president.
Noting that innovation is in every corner of campus, President Lovell said, "I saw how many great ideas were waiting to take hold in this community." He noted that the fund was made possible through the generous support of many friends who share Marquette's vision, particularly the Kern Family Foundation, and Donna O'Rourke and her late husband and long-time Marquette trustee Jerry.
In addition to providing seed money, Marquette will invest a portion of the funds to develop a university-wide infrastructure for interdisciplinary initiatives, as well as support discipline-specific innovation and entrepreneurship education across campus. The university also plans to develop a dedicated innovation space on campus to provide a collaborative environment, technology and faculty support.
Proposals from faculty, staff and students will be reviewed in spring 2015, with funding beginning July 1, 2015. President Lovell has championed innovation and entrepreneurship as a key priority for Marquette, as well as southeast Wisconsin. In late August, he hosted an academic summit of presidents and senior academic leaders from 20 colleges and universities across the region to foster collaboration around student innovation and entrepreneurship. The summit resulted in a new initiative called The Commons, which will bring together students and support them in pursuing ideas for start-up companies and projects that help existing companies innovate.
Forging new regional partnerships
President Lovell also announced that Marquette will expand its role in the growing water sector and have a significant presence in the Global Water Center on Freshwater Way in the Fifth Ward. The Global Water Center, which opened in September 2013 and features a 100,000-square-foot, seven-story building, is located in Milwaukee's Walker's Point neighborhood. It houses water-related research facilities for universities, existing water-related companies and accelerator space for new, emerging water-related companies.
"This will allow our faculty, staff and students unprecedented opportunities to develop water technologies that will change the world," President Lovell said. He's previously shared his desire for Marquette University to use its talents and resources to help make Milwaukee a destination for solving the world's water problems.
Later in his address, President Lovell revealed that the university is exploring options for a presence at Innovation Campus, a 71-acre public-private research park in Wauwatosa, Wis., that opened in spring 2014.
President Lovell, who has been lauded for his emphasis on collaboration, shared that Dr. Kristina Ropella, interim Opus Dean of the Opus College of Engineering, will launch a joint bioengineering department with the Medical College of Wisconsin.
When he first arrived on campus, President Lovell said, "I'm going to be in a unique position to create academic partnerships that no one else has even thought of before because I know the academic institutions so well." The university plans to hold a campus-wide discussion to take place Oct. 2 for Marquette faculty and staff to further define its role in both initiatives.
Neighborhood collaboration on safety
President Lovell emphasized the importance of campus safety, saying, "Safety has been at the front of all of our minds."
He described the need for transformational changes in the Avenues West neighborhood in the near west side of Milwaukee and shared that he and Harley-Davidson CEO Keith Wandell are partnering to establish a new safety initiative that will include all of the neighborhood anchor institutions.
"The real solution to solving safety on this campus is developing a neighborhood that can be a destination where people want to live and work," he said.
Marquette purchases seven acres of property
Near the completion of his inaugural address, President Lovell announced that Marquette has purchased approximately seven acres of land adjacent to its eastern edge of campus in the 800 block of West Michigan Street, just south of Straz Tower.
President Lovell called the agreement a "once-in-a-lifetime opportunity" for Marquette and the city. The new property will allow Marquette to enhance the student experience and expand its footprint to the east. In comparison, three city blocks encompasses approximately seven acres. "We look forward to working with the campus community in the coming months to develop the best uses for the land," he said.
In his closing remarks, President Lovell said, "Clearly it is a new day for Marquette University. My commitment is to relentlessly pursue excellence and success so this university truly will be the difference. In the spirit of James Foley, we are going to focus on creating future citizens – men and women – who live their lives for others."
Mentioned in This Press Release
Recent Press Releases by Marquette University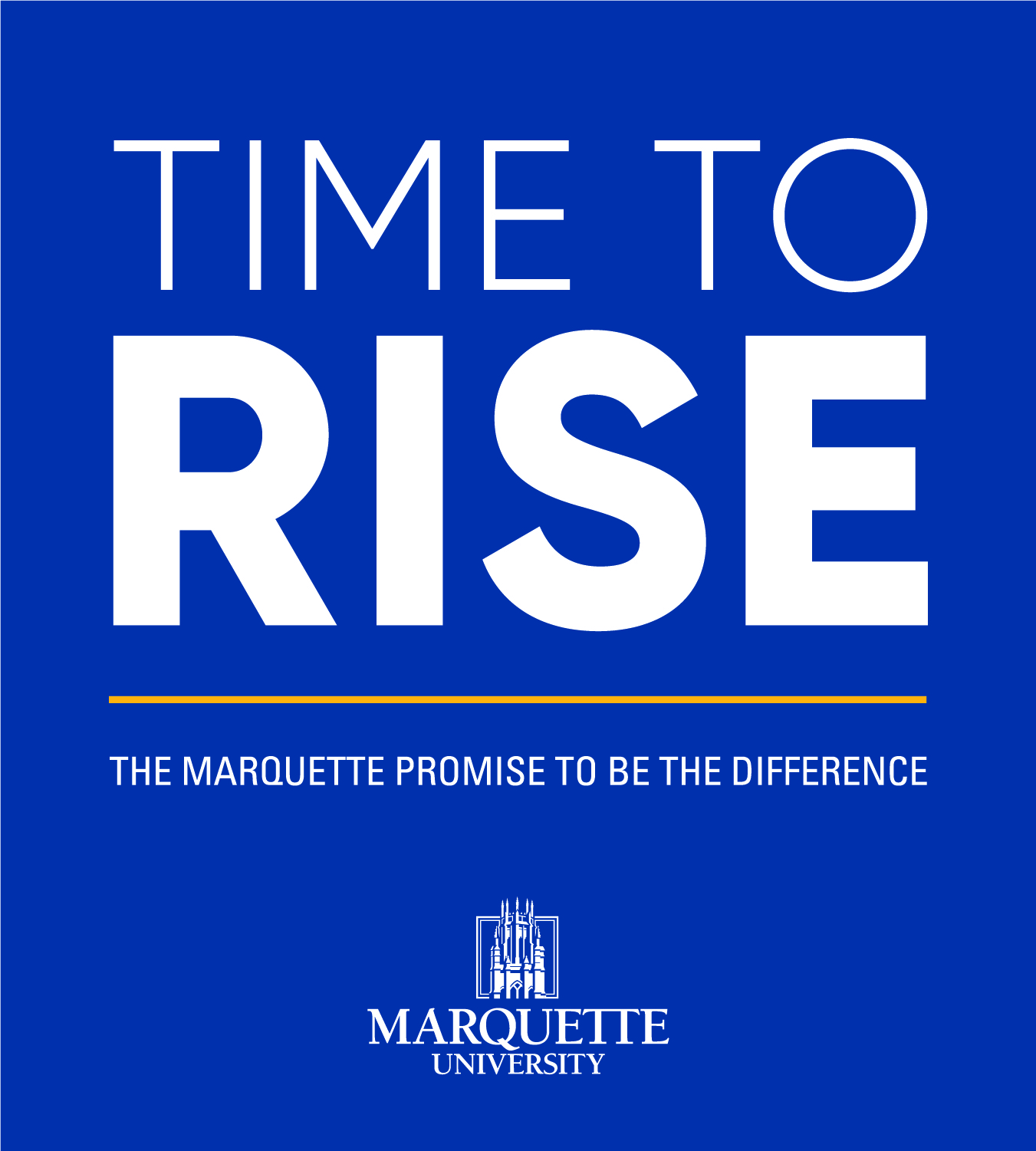 Apr 8th, 2021 by Marquette University
Time to Rise is largest comprehensive fundraising campaign in university history