Dance
Leader of the Avant Garde
Choreographer Deb Loewen seems to embrace all the creative artists and energy in town.
//end headline wrapper ?>
Get a daily rundown of the top stories on Urban Milwaukee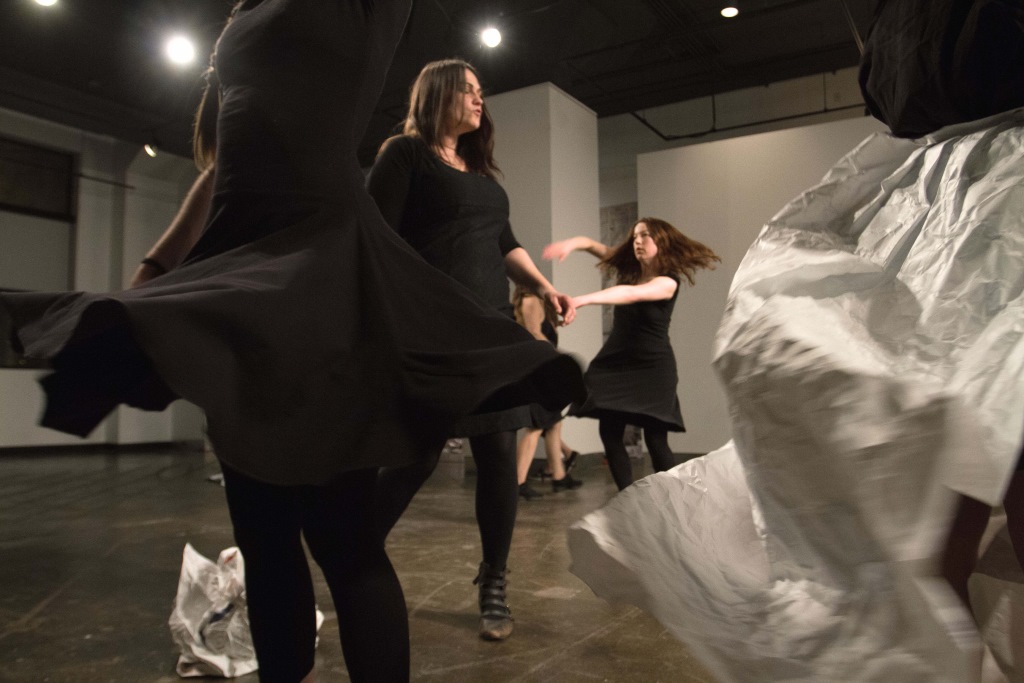 I remember Wild Space Dance Company 25th anniversary concert that brought together Debra Loewen's extended family of all the people she had worked with over the years. The place was packed with her audience that came along for the ride — an unrestrained exploration of the possibilities of movement and stillness, sound and silence, and so on. Debra Loewen is the leader of Milwaukee's avant-garde, and perhaps its only practicing member.
Last week Wild Space's performance at UWM marked her 30th year, standing room only in the gallery space where INOVA used to be. Tim Russell played and destroyed a drum set made of card board boxes. Then continued his percussion slithering along the concrete floor.  It was a live room, you could hear everything.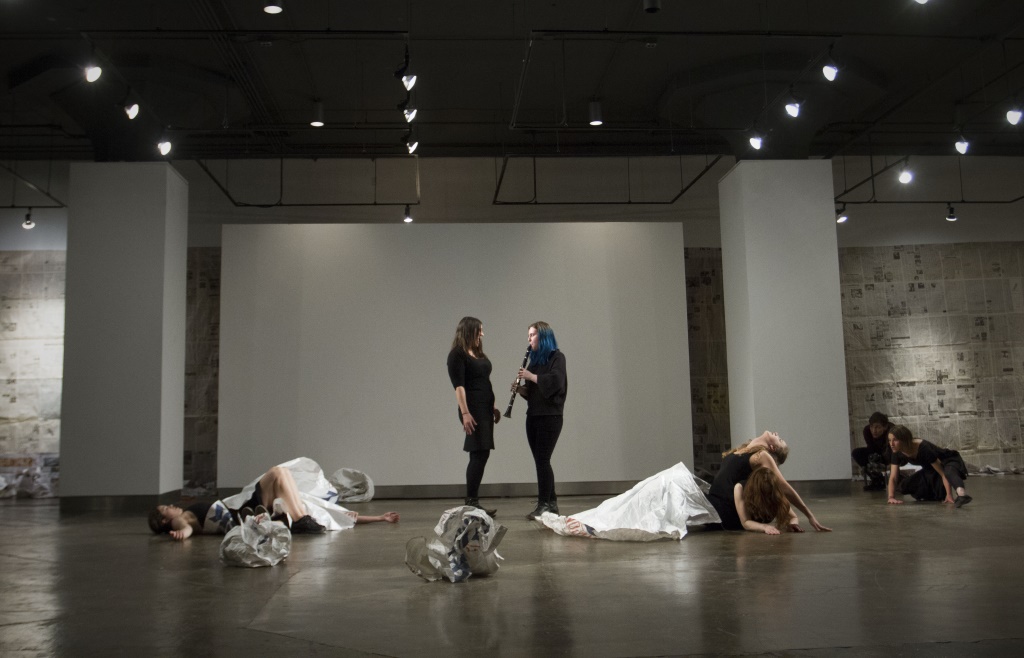 At one point Amanda Schoofs' voice and C. Olivia Valenza's clarinet melded together into one sound. We all know reed instruments have a voice and voices can be an instrument. In the flesh it is was a celestial event like the eclipse of the sun. Schoofs, Valenza, and saxophonist Nick Zoulek wandered through the stage wrapping their long notes and growls around the dancers. The musicians danced, too. And the dancers sang.
Loewen has her own language for movement that ricochets across the surfaces of our expectations and then jumps off into space. It's perverse at times, withholding the climaxes built into the tropes of court or ecstatic dances. Her work is often gripping without a release.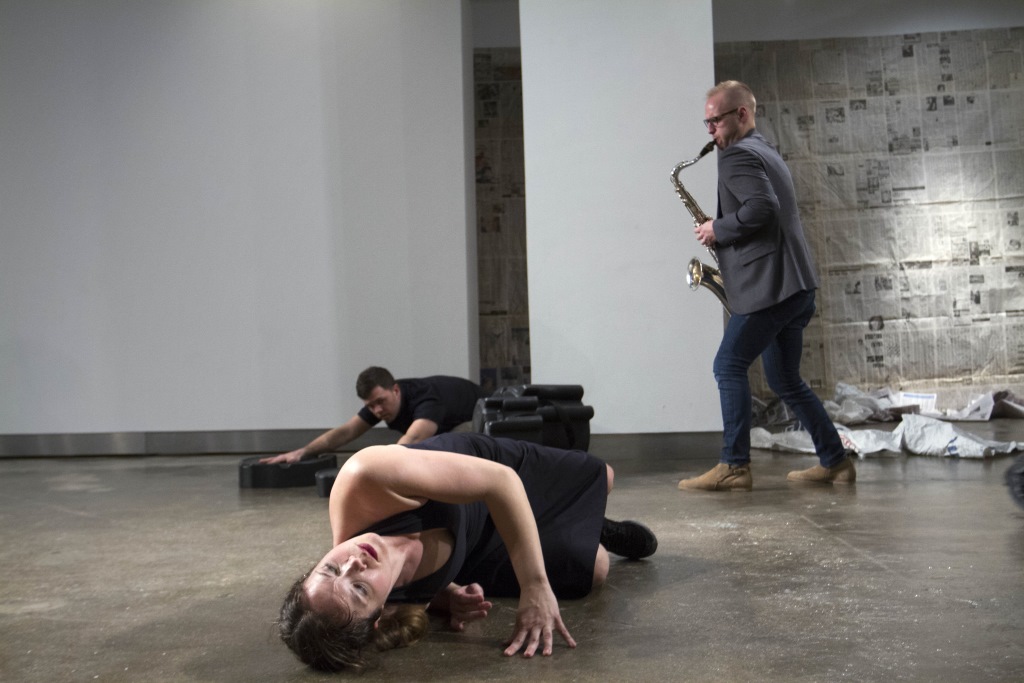 Not this time however. There were startling bursts of energy. The dancers swarmed and the music soared. Something really happened. Afterwards a buzz lingered in the room.
Loewen has taken her dancers and audience into old factories, under bridges, and on to rooftops of garages. Here once again she rattled our assumptions about where, how, and what a performance is. The musicians resonated with the room, made the gallery space into their instrument which we were improbably inside of.
After 30 years you'd think Loewen would have fallen into a groove that became a rut. Except she practices a fierce devotion to an experimental method of making art, or rather unmaking it. Her choreography is everything "dance" is not, leaving the audience with an unbounded field of view.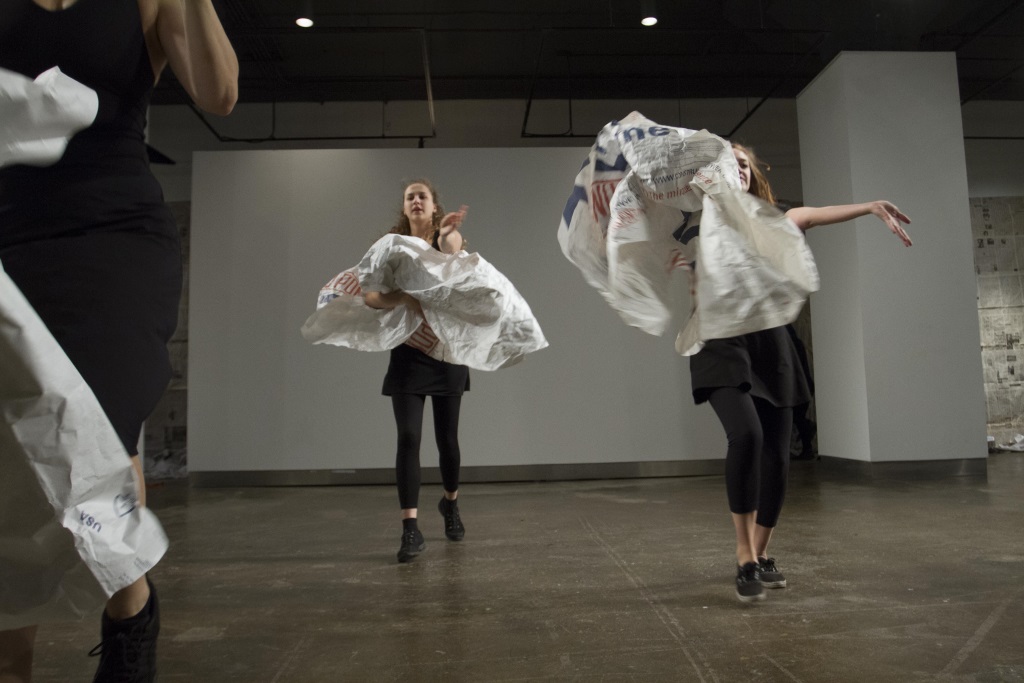 Unlike the avant-garde stuff that tries your patience, Wild Space has a light airy touch. The twists and turns are just as discombobulating as her predecessors, but her work is generous and playful. A cool effervescence lifts us out of our dogmatic slumbers.
At this point it is worth asking, how does Loewen keep going forward?  I think it's the mother in her who looks after her audience and serves them the best ingredients she can find in Milwaukee. We are talking about artists, videographers, poets, musicians, dogs, and jugglers. It's hard for a creative person to take a deep breath in Milwaukee without Loewen picking up the scent.
And anyone who has worked with her will tell you the same story. All she wants from her collaborators is for them to exercise their imagination, be their best. Spontaneous combustion is encouraged.
Loewen takes a village to make a work of art.
All photos by Tom Bamberger