Press Release
Wheel & Sprocket Opens First Urban Milwaukee Bike Shop and Community Hub
Historic Bay View building brings together bike shop, cafe, headquarters, and bike advocacy organizations
Milwaukee, WI – (11/13/2020) – In the midst of one of the country's largest bike booms, Wheel & Sprocket announced today the highly anticipated opening of their new Bay View bike shop and community center to the public in December. Located in a renovated 100 year-old former foundry at 187 E. Becher St, the 25,000 ft2 building includes Wheel & Sprocket's newest store, the Joyide Cafe, company headquarters, several Wisconsin bike advocacy organizations, community event space, Bublr station, and public art.
"We are excited to breathe new life into this building and to create a space that is welcoming not just to the bike community, but the community as a whole," said Noel Kegel, President and Co-Owner of Wheel & Sprocket. "We're trying to redefine ourselves as more than a bike shop, into something that serves our neighborhood and benefits society now and into the future."
A New Urban Focused Bike Shop
The Bay View store is Wheel & Sprocket's first in the City of Milwaukee and the 47 year-old company's tenth location overall with stores in suburban Milwaukee, Chicagoland, Fox Valley, and Madison. While welcoming all ambitions and abilities, the new Bay View shop will highlight bikes and related gear to support commuters, families, students, and others using bikes for transportation and recreation. The new store also features micromobility devices such as electric scooters.
"We're excited to provide more options to bike safely around the city," said Amelia Kegel, Vice President and Co-Owner. "Many of our staff live in this neighborhood and ride these streets. They relate to our customers and can help guide them to specific bikes and products helpful for commuting to the store, work, and getting around town."

Transformed Building Supports Riding Bikes in Our Community
Co-owners Noel and Amelia Kegel set out to create a community hub when they purchased the vacant building in 2017. With a long history of supporting bike advocacy, the family had set up the Chris Kegel Foundation (CKF) in 2017 after the death of their father and former owner Chris Kegel. All profits from the new Joy Ride Cafe, where neighbors and bike enthusiasts can meet up for coffee, craft beers, pizza, bakery, and more, will benefit the CKF's ongoing infrastructure projects. A second Joy Ride Cafe is set to open this winter at the Fox Point store.

"Our vision was to create a collaborative space of like-minded organizations and activities that engage and support the bike community," said Noel Kegel. "The Wisconsin Bike Federation and Rails-To-Trails were excited to join us in creating this unique opportunity to combine education, events, and advocacy in one place."

"The Wisconsin Bike Fed is excited about the synergy generated from working alongside our partners the Rails To Trails Conservancy and the Chris Kegel Foundation to create safe places for people to ride bikes," said Kirsten Finn, Executive Director of the Wisconsin Bike Federation. "Our new home provides an opportunity for Bike Fed staff to be more physically accessible to our members, new riders and the general public. This inviting space has the potential to be a true gathering space for the cycling community."

In addition to the Chris Kegel Foundation, Wisconsin Bike Federation, and Rails-To-Trails Route of the Badger, offices, the new location includes event space for community meetings, concerts, fundraisers, and more. The company's corporate headquarters have also relocated from Hales Corners.
Building Renovated to Inspire Riding
Creativity abounds in every aspect of the new building. Playful murals adorn the outside of the building. "Ride A Bike Around Milwaukee," created by local artists Alison Galarza and Sydney Romero, faces Becher Street. Painter Ras'ammar Nsoroma's mural of three bike riders is by the entrance on Robinson street.
Located in Milwaukee's Harbor District, the 100-year old building went through extensive renovations maintaining its industrial roots as a foundry, while updating the space for modern use. Architect Russell LaFrombois, III and general contractor Project 4 Services worked to design and execute the bike shop and community hub vision. The results are an inviting, open space with cream city brick, riveted-steel columns and trusses, and floor-to-ceiling windows.
"We kept the P&H overhead crane, which still rolls, as a key element," said Amelia Kegel, "We worked really hard on this project. It's our forever home and we're excited to welcome in our new neighbors and community for many years to come."
Wheel & Sprocket Bay View bike shop and Joy Ride Cafe will be open Monday-Friday 12:00 – 6:00 PM and Saturday and Sunday 12:00 -4:00 PM. Local COVID-pandemic guidelines on masks and occupancy are in effect.

ABOUT WHEEL & SPROCKET
Since 1973, Wheel & Sprocket has been serving the community and has grown from its original Hales Corners, Wisconsin location to include a total of ten locations in Metro Milwaukee, Wisconsin's Fox Valley, Madison, and Chicagoland. Wheel & Sprocket is family-owned and operated, and employs over 200 people who have a passion for bicycling. Over the years, Wheel & Sprocket has been recognized as one of the best independent bicycle retailers in the country and has been included as one of America's Best Bike Shops for over two decades. Community action, engagement, and political advocacy is also an integral part of the company culture including support for over seventy bike events each year.
Mentioned in This Press Release
Recent Press Releases by Wheel & Sprocket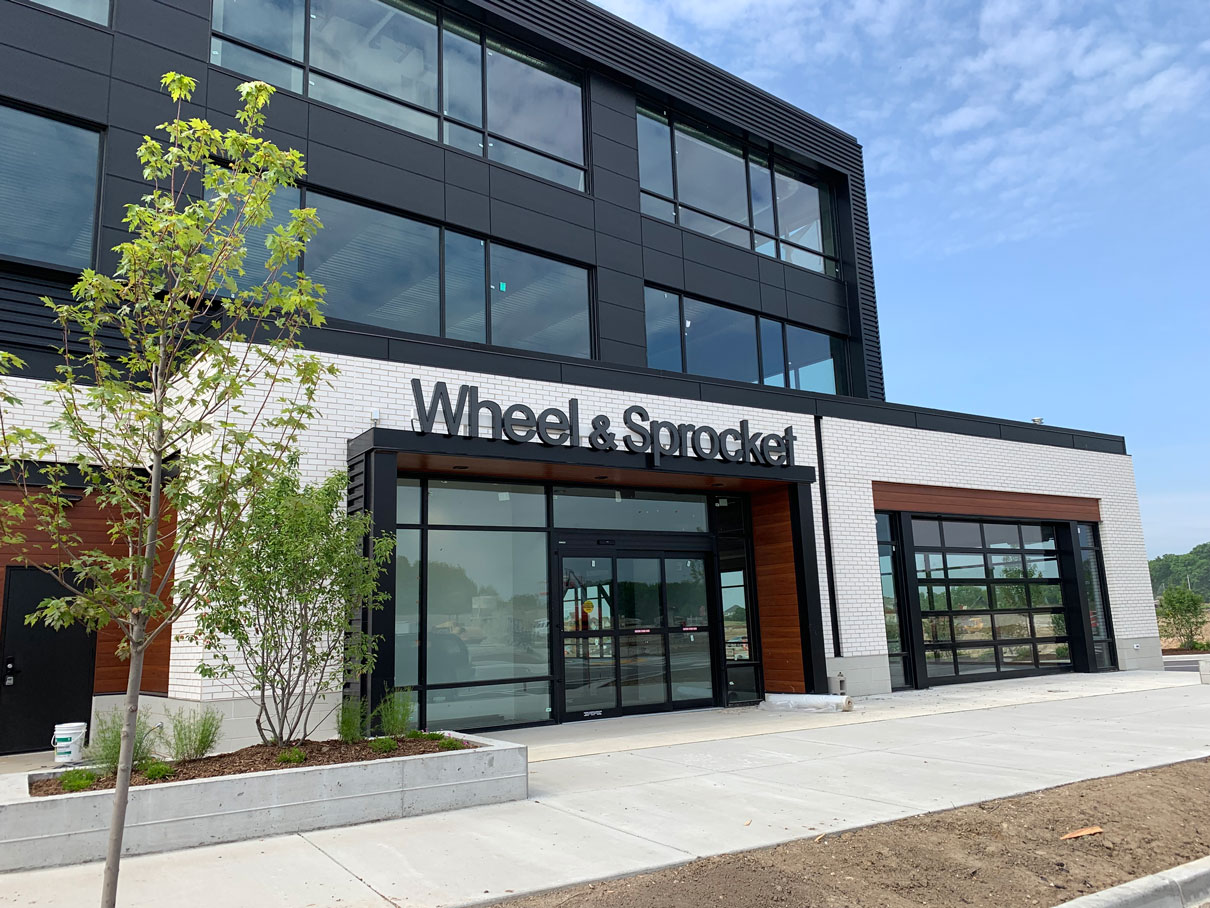 Jul 5th, 2019 by Wheel & Sprocket
100 bike riders to participate in Community Bike Ride from former Hales Corners store