Sue Bauman, former mayor of Madison, WI.
Content referencing Sue Bauman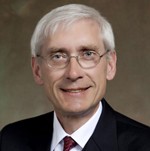 Press Release
Evers has also already received the endorsement of former US Senator Herb Kohl, former Lt. Governor Barbara Lawton, former Rep. Steve Kagen MD, and nearly a dozen current and former legislators.
Jan 10th, 2018 by Superintendent of Public Instruction Tony Evers
The State Of Politics
Will Walker be Cruz's choice for running mate? And why can't Hillary win here?
Apr 11th, 2016 by Steven Walters