Building Info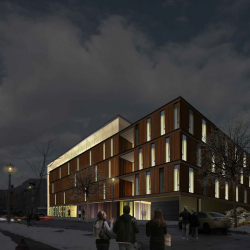 Address

:

2240 N. Commerce St.

Taxkey

:

Architect

:

Johnsen Schmaling Architects

Status

:

Assessed Value (Land)

:

$

Assessed Value (Improvements)

:

$

Assessed Value (Total)

:

$

Year Built

:
Apartment building and Adventure Rock facility on the southeast corner of E. North Ave. and N. Commerce St.
The facility includes 46 apartments and an 18,000 square-foot climbing gym.
The building was developed by the Mandel Group, designed by Johnsen Schmaling Architects. General contracting was led by Greenfire Management Services. Pinnacle Engineering, Pierce Engineering and GZA GeoEnvironmental also assisted with the project.
The project marks the second phase of the planned RiverCrest development. The first phase is the RiverCrest Condominiums, a collection of townhomes located to the south of the development.
Photos
Show All
Press Releases Referencing Belay Apartments