Recent Press Releases Referencing Milwaukee Blacksmith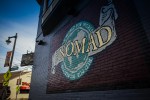 Jun 16th, 2017 by Nomadic Ventures Inc
He is currently at Al Wathba prison in the desert of Abu Dhabi.
Feb 2nd, 2017 by Milwaukee NARI
Several members of the Knapp family from Milwaukee Blacksmith will be participating in the presentation on Sat., Feb. 18.
Dec 13th, 2016 by Press Release
The Arte Para Todos Festival will return in 2017 on April 27, 28, and 29.