Press Release
Marquette University to inaugurate 24th president Sept. 19
Marquette University will officially welcome its 24th president, Dr. Michael R. Lovell, during an Inaugural Mass and Inauguration Ceremony on Sept. 18-19.
MILWAUKEE – Marquette University will officially welcome its 24th president, Dr. Michael R. Lovell, during an Inaugural Mass and Inauguration Ceremony on Sept. 18-19.
President Lovell is a distinguished educator, scholar and researcher who holds three academic degrees in mechanical engineering, including a doctorate, from the University of Pittsburgh. The university's first lay leader, President Lovell assumed his role as president July 1.
The theme of the Presidential Inauguration — Ignited in faith. Alive in inquiry. Forward in service. — is inspired by Marquette's tradition of excellence, faith, leadership and service. The Inauguration will reflect Marquette's commitment to extending knowledge beyond existing boundaries in pursuit of solutions for pressing problems and answers to life's deepest questions. A week of student-centered Inauguration events is planned, culminating in an Inaugural Mass on Thursday, Sept. 18, at 4 p.m. at Church of the Gesu, located at 1145 W. Wisconsin Ave. An Inauguration Ceremony will be held Friday, Sept. 19, at 3 p.m. in the Al McGuire Center, located at 770 N. 12th St., and will include a procession of hundreds of Marquette faculty and delegates from academic institutions across the country.
"Mike is a man of deep faith who possesses an amazing work ethic and the ability to bring together academic, business and civic leaders to provide innovative learning opportunities for our students and new research opportunities for faculty," said John F. Ferraro, Bus Ad '77, chair of the Marquette University Board of Trustees, who led the nationwide search for President Lovell. "The energy surrounding Mike's first few months on campus is unmistakable, and I look forward to working with him to take our beloved Marquette to ever greater heights."
President Lovell has published more than 100 articles in leading engineering journals, has written more than a dozen book chapters, and co-authored a book, Tribology for Scientists and Engineers in 2013. As a researcher, President Lovell has been a lead or co-lead investigator for nearly $30 million in externally funded research grants from foundations, businesses and government agencies, including the National Science Foundation, the Department of Energy, the Department of Defense and the Department of Education. His research has led to several technological breakthroughs, and he holds seven patents and 14 provisional patents. In March 2014, President Lovell was formally inducted into the National Academy of Inventors.
Immediately before assuming the Marquette presidency, President Lovell served as chancellor of the University of Wisconsin–Milwaukee from 2011 to 2014. During his time in Milwaukee, President Lovell has been known for establishing powerful partnerships among academic, industrial and nonprofit sectors. In just his second month at Marquette, President Lovell hosted an academic summit for presidents and senior academic leaders to spur innovation and entrepreneurship. Twenty senior leaders from across the region gathered to collaborate on driving economic growth and securing new learning opportunities for students. In 2009, he co-founded the Mid-West Energy Research Consortium, a partnership among Marquette, UWM, the Milwaukee School of Engineering, the University of Wisconsin–Madison, and numerous regional power and energy companies, including Rockwell Automation, Johnson Controls and We Energies. President Lovell's partnership with Johnson Controls on energy storage technology development was recognized as best in class nationally (Edison Gold Medal) and locally (Milwaukee Business Journal Eureka Award).
More information on the Inauguration, including a full schedule of events and President Lovell's biography, are available online at marquette.edu/inauguration.
Mentioned in This Press Release
Recent Press Releases by Marquette University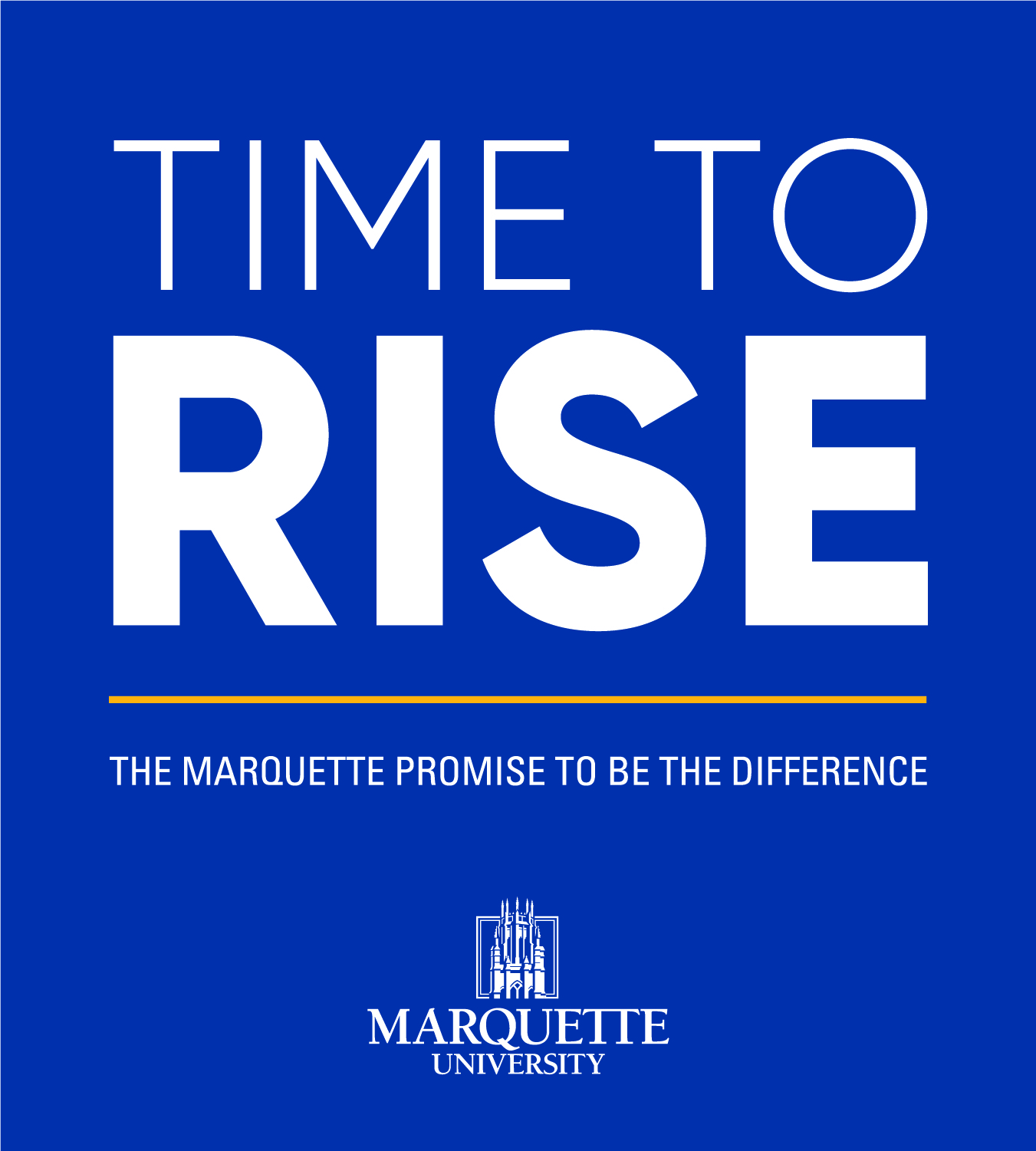 Apr 8th, 2021 by Marquette University
Time to Rise is largest comprehensive fundraising campaign in university history