In Public
Why I Fell for the Pink Lady
The Lynda Benglis sculpture takes time to charm you. It's not drive-by art.
//end headline wrapper ?>
Get a daily rundown of the top stories on Urban Milwaukee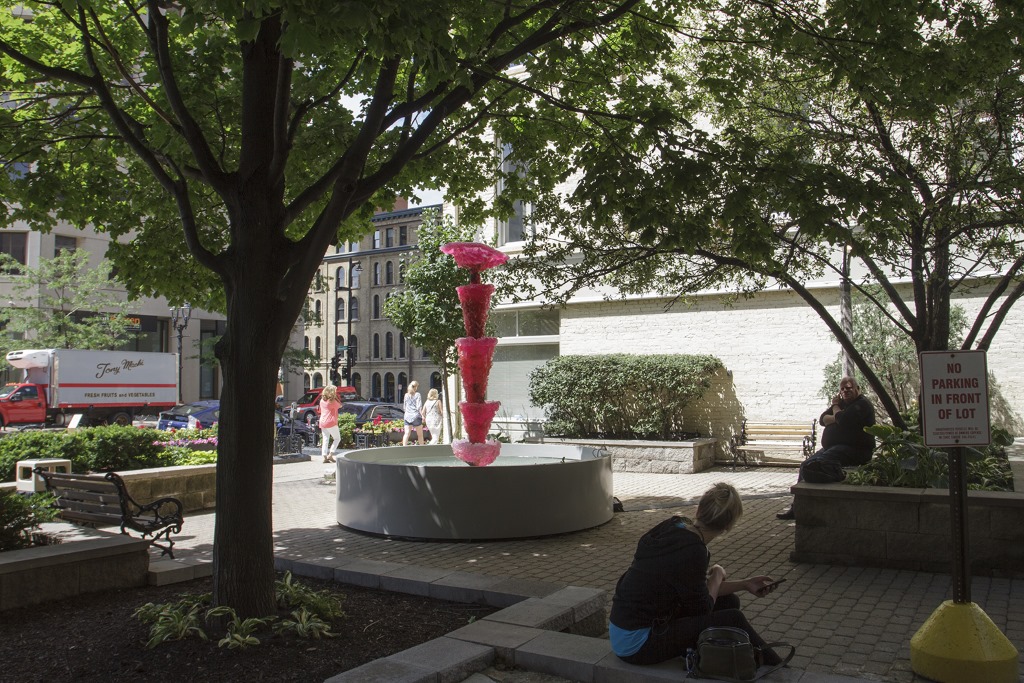 Pink Lady (for Asha), 2013, one of the 22 sculptures installed on Wisconsin Avenue and which I photographed, is in a shady nook just west of the Pfister Hotel. When I got there I figured it would take about 20 minutes for the sun to rise above the building and shine on the art. Luckily this was the only place on the entire expanse of Wisconsin Avenue where I could sit down and wait.
So I sat. A cook from the Pfister was smoking a cigarette. He struck up a conversation. He loved his job, "They treat people right," he said. A young woman wandered in, sat down, and started checking her phone. She worked around the corner at a salon.
Then Brett, an acquaintance who happened to be passing by, sat down and told me what he didn't like about the sculpture. Distracted, fiddling with my camera, and framing the picture, I don't remember what he said. It was a luxurious work situation compared to all the other sculptures I photographed. For whatever reason, Wisconsin Avenue is designed more for plants than for people.
When I first saw the sculpture, it looked like glowing kitsch — a lava lamp or something along the lines of a velvet painting. The florid pink polyurethane was tacky and overwrought. It looked like something a child would make out of dripped candle wax. The Pink Lady seemed chintzy and muddled.
The work is by Lynda Benglis, a big time artist who was influenced by Eva Hesse, Donald Judd, and Sol LeWitt, one of whose works is on 4th and Wisconsin. The Museum of Modern Art did a retrospective of her work in 2009. Experts tell us she is part of the pantheon.
In short, Benglis is a genius and you are not. The art world is very good at promulgating itself at our expense.
Sitting took a load off my feet and my brain. As time went on the Pink Lady started to change. The color became resonant and playful, a tropical exuberance compared to the muted palette of Milwaukee. The cascade of water — the work is actually a fountain — changed the viscosity of the piece. There's the sound, bubbling water on the top, splashing and spilling onto the next step. Three molten conical shapes rise up and water falls down.
It wasn't love at first sight, but the Pink Lady turned out to be very good company. The art soaked in.
None of these qualities can be seen in a picture. There is no lapse of time in a photograph. Or from the car, which is the way most of the people who opined to me about art saw the sculptures on Wisconsin Avenue. In less than a second at 30 mph, out of the corner their eye. Aren't you supposed to be looking at the road?
"One must learn to love," Nietzsche once wrote about music. "To see art fully we need to exercise effort and good will in order to endure it in spite of its strangeness…we need patience." In return the art will show us "a new, ineffable beauty: that is its thanks for our hospitality."
The Pink Lady is an intimate affair, like a sit-down dinner. Be somewhere long enough to change your mind. Be present for a work of art to have a presence.
The site has to be hospitable as well. I counted 50 planters along the five city blocks between Plankinton and 6th street. And no place to sit and pass the time. Wisconsin Avenue is designed to be someplace else.