Milwaukee Streetcar Meeting This Thursday
//end headline wrapper ?>
Get a daily rundown of the top stories on Urban Milwaukee
Don't forget that this Thursday is the open house for the Milwaukee Connector Downtown Streetcar plan.  The open house runs from 3 p.m. to 7 p.m. at the Zeidler Municipal Building on the corner of Kilbourn Ave and Broadway. There will be short presentations at 3:30 and 6, come and leave a comment on the proposed system.
Comments could and should focus around how or why you would use the streetcar, what routes are best of the proposed routes, what service frequency you would like, hours of operation, how it should interact with existing transit systems (i.e. the 10, 15, 30 MCTS routes), vehicle types, and what future extensions should be.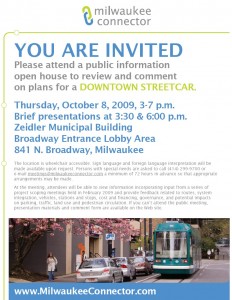 It's important you make a comment on the record in support of the streetcar. If you can't make the meeting, you can leave a comment online.
As a refresher, here's our latest article on the issue (with route #1 winning overwhelming in the poll.  You can also view two PowerPoints on the proposed streetcar line.  One from the office of Mayor Barrett and another from the Milwaukee Connector study group.
For more project details, including the project timeline, financing, route and possible extensions, see our extensive past coverage.
Read more about Milwaukee Streetcar here