Press Release
Vroom! "My Art Bag" #2 Features "Harley and the Davidsons" Book
Project Provides FREE Art Supplies and Literacy-Based Curriculum for 1,000 At-Risk Children
"Every child is an artist. The problem is how to remain an artist once we grow up.
◼ Pablo Picasso
MILWAUKEE, Wis. (May 26, 2020) – Creative expression through art can bring a sense of calming, wonder and joy.
In the effort to bolster spirits and provide positive, creative educational support for some of Milwaukee's most at-risk children amid the COVID-19 pandemic, non-profit arts organizations Black Box Fund and Arts @ Large are working together on the "My Art Bag" project.
The first bag was distributed on May 13 and was targeted at children ages 3-8.
This second bag will be available on May 27 and is geared towards older kids, ages 9-12. It features the biography "Harley and the Davidsons," along with an art activity sheet specifically designed to accompany the book. The Harley-Davidson Foundation provided funding to cover the cost of the book for this "My Art Bag" and The Harley-Davidson Museum provided additional in-kind support.
"During these uncertain times, we feel strongly that support for the arts — especially arts education for children — is critical to helping them deal with the unprecedented challenges they face daily," said Black Box Fund President
Deborah Kern
. "We're thrilled that the Harley-Davidson Foundation and The Harley-Davidson Museum have joined us to support this worthwhile effort."
Black Box Fund and Arts @ Large will distribute 6,000 free "My Art Bag" kits to children in underserved areas of Milwaukee over the next two months.
The series of six different bags (1,000 each) contain a variety of high-quality art supplies, along with an age-appropriate book and art curriculum specifically tied to the book. This bag will also include a Harley-Davidson themed coloring book and a voucher for admission to the Harley-Davidson Museum
Public distribution of the Harley-Davidson themed My Art Bags (1 per family) will start at 11 a.m. on Wednesday, May 27 at Pete's Fruit Markets on Milwaukee's North and South sides and at St. Augustine Preparatory Academy, 2607 S 5th St., in conjunction with their food distribution program.
"We are working closely with all of our community partners to make these bags available for safe pickup in neighborhoods with populations that need them the most," said Kern.
Future My Art Bags will feature biographies of local sports heroes Giannis Antetokounmpo and Christian Yelich as well as books focused on encouraging children's sense of self-worth.
"While there is uncertainty as to how long the current "Safer at Home" order will be in effect, we expect this project to carry through the end of June, providing valuable reading and arts engagement support to at-risk children whether the schools re-convene this semester or not," said Kern.
For more information on the My Art Bag project and to learn about future bag distributions, visit the Black Box Fund website – blackboxfund.org/MyArtBag
NOTE: This press release was submitted to Urban Milwaukee and was not written by an Urban Milwaukee writer. It has not been verified for its accuracy or completeness.
Mentioned in This Press Release
Recent Press Releases by Black Box Fund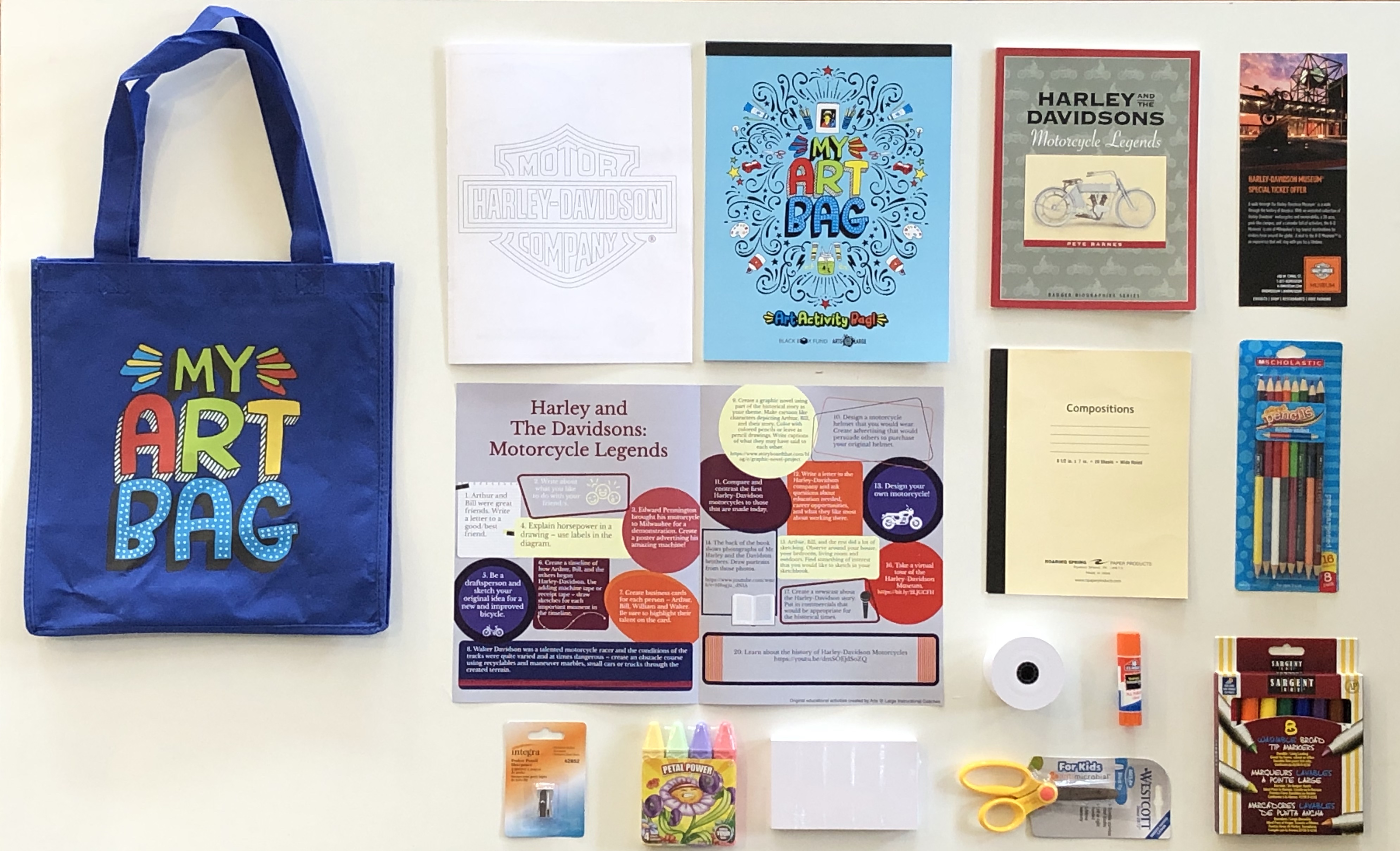 May 26th, 2020 by Black Box Fund
Project Provides FREE Art Supplies and Literacy-Based Curriculum for 1,000 At-Risk Children
Apr 13th, 2020 by Black Box Fund
Select performances from the first year of Milwaukee's version of iconic 'Jazz at Noon' Series Arrive Online Starting on Tuesday, April 14

Jun 27th, 2019 by Black Box Fund
Replica of the moon to be suspended in Catalano Square during three-day pop-up festival