Press Release
Fyxation Bicycle Co. Puts their Support Behind the New Milwaukee Flag With a One of a Kind Flag Bike
Fyxation plans to rotate the bike through different local venues throughout 2017.
Milwaukee, WI – January, 12th 2017 – Fyxation, a Milwaukee based bicycle company, is pleased to announced their latest custom bicycle project; designed around the new Milwaukee flag.
Called "Sunrise Over the Lake" and designed by Robert Lenz, the new flag is the result of a city-wide design initiative. The purpose of which was to inspire Milwaukeeans to design a new symbol. A symbol that changes the narrative of Milwaukee. The strength of "Sunrise Over the Lake" is that it looks forward to a new day; symbolized by the sun rising over Lake Michigan.
According to Greater Together, the group that spearheaded the design initiative, "The Milwaukee Flag Initiative challenged the creative community, educators, and the community at large to visualize a new flag for Milwaukee. A flag focused on where we are going and what we want Milwaukee to become. The aspiration was to challenge applicants to use the opportunity to engage in dialogue about a future where everyone can participate, prosper, and reach their full potential."
As a company founded in Milwaukee by two local brothers, Fyxation was drawn to this design and made the decision to support the initiative with a truly unique custom bicycle.
Nick Ginster
, co-founder of Fyxation was quoted as saying,
"As a company that is headquartered in  Milwaukee and is constantly evaluating and pushing design we immediately fell in love with the new Milwaukee flag. As a symbol, with unity and a bright future at it's center, the new design sends a clear and powerful message about Milwaukee to both residents and visitors alike. A world class flag is an important visual symbol for any great city. The simplicity of the design and rich symbolism got our gears spinning and it was only natural for us to express our support the best way we knew how, to design a bike around it!"
The Fyxation flag bike was hand masked and painted with precision by Wisconsin based painter Ryan Hovde of Velovas. The design uses the rich colors of the new Milwaukee flag with the lake below and sky above which are separated by the three blue stripes representing Milwaukee's three rivers and three founders. Fyxation placed the entire flag distinctly below the seat and if you look closely below the chain they replaced Designed in Milwaukee, which appears on their other original bike designs, with Designed for Milwaukee.
Nick Ginster continued… "We take pride that our bikes and products are designed in Milwaukee and available all over the world. You can find our Eastside model, named after Milwaukee's Eastside, rolling around the streets of Tokyo or Sydney. So to be able to express our pride in our city through an interpretation of the new Milwaukee Flag was an amazing opportunity."
Fyxation plans to rotate the bike through different local venues throughout 2017. To find out where it is on display you can visit their website to get a chance to see it up close. You can see this or other custom Fyxation designs at fyxationcustoms.com
More event information is available at: http://www.fyxation.com/blogs/milwaukee-flag-bike
About Fyxation
Fyxation was founded with a simple goal in mind. To bring riders pioneering bicycles and components made from the best materials at a fair price. We focus on design, durability and style.   We are a team of engineers and riders that strive to combine our knowledge of design and cycling to bring to market innovative yet affordable urban bicycle equipment.  For more information, please visit us on the web at http://www.fyxation.com.
About Greater Together
Greater Together is a non-profit organization launched by AIGA Wisconsin, that promotes racial and economic equity in the creative industries in the Greater Milwaukee area. We embrace collaboration and creativity, and believe in inclusion, so everyone can participate, prosper and reach their full potential within the design and creative communities.
We are the originators of the Greater Together Challenge, a radically open competition of ideas focused on dismantling segregation in Greater Milwaukee.
http://greatertogether.me
Mentioned in This Press Release
Recent Press Releases by Fyxation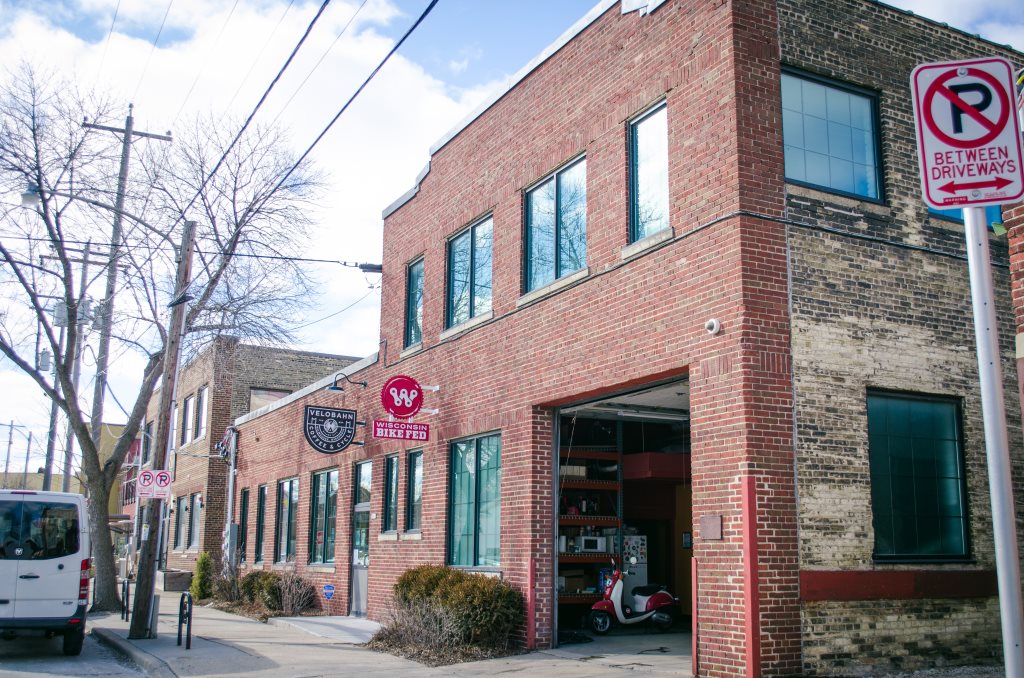 Mar 16th, 2018 by Fyxation
The building currently houses the Wisconsin Bike Fed, Velobahn Coffee and Team Sports, Inc.