Press Release
Exploree Milwaukee in New and Meaningful Ways
Jane's Walk MKE hosts Sidewalk Stories, Book Discussion to Gather more Meaningfully, and Video Tours
Milwaukee, WI – Jane's Walk MKE is a grassroots effort that usually coordinates 40+ resident-led walks, bikes, and paddles each May to encourage the community to explore and connect, but those much anticipated activities have been uniquely adjusted for 2020's public health climate. Rather than group gatherings to explore the community, Jane's Walk MKE is offering you four ways to explore your community and how you gather with a new perspective.
This virtual panel will share their personal stories about how they've been exploring our city during the quarantine and how the pandemic has changed how they see it. Co-sponsored by 88Nine Radio Milwaukee.
Explore the city with a series of prerecorded tours created by some of the city's most prolific explorers and then visit on your own. Tours already available include: Forest Home Cemetery, Gordon Park, Milwaukee RiverWalk, Riverside Park, and Three Bridges Park. More coming soon including Sherman Park, Havenwoods State Forest, the 26th Street Project, and more.
This thought provoking discussion on Priya Parker's The Art of Gathering is centered on how we gather and will transform the ways we spend our time together at work, at home, in our communities, and beyond — as well as how the pandemic has changed the way we connect in beautiful and novel ways. Co-sponsored by the Milwaukee Public Library.
Twenty fun ideas for exploring the city and sharing your routes and photos. You can also review an expansive list of city-building books and films. These adventures are to be enjoyed either solo or with members of a household or living unit. Residents can walk or run, bike, paddle, or roll outside or stay inside and curl up with a book or film.
This year would have been the 5th anniversary of this Milwaukee Turners program. The launch of Jane's Walk MKE in 2015 coincided with what would have been urban activist Jane Jacobs' 100th birthday. Jane's Walk MKE is part of an international movement in 20 countries and over 400 cities dedicated to changing the ways in which we see and experience our cities.
More detail is available at JanesWalkMKE.org.
Jane's Walk MKE's mission is to organize free, resident-led neighborhood explorations and building community connections that embody urban activist Jane Jacobs' legacy through observing and dialogue, education and storytelling, and collectively reimagining and changing the places in which Milwaukeeans live, work, and play. An all-volunteer effort, we envision a Milwaukee that has, to borrow from Jane Jacobs' The Death and Life of Great American Cities," the capability of providing something for everybody, only because, and only when, [it is] created by everybody."
Mentioned in This Press Release
Recent Press Releases by Jane's Walk MKE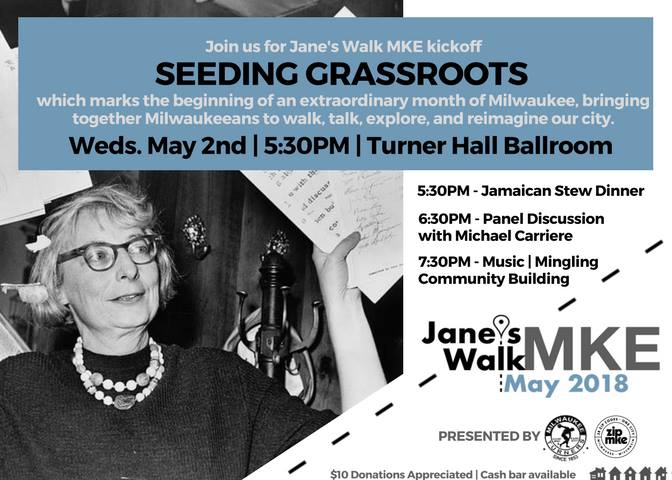 Apr 26th, 2018 by Jane's Walk MKE
Jane's Walk MKE is part of a worldwide movement of more than 200 cities hosting free, citizen-led walking tours inspired by urbanist and writer Jane Jacobs.