Press Release
Annual Tap the Potential Events Celebrate 25 years of ADA
In October each year, the focus is on performances and artworks presented by artists who have disabilities themselves.
Tap the Potential is one of a series of events held by a number of Milwaukee agencies in 2015 to celebrate the passage of the Americans with Disabilities Act in 1990. In October each year, the focus is on performances and artworks presented by artists who have disabilities themselves.
The visual and performing arts events schedule:
September 19, Briggs and Al's Run and Walk for Children's Hospital at Marquette University, Fabulous Feno
September 20, Walk to End Alzheimer's, Summerfest Grounds, Julie Borouchoff/Violet the Clown
September 20, Heart and Stroke Walk, Veteran's Park, Jahmes Finlayson/Children of the Sun
September 26, Joe's Run, Walk and Roll, Hart Park, Larry LaFontsee, Ventriloquist and Puppeteer
September 27, Ability Fest Lomira, free activities at The Golf Club at Camelot, fees for buffet and golfing. Call 262-720-7031
October 1, 3:45 pm, ACAP-Waukesha Civic Theatre, Exploring Our Many Selves workshop with Barbara Leigh, Jahmes Finlayson
October 3, AIDS Walk Wisconsin, Summerfest Grounds, Debby Davis, Stiltwalker
October 2, 11 am to 1 pm: Art Exhibit Reception with Easter Seals Color Guard; Barbara Leigh (MPT); Rosemary Fortney and more, Mitchell International Airport
October 2 – 22, Art Exhibit at Airport, sponsored by Goodwill Industries of Southeast Wisconsin and VSA Wisconsin
October 11, Walk to Defeat ALS, Greenfield Park, Fabulous Feno, Debbie Davis, Julie Borouchoff
October 12, 10:30 am, Wilson Park Senior Center, Sing-Along with Mud River Lee, guitarist
October 13, 9:30 am, Milwaukee Secure Detention Center, Art workshops with Cammy Dreheim (not public)
October 14, 10:30 am, (tentative) Pieces: In My Own Voice, Vincent High School (open to public but please call 414-347-1685 in advance)
October 15, 11:30 am, Milwaukee County Courthouse, Vision Forward's White Cane Flash Mob
October 15, 1:00 pm, Zablocki Veterans Administration, Mud River Lee, Folk/Blues Guitarist. Please call 414-405-4309 for directions. The performance is not in the main hospital building.
October 16, 10:30-12:30 pm, Fashion Show at Wil-O-Way Underwood (Wauwatosa) sponsored by Goodwill Adult Day Services; Jim Mooney, piano
October  26, 12:15 pm, Washington Park Senior Center, 4420 W. Vliet Street, Rose Onama, Storyteller
November 4, 11 am, Marquette College of Nursing, Clark Hall, Humor and Healing from the Patient's Point of View, Barbara Leigh (not public)
Milwaukee Public Theatre takes responsibility for the performing artists; Goodwill Industries and VSA Wisconsin sponsor the visual art exhibit at Mitchell Airport; Vision Wisconsin organizes the Flash Mob at the Courthouse; and Goodwill Adult Day Services hosts the Fashion Show.
Funding is provided by IndependenceFirst/ADA25MKE. Other organizers include the Milwaukee County Commission for Persons with Disabilities. Milwaukee Public Theatre also receives support from the United Performing Arts Fund, CAMPAC Milwaukee County, and the Milwaukee Arts Board and the Wisconsin Arts Board with funds from the State of Wisconsin and the National Endowment for the Arts. More information on the schedule of performing artists is available at www.milwaukeepublictheatre.org/tap-the-potential
Mentioned in This Press Release
Recent Press Releases by Milwaukee Public Theatre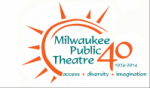 Jul 5th, 2016 by Milwaukee Public Theatre
Previously, Carolina served as the Executive Director of The Southside Community Justice Center.