Press Release
The World's "Most Dangerous Women" Are Coming to Milwaukee
Concert Reading Highlights History and Current Events
February 15, 2016, Milwaukee, Wisconsin – This spring, Milwaukee Public Theatre, Marquette Theatre and the Milwaukee Branch of the Women's International League for Peace and Freedom (WILPF) present Most Dangerous Women—a play celebrating a century of the international women's peace movement. Under the direction of Marquette Theatre's Debra Krajec, and with music direction by Donna Kummer, Most Dangerous Women is a staged reading which weaves together headlines, speeches, memoirs, poems, and plenty of songs to tell its story.
Most Dangerous Women includes words from women familiar to us: Jane Addams, founder of Hull House and first American woman to win the Nobel Peace Prize; Jeannette M. Rankin, first woman to be elected to the US Congress; Coretta Scott King, peace activist and widow of Dr. Martin Luther King, Jr.; and Malala Yousafzai, Pakistani activist for children and women's rights. Others may be less familiar: Joy Harjo, Native American writer; Toyomi Hashimoto, a survivor of the bombing of Nagasaki; Mavis Smallberg, a poet from Soweto, and many more.
Why "Dangerous"? In 1915, fifteen hundred women from a dozen countries trekked through the war zones of Europe to meet at The Hague. Some came from neutral countries, some from countries already at war with one another. They came with a common purpose: to bring that war to an end. Throughout a century of struggle, these courageous women were labeled "dangerous," "foolish," "misguided," and worse. Some were imprisoned, physically attacked, beaten, or had their lives threatened for their activism. Despite this, they have persevered. They educate and inspire us to this day.
The play was created by by Jan Maher and Nikki Nojima Louis. Maher will participate in the talk-back following all performances, along with UWM Humanist Merry Weisner-Hanks. Three performances featuring a diverse cast of professional actors and Marquette Theatre students will be presented on April 22 at 7:30 pm, April 23 at 7:30 pm and April 24 at 2:30 pm at Evan P. & Marion Helfaer Theatre, on the Marquette campus at 525 N. 13th Street, Milwaukee. Tickets are $5 and $10, and are available at Marquette's Box Office: https://www.showclix.com/events/12806
There will also be a performance for school audiences on Friday, April 22nd at 10 AM. To purchase tickets teachers must contact Courtney Buvid at Marquette at 414-288-7505 or courtney.buvid@marquette.edu. A Resource Guide, developed by Mount Mary University students under the direction of Sociology Professor Lynne  M. Woehrle, will be available at the performances and online.
Additional information may be found at www.milwaukeepublictheatre.org/most-dangerous-women. The play is presented by Milwaukee Public Theatre, Marquette Theatre and the Women's International League for Peace and Freedom. The play is being performed by arrangement with Local Access, and is funded in part by the Women's International League for Peace and Freedom and the Wisconsin Humanities Council with funds from the National Endowment for the Humanities and the State of Wisconsin. Milwaukee Public Theatre also receives ongoing support from the United Performing Arts Fund, Milwaukee Arts Board and Wisconsin Arts Board with funds from the State of Wisconsin and the National Endowment for the Arts.
Mentioned in This Press Release
Recent Press Releases by Milwaukee Public Theatre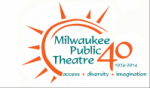 Jul 5th, 2016 by Milwaukee Public Theatre
Previously, Carolina served as the Executive Director of The Southside Community Justice Center.