Eyes on Milwaukee
How a Road Diet Made 5th St. Fat
City narrowed street, widened sidewalks and economic growth quickly followed.
//end headline wrapper ?>
Get a daily rundown of the top stories on Urban Milwaukee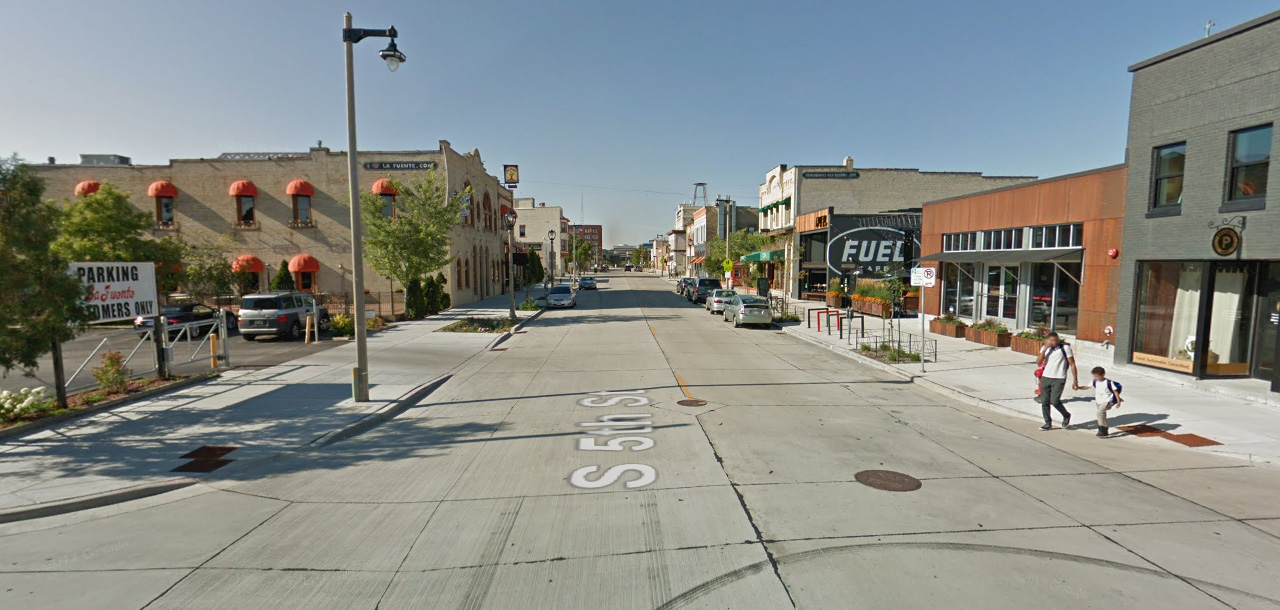 Anyone that has spent time on S. 5th St. in the past year will have noticed two things: business is booming and the sidewalks are really wide.
From W. Virginia St. on the north to W. Washington St. on the south, the city undertook a comprehensive rebuilding of the street in 2017 that resulted in sidewalks being widened from 7.5 feet to 18.5 feet and a number of street trees being planted. The city found the extra space by switching from angled to parallel parking and narrowing the lanes. The changes came as a result of a visioning process with area property owners in 2015.
The end result is a welcoming pedestrian environment that encourages visitors to walk and calms traffic on the street to make it more bicycle friendly. Businesses have taken notice, with new ones arriving in droves.
Since construction started, three new breweries have opened on the street:
Urban Harvest Brewing Co.
,
MobCraft Beer
and Sprecher's taproom. Supplying those breweries and many others is newcomer Proximity Malt.
Snifters
,
Hamburger Mary's
,
Fuel Cafe
and
Juiced
now feed patrons from near and far. And satisfying the urge to shop, The Suburban art gallery and furniture store BC Modern now are open alongside the many nearby antique stores. Gravity Marketing,
The Kubala Washatko Architects
UrbanLab and florist Form Fine Goods have also opened shops on the busy street.
Not to be outdone by all the revamped facades, Coakley Brothers installed an artistic water tower atop its seven-story headquarters as part of a broader rehabilitation of the structure.
The street, which has long been known for its concentration of Mexican restaurants, has seen a handful of closures as well. After 21 years, the owners of La Perla called it quits, but the restaurant was immediately replaced by Hamburger Mary's. Likewise, La Fuente closed but was replaced by soccer bar and restaurant Nomad Nacional. The temporary soccer bar is expected to close later this fall, putting the massive La Fuente complex back on the market. Brenner Brewing also closed, but was quickly replaced by Sprecher's taproom.
In 2016 I pontificated: "If the city is even half as successful as it was when S. 2nd St. was narrowed, it'll be worth every penny spent. S. 2nd St., just a couple blocks east, went from de facto expressway between Downtown and Bay View to Milwaukee's dining hub in just a few years." Just two years later, the city's infrastructure investment appears to have placed S. 5th St. on the same trajectory as S. 2nd St. Businesses are opening, the street is active and assessments, often a trailing indicator of the growth in property values, have begun to tick upwards.
The second annual 5th Street Fest will celebrate the street and all of Walker's Point this Saturday from noon until 10 p.m.
For more on the history of the street, see Michael Horne's recently published profile.
Future Challenges
All the growth is not without conflict. City planners, developers, residents and area stakeholders must now balance the wave of new investment against the long-standing affordability of the area. While a vacant building becoming an active use is clearly a win for the neighborhood, concern is mounting that residents could be pushed out because of rising rental prices.
The good news is the economic forces of gentrification aren't triggering a wave of displacement that has been found in other cities. There hasn't been a rash of old homes demolished in favor of new, luxury developments, nor have low-rent storefronts become high-end restaurants.
In fact, some of the biggest redevelopment projects in the area involve the creation of affordable apartments through the use of low-income housing tax credits. The Mercantile Lofts opened to great fanfare in 2016, and just over a year later the redeveloped building hosted a ceremony for another affordable housing development, SEVEN04 Place.
If you think stories like this are important, become a member of Urban Milwaukee and help support real independent journalism. Plus you get some cool added benefits, all detailed here.