Bar Exam
Lakefront Brewery
This popular attraction is not just for tours anymore.
//end headline wrapper ?>
Get a daily rundown of the top stories on Urban Milwaukee
Lakefront Brewery: Although it is one of Milwaukee's most popular attractions for visitors, it's not just for tours anymore. The huge beer hall and restaurant is open to the public seven days a week. "A lot of people are coming in for lunch and a beer nowadays," says John Zutz, who is the brewery's original tour guide, along with founding brothers Russ and Jim Klisch.
Lakefront Brewery is also a stop on Doors Open Milwaukee 2015, taking place Saturday, September 19th and Sunday, September 20th. [See listing here.]
Zutz has been on the job since Lakefront opened on E. Chambers St. in 1987 when conducting a tour consisted of standing in the middle of a 2,000 square foot room and pointing to the equipment housed in a converted bakery. Today Lakefront, 1872 N. Commerce St., has coolers that are larger than its original brewery itself, and the company has recently purchased a vacant lot at 1890 N. Commerce St. for a proposed expansion as it is poised to break the 50,000 barrel annual production that some consider the boundary between Microbrewery and Craft Brewery categories. In July this year, Lakefront Brewery produced 4,539 barrels of beer, making it the second largest brewery in the city in terms of volume. The largest, MillerCoors Brewery, produced 704,157 barrels during that time.
Still, Lakefront's growth rate is phenomenal for a company that is over 25 years old, and has seen year-over-year sales growth since its inception. Its 2012 production of 33,368 barrels was 40 percent above the 23,576 barrels produced the year before, a sign of the explosive growth of the micro/craft brewery segment of an industry that's otherwise tanking. Meanwhile, Miller's sales have exhibited double-digit declines at the same time that Lakefront and the little guys have increased their share of the marketplace to over 10 percent nationally for the first time this month.
The tour is arguably one of the best in the city, and is ranked high on nationwide polls, and most certainly outdraws Miller's tours, but there is a certain been there, done that, and there is only so much learning about lauter tuns, sparging and bungs that one can bear repeatedly.
The Beer Hall is located in a brick-walled room on the north end of the brewery building, Large windows open to the Edward D. Holton Viaduct and Marsupial Bridge to the north, and to the Milwaukee River to the east. It's a dramatic, muscular view, and one that you can enjoy from the riverfront patio that was completely renovated in August this year at considerable expense. Owner Russ Klisch put nearly $200,000 into improvements that included making the building 100 percent handicap accessible. This involved demolishing a deteriorating ramp that led to the second floor of the building, where the beer hall is located. Thanks to rust and gravity, the old span was down in a half-hour. It has been replaced with a covered ramp that is much easier to navigate than the previous one.
Powerful and Steamy History
Although Bar Exam has visited taverns that were located in old homes, former storefronts, and even a laundry, Lakefront Brewery is our first saloon to be located in an operating factory, for it is so designated by the State of Wisconsin Department of Revenue for tax assessment purposes. The site's long history has always been connected with industrial use, although it is the sole remaining commercial property on N. Commerce St., an area that once teemed with industry thanks originally to water power, and then to the steam and electricity produced in this very building.
The Continental Realty Company took out a permit on February 20th, 1908 to construct a $65,000 power plant measuring 108 feet by 117 feet and enclosing 593,892 cubic feet of space. The structure replaced an 1890 power plant operated by the Milwaukee Light and Power Co. that was a mere 40 feet by 125 feet.
The building was massive, indeed, of skeleton steel frame construction with 21 inch thick brick curtain walls, and a "foundation of concrete two ft. thick."
The architect of the new building, Kirchhoff and Rose, was hired in 1911 to construct a $15,000 addition to the west consisting of 17,600 cubic feet contents, giving us more-or-less the building we see today, but with six smokestacks rising high above the Holton Viaduct, which itself is 70 feet above the water level of the river. A pre-1911 photograph shows the building with fewer bays than it has today, and the masonry shows signs of being reused in portions of the building, particularly where windows have been bricked over.
The power plant burned coal, supplies of which were dumped in profusion on the lot just north of the Holton Viaduct, since purchased by the brewery for its expansion. Sitework there during the construction of The Edge Condominiums showed a rich seam of black buried a few feet underground. Power from the plant was used to run the giant breweries that were located just downstream, notably Pabst and Schlitz. The "Beerline" rail tracks to the west of the brewery, carved into the bluff, hauled supplies in and beer out for decades until it was abandoned, leading way to the development of a Pick 'n Save, many condominiums and a nature trail.
By 1939 the electric utilities had combined into Wisconsin Electric Power Co. the progenitor of today's WE Energies, and the Commerce Street Power Plant produced 375,000 lbs. of steam per hour. Another Commerce Street Power Plant, now the headquarters of Time Warner, provided power for the city's streetcar  and interurban system. By 1952 power was no longer generated in the building, and it became a storage garage for the power company's underground utility operations. A permit granted on December 18th that year authorized the construction of a concrete floor midway up the building, where the Beer Hall is now located. [The south half retains its original full height.] The windows were considerably reduced in size and in some instances blocked up altogether. The transformer and machinery bases were removed in the $75,000 project.
In 1957 the electric company paid $5,000 to "provide a new reinforced conc. floor slab for west 1/2 of bldg." and added fire protection to the vulnerable steel columns.
In 1970 the city issued a number of citations demanding repairs to the building, where the plumbing was apparently out of code. In 1977 the city served personal notice on the electric company for violations, but later wrote off the order. "Purchase by Forestry Department of this building in progress."
The forestry folks used the place for nearly 20 years at which time it became surplus to its needs. The building shut its doors in December 1996, and lay vacant.
Around that time, Lakefront Brewery was expanding beyond its capacity at its E. Chambers St. location which had grown to include an adjacent first floor apartment, and Mayor John Norquist clearly felt that the brewery would be a good fit for the surplus real estate. Commerce St. had just seen its first residential building, a converted warehouse to the south, and the skittish developers were demanding the old power plant be torn down or immediately put to use by a local business.
But there was a disappointment in store for Klisch as he tried to build a brewery in the Beer Line "B" development district in the Brewers' Hill neighborhood: the Building Inspector denied the request to occupy the premises as a brewery.
"Manufacturing / processing of beverage for human consumption is a special use in this district," he ruled, without a touch of irony.
Klisch stated his case to the Board of Zoning Appeals [Case No. 21331] which granted him a 20-year Special Use permit, good for 20 years, or until 2018.
With the stars thus aligned, Lakefront Brewery bought its new home for about $125,000, and immediately put $500,000 into converting it to brewery use.
During those early years, the brewery was as empty as the Deep Tunnel in a dry spell, with only Larry, Curly and Moe (as the three tanks were known) fermenting away, and daylight streaming in the giant windows along the river. Even then, tours were a special draw, and for the first time in history people went to Commerce Street for fun. In those slow-paced days, bottles were filled nearly by hand, thanks to Gizmo, a remarkable invention by Russ Klisch, a trained engineer. Klisch also bought the Bernie Brewers chalets from the Milwaukee Brewers and installed them in the brewery. An experiment in allowing customers to slide down the ramp, a la Bernie, was short-lived due to the pesky interference of insurers and public safety busybodies.
The tours were known for starting out with a drink, rather than making the tourists wait until a reward at the end of the tour. The tours were also known for offering drinks mid-tour as well. Everybody got a chuckle about the ancient kegs and their bungholes, which required manual plugging. Much of the patter that distinguishes the tour originated spontaneously on the tours, and has remained in the script to this day. You still get your drinks right up front, and throughout the tour.
Today the brewery offers many tours [$8], including the coveted Monday 4 p.m. slot conducted by Jim Klisch, and special in-depth Sunday morning Technical Tours for beer geeks led by president Russ Klisch himself [$30]. But the expansive vistas of the old brewery are lost. Fermenting tanks nearly scrape the ceilings, and nearly wholly block the windows.
Just stay upstairs in the nice, bright Beer Hall, and save the tours for when you've got company in town, since this is still a delightful place to drink.
The service is very simple. There is a long bar with three draft stations serving the complete lineup of Lakefront products. You order one, and go find a place to rest. There is no seating at the bar, but it is the custom of beer halls that folks gather at large tables to drink communally, so meet some new friends. The Lakefront gift shop is right on the way to the bathrooms, and is stocked with a remarkable diversity of novelties. Lakefront Brewery also owns a historic urinal that might one day be placed into service.
A few mementos of the brewery's early history are on display including a hand-painted sign that reads "Gordon Park Pub is Proud to Feature Riverwest Stein Beer Congratulations to Lakefront Brewery December 2, 1987." [This writer and Urban Milwaukee contributor
Jeff Beutner
were both present on that auspicious occasion.]
The tours start near a fiberglas beer mug that once graced Bernie's chalet, and penants hung from the walls absorb some of the sound that effervesces through the large room like the head on a sprightly Pilsner. Certificates on the walls leading to the Beer Hall attest to the brewery's winning ways at beer festivals, and among members of the press.
An October 3rd, 2003 Certificate of Appreciation from the White House Communications Agency attested to the "outstanding manner" in which the brewery provided "support to the President of the United States during his visit to Milwaukee, WI." This may have had something to do with providing beer for the staff; however this is merely a guess.
It is worthwhile to look up at the remarkable light fixtures that illuminate the room. They were originally built a century ago for the Plankinton Hotel to light its beer hall, which debuted on the very day that the United States went into World War I. Prohibition mooted beer halls, or at least legitimate ones, but the lights kept shining until the hotel was demolished in 1982. After a period in storage the Klisch brothers bid on the lanterns and were awarded with the purchase despite being outbid by an out-of-town buyer. The fixtures have been painstakingly restored and hung in the period-appropriate building where the Japanese Lanterns illuminate many a festive occasion, including, perhaps, your next visit.
Fun Fact: Since it is a brewery, state law takes precedence, and Lakefront Brewery therefore does not need a Class "B" tavern license. Furthermore, as Manufacturing Property, it is assessed by the State, and not by the City. State assessment records are far less complete than those of the city.
Menus
On Tap - Sponsored by Lakefront Brewery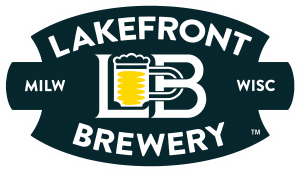 Fixed Gear Red IPA
 Beer Hall Wheat Ale
 East Side Dark Dunkel Lager
 I.P.A. India Pale Ale
 Klisch Pilsner
 New Grist Ginger Gluten-Free Ginger-Style Ale
 New Grist Gluten-Free Pilsner
 Oktoberfest Marzen Lager
 Pumpkin Lager
 Rendezvous French-Style Ale
 Riverwest Stein Beer Amber Lager
[All beers served are manufactured on the premises by Lakefront Brewery.]
Photo Gallery
The Verdict
Location: 1872 N. Commerce St. City of Milwaukee
Neighborhood: Brewer's Hill
Phone Number: 414 372-8800
Website: http://www.lakefrontbrewery.com/
Twitter: https://twitter.com/lakefront
Description: Huge Beer Hall in converted 1908 power plant is celebrated for its tours, but also serves its purpose as a tavern serving Lakefront Products exclusively. Lovely new patio along the Milwaukee River offers outdoor drinking in season, while the kitchen supplies a menu rich with locally sourced choices of classic tavern fare. Polka Music is a plus during Friday Fish Fries, very family friendly — you can let the kids run free, while mom and dad take a break.
Signature drink: The Pumpkin Lager has just been released. Then work your way through the rest of the list. Bring your growlers Thursday night for deep discounts.
Capacity: 399.
Restrooms: Bathrooms off the gift shop. The woman's room is palatial.
Year Established: 1987, at this location since 1998
Year Building Constructed: 1908; addition 1911; new floor of concrete to create upper level 1952.
Estimated Annual Rent: Could not be determined. Note — as Manufacturing Property, this real estate is assessed by the State of Wisconsin Department of Revenue. Usual property attributes found in City Assessor listing not found.  Property is assessed at $1,041,100 for the 36,112 square foot lot [$28.82/s.f.] and $614,000 for the estimated 24,000-square-foot building for a total assessed valuation of $1,655,100. Taxes of $49,795.19 are current on the installment plan. Operator owns real estate.
Property: Bought by Lakefront Brewery, Inc., the operator, from City of Milwaukee on 04/01/1998 for $125,000. Property had been vacant since December, 1996. Registered Agent of Property Owner is Russell Joseph Klisch.
Owner: Lakefront Brewery, Inc., Russell Joseph Klisch Agent and 100% owner.
Walk Score: 85 out of 100 "Very Walkable" Bounded to East by Milwaukee River, and to West by steep bluff. Immediately adjacent to North is Edward D. Holton Viaduct and Marsupial Bridge.
Transit Score: 55 out of 100, "Good Transit." Climb 70 feet of stairs to bus stop on N. Holton Ave.
Games of Chance: None found.
Games of Skill: None Found.
Trade Name: Lakefront Brewery Beer Hall
Aldermanic District: 6 Milele Coggs
Police District: 5
Subdivision: None
Hours of Operation
| Is Open? | Day | Open | Close | Expected Customers | Age Restriction |
| --- | --- | --- | --- | --- | --- |
| True | Thu | 11:00AM | 8:00PM | | |
| True | Fri | 11:00AM | 9:00PM | | |
| True | Sat | 9:00AM | 9:00PM | | |
| True | Sun | 10:00AM | 5:00pm | | |
| True | Mon | 11:00AM | 8:00PM | | |
| True | Tue | 11:00AM | 8:00PM | | |
| True | Wed | 11:00AM | 8:00PM | | |
If you think stories like this are important, become a member of Urban Milwaukee and help support real, independent journalism. Plus you get some cool added benefits, all detailed here.