In Public
Paving the Lakefront with Concrete
WisDOT deal with city will create a 10-lane roadway along the lake.
//end headline wrapper ?>
Get a daily rundown of the top stories on Urban Milwaukee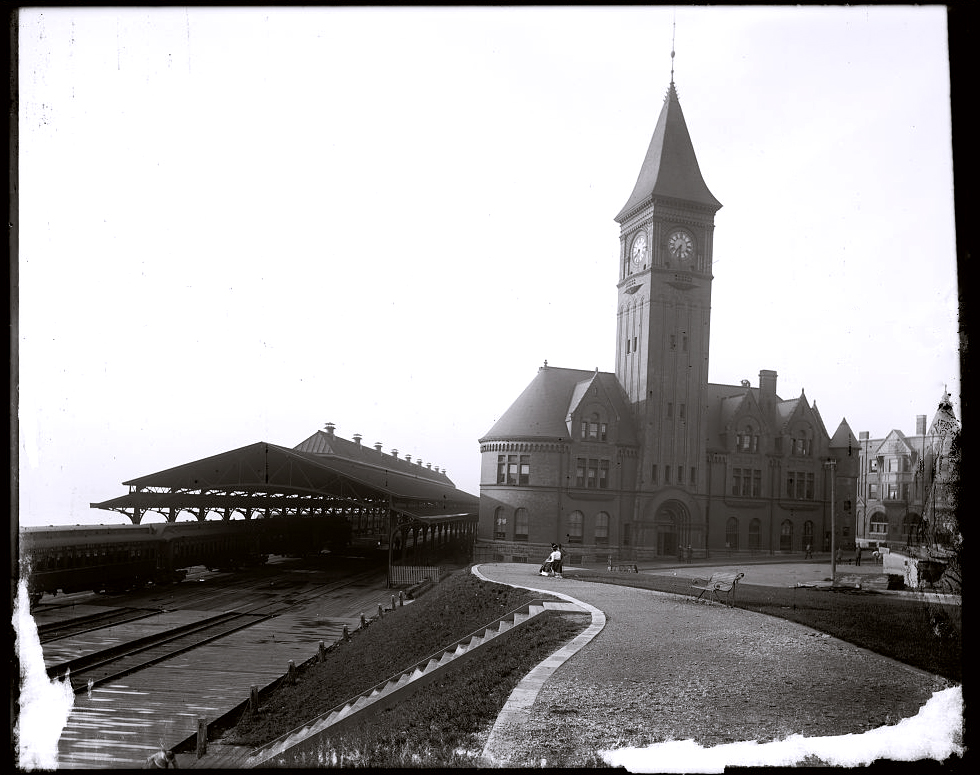 This used to be the gateway to Milwaukee. The Chicago & Northwestern lakefront depot was a status symbol when it was built in 1890. A picture post-card view demolished in 1968 to make room for a freeway.

The Park East freeway was never built so this plot of land sat for more than two decades until O'Donnell Park was built in 1990. "Park in a Park!" is the headline on its website, but it's really a large garage with a corporate patio on top. It was government boondoggle that surprised everyone by blocking many views of the lake.
This course of events illustrates the old parable every architect and urban planner learns in college. It starts with Jane Jacobs' fight against Robert Moses's plan to run a freeway through Greenwich Village in Manhattan, if you can imagine that.
Jacob's book, The Death and Life of Great American Cities (1961) was a revelation like the germ theory of disease. Finally, after decades of failure of urban renewal, we understood what was killing cities. The monoculture of the automobile, with its amalgamation of freeways, ramps, and parking lots. America's 20th Century love affair with the automobile was consuming vast swatches of prime urban real estate, turning cities that used to be destinations into vacuous drive-thrus for people going someplace else.
The areas marked in yellow are all parking lots. The center of this infestation is O'Donnell Park. Yet it is framed by the Northwestern Mutual complex, U.S. Bank Center, the University Club, Kilbourn Tower, Juneau Park, the Milwaukee Art Museum and Discovery World, not to mention Lake Michigan, McKinley Marina, Summerfest, Lake Shore State Park, and the Third Ward.
The disease is reversible only if you realize the transportation infrastructure that perpetuates suburban development drains the life out of cities. Think of it this way, if we got rid of all the parking, O'Donnell Park in Milwaukee could be like Central Park in New York.
Now there is a new plan for this area — the heart of our Downtown — that has been either a vacant lot or parking garage for 46 years. At least that is the way the new Gateway project is being presented. (An overview of the project can be found here. The renderings are available here).
The pictures have a swanky futuristic feel. New high rises buildings reach for the sky and a foot bridge swirls down to a new plaza. The plan is garnished with some "green" modifications, including a urban and linear bio-filtration basin. A bicycle path is thrown in.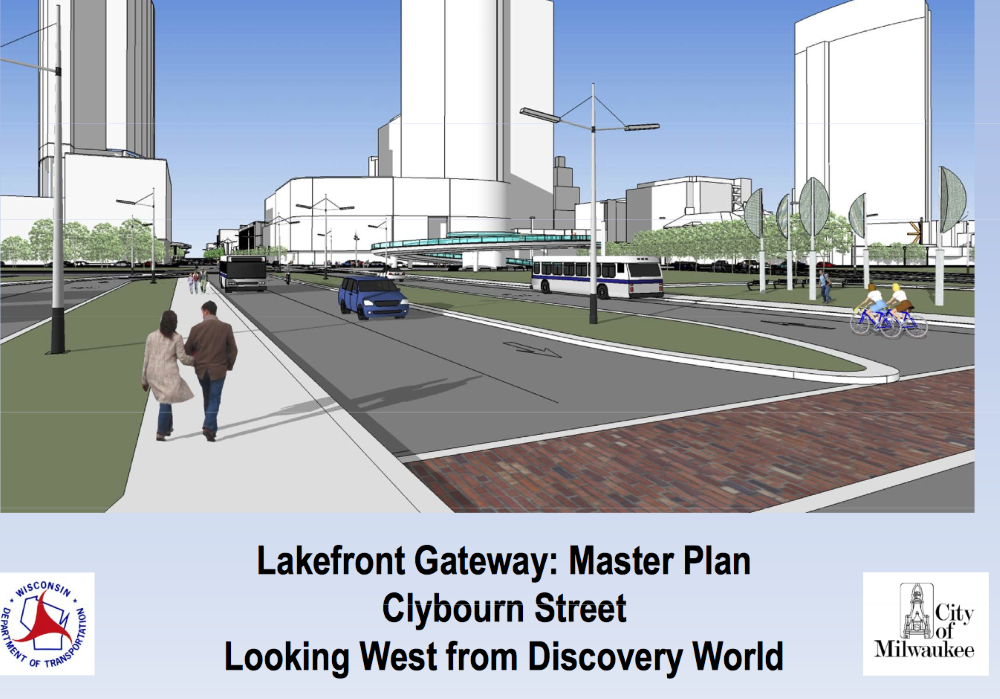 Still, this is basically a project by the Wisconsin Department of Transportation. Every 30 or so years the interstate highway system is rebuilt so Mayor Tom Barrett's administration struck up a deal with the state to make some changes, provided that none of them changed the flow of traffic on the system. As WisDOT has entitled the project, it is The I-794 Lakefront Gateway Project Lincoln Memorial Drive ramps, Lincoln Memorial Drive, Local Street Milwaukee County.
Under this deal, the exit and on ramps of I-794 will be moved a block south to Summerfest, which opens up a plot of land for development on the southwest corner of Clybourn and Lincoln Memorial Drive. This also gives the intersections by the museums on Lincoln Memorial Drive more room to breath.
Clybourn Street will become a boulevard a few blocks east of Lincoln Memorial Drive, providing a more dignified gateway to Discovery World. Lincoln Memorial Drive will be extended underneath the freeway to Chicago Street in the Third Ward.
The extension to Chicago Street is a big deal. I never understood why neither Prospect nor Lincoln Memorial Drive didn't go through Downtown, leaving the 6th St. bridges to tie the north and south side of Milwaukee together.
On paper this seems like a small triumph for the city. Barrett was able to get some additional space for development that will increase the density and tax base, and provide a psychological buffer between Clybourn and the freeway that will enhance the view looking east to Discovery World. And who knows, spur some new development on the O'Donnell Park site? But these modification could have a serious unintended consequence. Squeezing the ramps of the Hoan Bridge and I-794 together with the extension to Chicago Street creates an enormously complex intersection that adds up to 10 lanes of concrete at Lincoln Memorial Drive and Clybourn.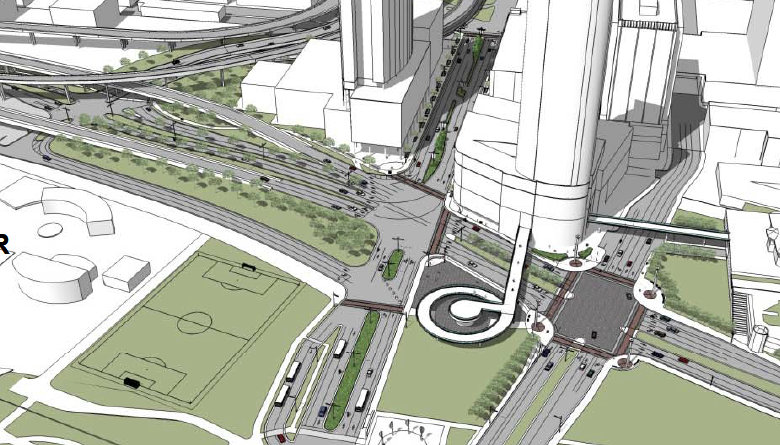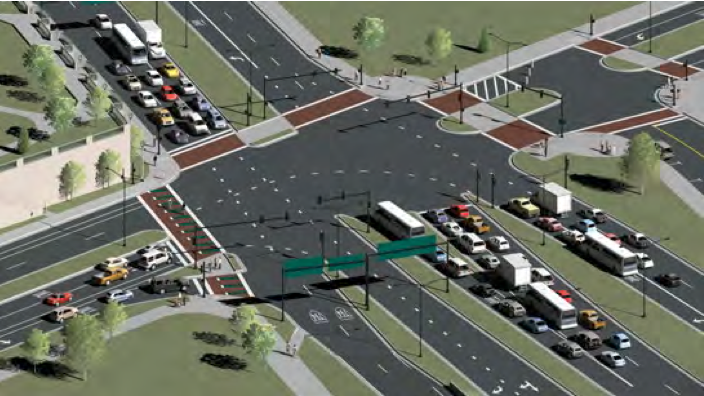 This will bring a lot of cars onto Lincoln Memorial Drive, making it more like a freeway than a city street. Two clunky intersections at Michigan and Clybourn are streamlined but the lakefront starts to feel like an airport.
As WisDOT spokespersons Carolynn Gellings and Michael Pyritz explain it — the plan had to maintain the status quo. They are in the circulation business. More specifically, WisDOT's job is to keep the arteries free of congestion for cars and trucks. Everything else is the plaque.
WisDOT's definition of the status quo, however, projects a 30 percent increase in traffic along this freeway corridor and Lincoln Memorial Drive by 2036. That fact alone demonstrates the downside of Barrett's deal.
Transportation is always political. Someone gains and someone loses. The new plan for our lakefront promotes the continued development of the suburbs at the expense of the city.
Almost all of the traffic on this corridor either terminates into a parking lot or goes on the freeway to somewhere else. This plan upholds the inalienable suburban right for cheap surface parking right off the freeway and sprawling over acres of concrete like a shopping mall.
Keep in mind that congestion is a virtue for cities. It's not a problem for pedestrians, in fact they prefer it. The sidewalk is a social space. Study after study shows people like walking down streets with lots of other people. It's why we like eating at busy restaurants. Cyclists are safer when streets are congested with other cyclists. The Grand Avenue Mall could use a little more congestion. It wouldn't be a problem if a company like Twitter and Facebook moved to downtown Milwaukee.
Getting rid of the on and off ramps to the freeway on Lincoln Memorial Dr. would simplify matters and increase the possibility the surrounding area could be developed into something other than parking lots. Meanwhile the link to Chicago Street would be more straightforward and satisfying. And Lincoln Memorial Dr. could stay the same size or even become a little narrower.
That could add a few minutes to a 20 minute commute (there are other on and off ramps Downtown but further west), which wouldn't be so bad. The worse case scenario — people move a few minutes closer to the city.
Barrett is currently using Jane Jacobs' arguments to fight a WisDOT plan that could create a double decker freeway to I-94 west. Why not extend this elemental logic to the lakefront? It's the biggest piece of the same puzzle and probably the most important real estate in Wisconsin. As it stands, the plan insures the Lincoln Memorial Dr. will be a corridor for suburban commuters instead of a place for urban dwellers for the next three decades or so, when the freeways are next rebuilt. 

The decline of Milwaukee started when the County took over the Chicago & Northwestern railway depot for future freeway development in 1946. Its demolition eventually became a symbol for the automobile induced urban blindness that was ruining our cities. Filling the space with a park that is really a garage just added insult to injury.
It's such an obvious mistake. Here we go again, filling our lake front with cars instead of people, which created the problem in the first place.