In Public
The Hotel That Isn't There
The downtown Marriott made so many compromises in design there's barely any left.
//end headline wrapper ?>
Get a daily rundown of the top stories on Urban Milwaukee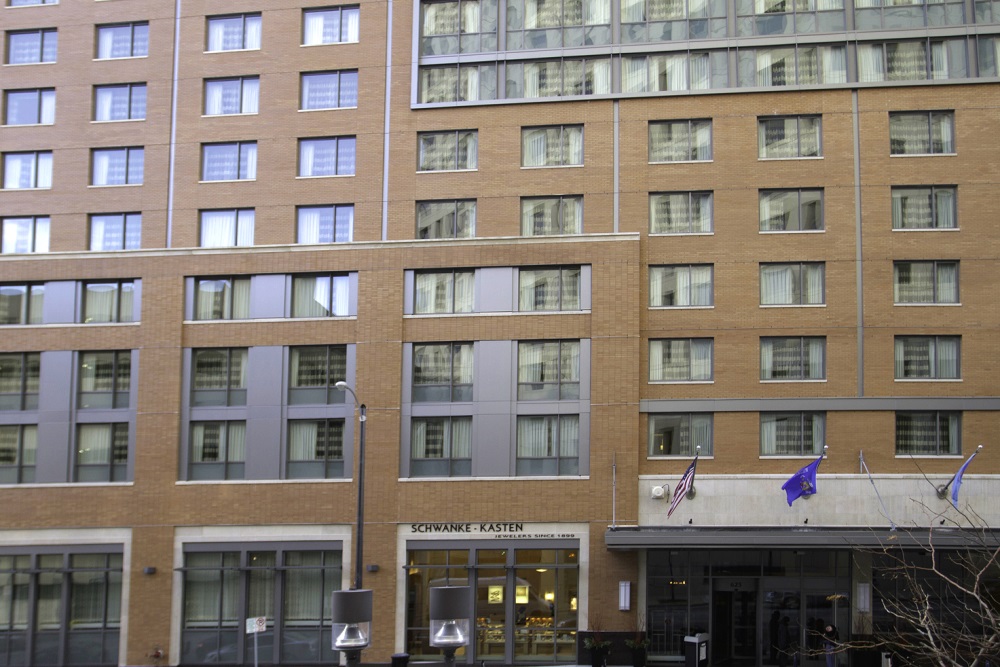 There are way too many moving parts to the new Marriott on Milwaukee Street, just south of Wisconsin Ave. Three interleaved rectangles ramble over the huge facade, but they are poorly conceived and proportioned. Lines don't go anywhere. Shapes don't relate or harmonize with each other. There is no negative space.
Your eyes don't know where to look because no part of the design is more important than another; the relatively equal weights of the various elements cancel each other out. The developers varied the materials to create interest, but they don't seem integral or inevitable; they just add to the noise.
All this visual language with no punctuation make what amounts to a run on sentence. The Marriott's design is neither good nor bad, nor anything in particular. It's not fake, like those faint suburban buildings posing as something else, but it is vaguer, less defined.
The building seems to be more about what it isn't than what it is. It's as if someone put a gun to the developer's head (which is more or less what happened) and said, "Make sure this building is not… too modern, too glassy, too unrelated to nearby historical buildings," etc.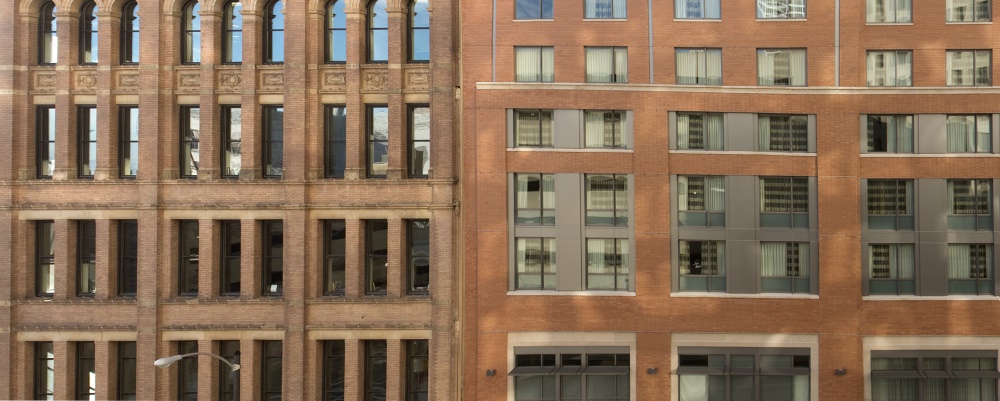 This void becomes more obvious when the Marriott meets up with the adjoining buildings, the McGeoch building (at the left) and the Johnson Bank (below, to right of Marriott). They are defined by a succession of strong and weak elements, accents and rests, repetition, classes and hierarchies. Elements are modulated and progressive. These buildings stand out because they have a sense of themselves. They are a composition.
By contrast, nothing gains your attention when viewing the new hotel. The Marriott is not hard to look at, it's hard to see.

Typically, good developers hire good architects and make good buildings, and bad developers make bad buildings. A non-building is a whole other matter. For that, you need lots of committees and politics.
In the July 2011 issue of Milwaukee Magazine, I wrote a story, "Fiasco," that described the process, or lack of process, that led to this design being created for the Marriott. There was a conflict between Mayor Tom Barrett and the Department of City Development, who wanted the new property tax base and jobs that would be created by a new hotel, and  downtown Ald. Robert Bauman and the Historic Preservation Commission objected to the plan because it would tear down some buildings they wanted to save. (The building faces both N. Milwaukee St. and E. Wisconsin Ave., wrapping around the Johnson Bank building on the southwest corner of Milwaukee and Wisconsin.)
So a simple glassy design that would have replaced two historic buildings on Wisconsin Avenue was rejected in favor of a context-sensitive building that eliminated the glassy look on Wisconsin and blended with the surrounding urban fabric on Milwaukee Street by refashioning a historic-flavored facade. That was the first mistake. At best, blended-buildings lack an identity and can only be less bad than something much worse. Enough of this and the city can begin to turn into sludge.
Besides, what urban fabric are we talking about? That depends on which way you care to look. Right across from the Marriott on Milwaukee Street is the 411 Building, a 30-story precast cement building and parking structure that fills the whole block. E. Wisconsin Ave. has some of our best modern architecture. Why does a new building have to blend at all?
Under former Mayor John Norquist, his city planner Peter Park was able to figure out solutions that put design before politics. But today when these debates about historic preservation or the proper height of buildings in a particular neighborhood arise they inevitably seem to end up in design by committee.
Kahler Slater's architects bent over backwards to make everyone happy with the Marriott's design. More than one person was impressed how the building changed right before their eyes on the architect's laptop. Details were fussed over like flower arrangements for a wedding. UW-Milwaukee's dean of architecture and urban planning Bob Greenstreet was consulted and he added a few finishing touches from his hotel room in London.
It would have been so much simper to stick to basics, let the rectangle be a rectangle and a grid of windows be just that. But once these conflicts arise, there is no place to have this conversation, or to point out that good buildings don't stand in the way of prosperity. They are a cause and consequence of prosperity.
All things considered, it's perhaps not surprising the parent company seems to deny the existence of their new building. Their online ad lists the hotel's address as 323 E. Wisconsin Ave., but you can't see that part of the building, as its covered by the hotel's rates. Nor can you see the hotel's Milwaukee Street facade, with its context sensitive design, which created the fuss to begin with. There's simply no view for the hotel's owner to brag about, so we instead are shown Johnson Bank, with the neon Marriott sign looming in the background.