In Public
Sign, Sign, Everywhere a Sign
The city would be far safer if we eliminated most of the road signs.
//end headline wrapper ?>
Get a daily rundown of the top stories on Urban Milwaukee
Look straight ahead.  Keep your hands on the bars.  And don't stop peddling.   There were only three things to remember when you learned to ride a bike.
Short cuts like this are necessary for us to keep up with the world. The human brain is a million times slower than an iphone.  We can't see everything but can figure out what's important.
This insight has prompted traffic engineers in Europe to rethink street street signs. "When there's a problem with a road, they always try to add something," says Dutch traffic engineer Hans Monderman, who led the movement to reduce signage.  "To my mind,  it's much better to remove things."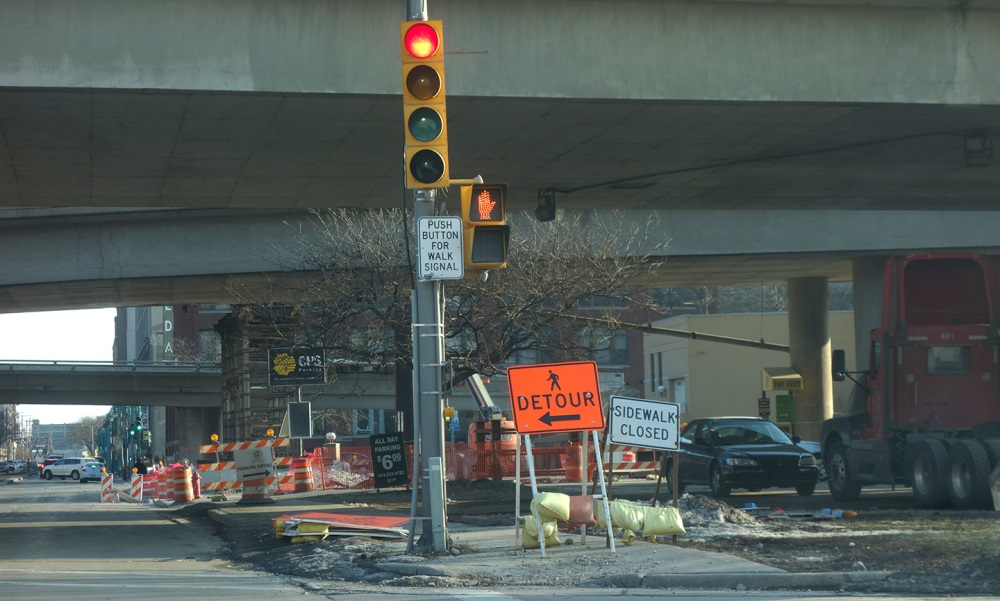 It is easier to see what is going on here without all the clutter.  I erased all the signs, including Push Button for Walk.  It's redundant, like a sign that says use handle to open door.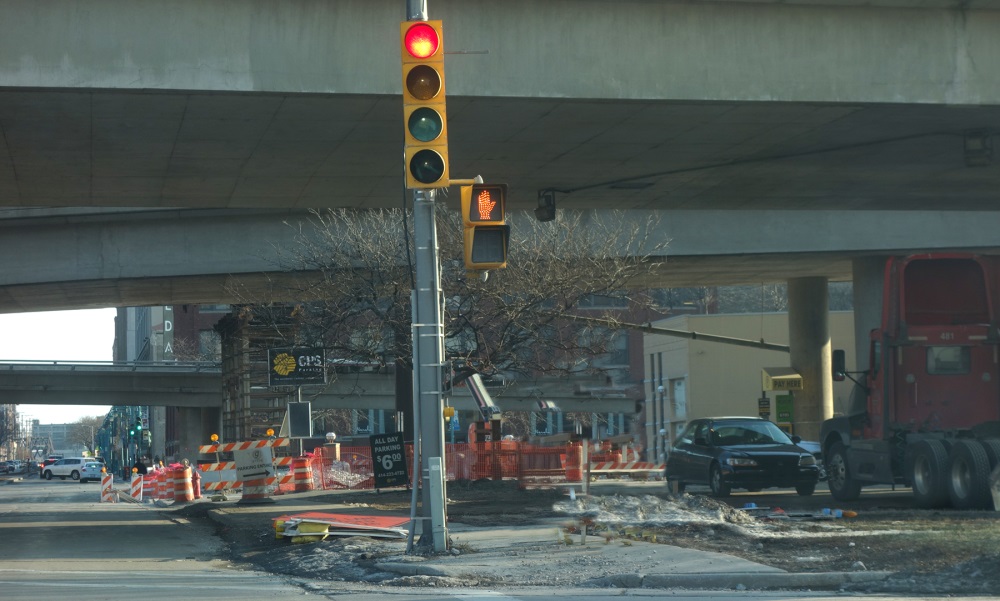 Redundancy is particularly unforgivable on the road because signs are always a distraction from watching where you're going.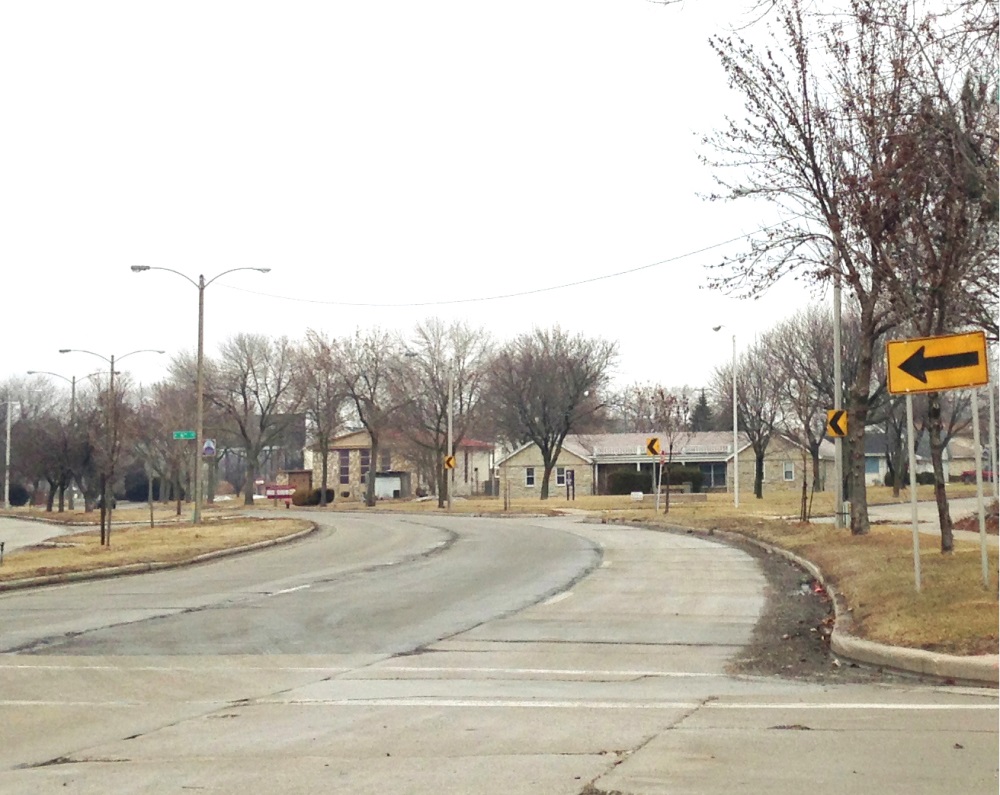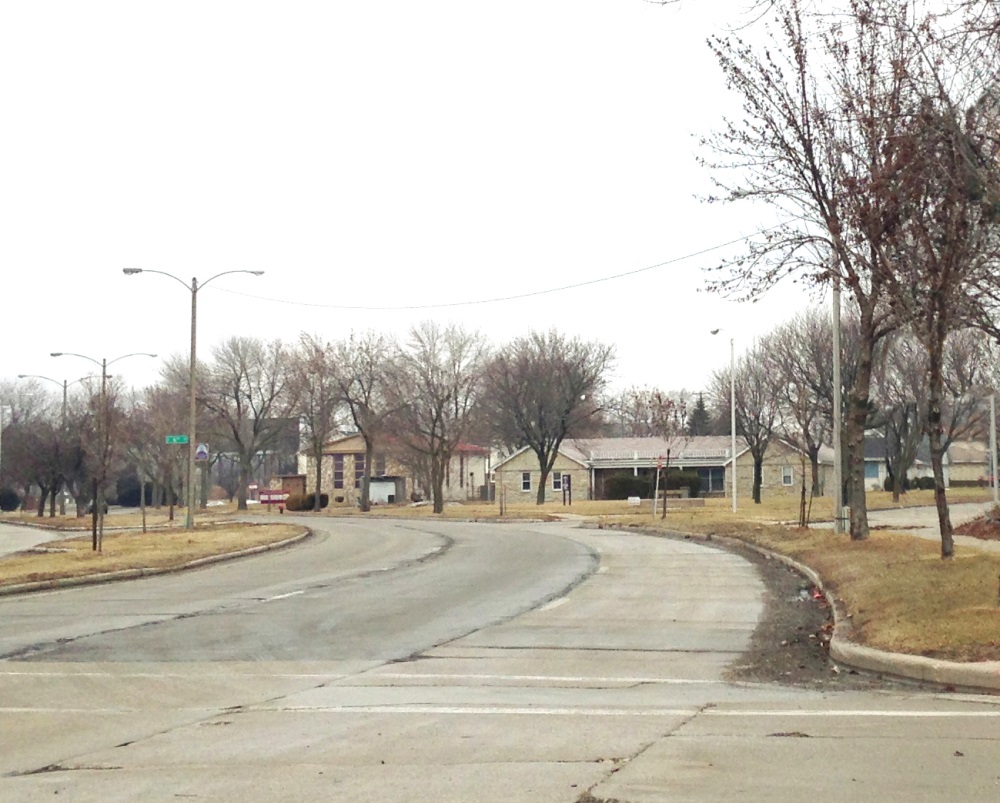 Research has shown we go faster around curves like this after the signs go up.  This adaptive behavior is called "risk compensation": we tend to be more alert to perceived risks and less concerned by stated ones. We trust our instinctual risk assessments over government warnings.  And by the way: Telling us to beware of the least dangerous curve imaginable undermines the basic idea that sign can be about anything important.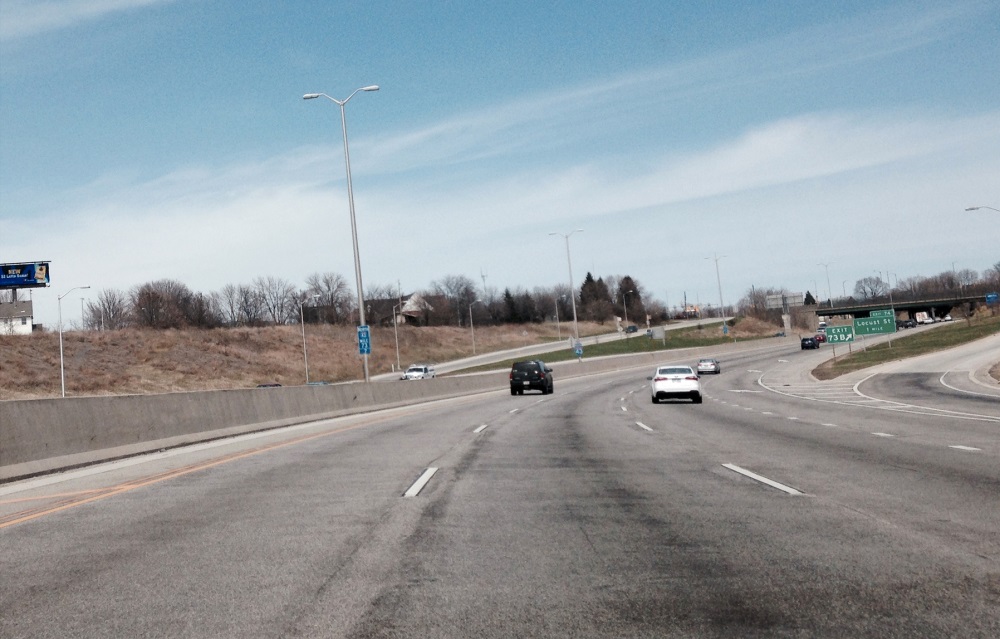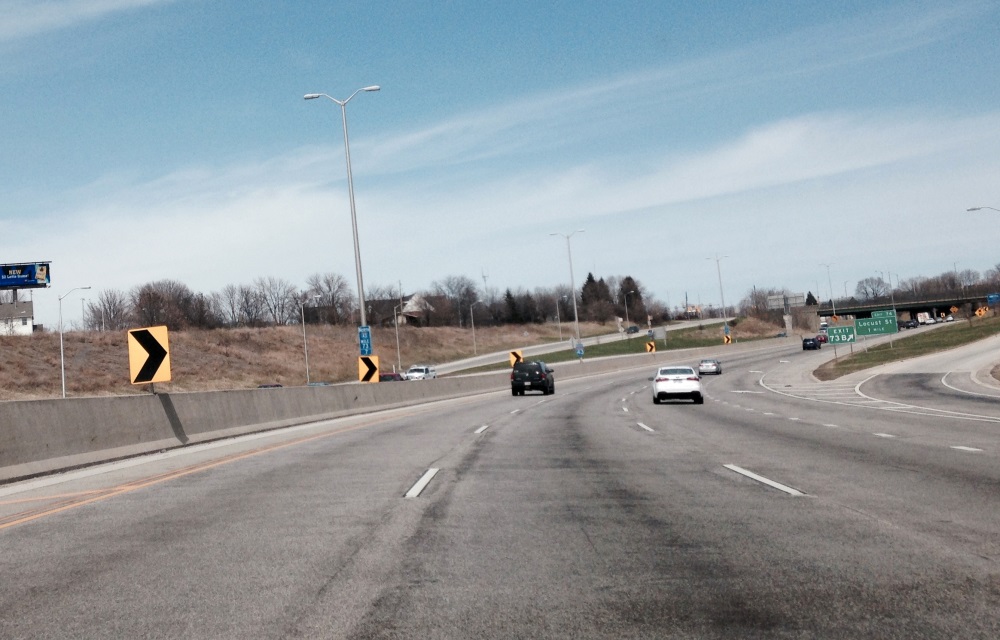 That not to say that we just ignore them either.  They are designed to attract your attention.  But signs are not self-evident like the cars, poles, and the curbs of the road. First you see a sign. Then you read it, figure out what it means.  Deciding to ignore the message is the the third step of a labor intensive cognitive process.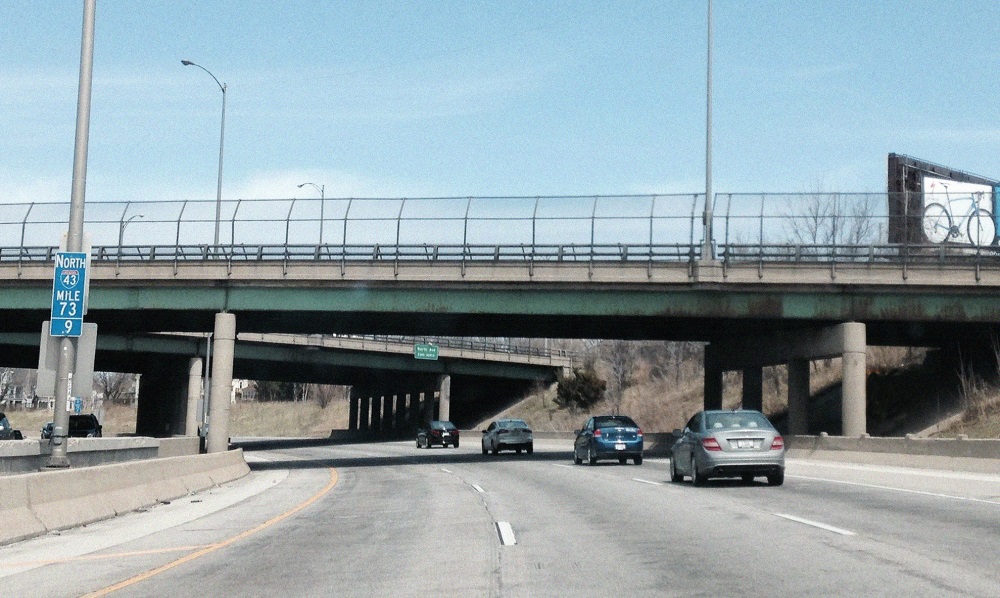 Meanwhile you are going a mile a minute. Not much time for all this reading.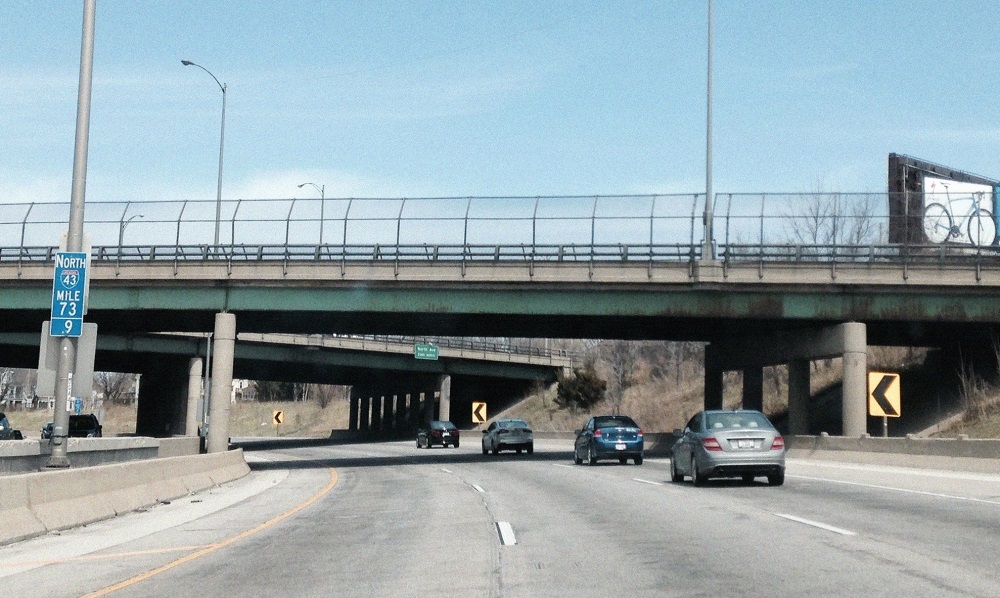 We all know these arrows are not pointing out the concrete supports for the bridge. The world is full of visual puzzles like this one.
When you first saw your hand it was not connected to your body.  When a bus drives by a picket fence it literally turns into bus-slices. Cognitive scientists call this the "binding problem." A lot of unconscious brain power is required to deal with the ambiguity of the world.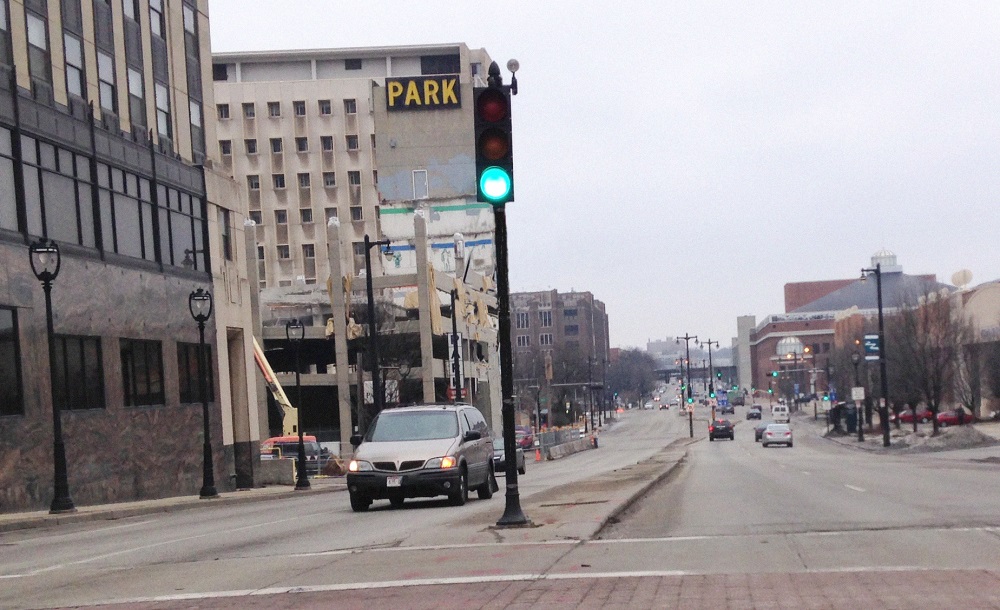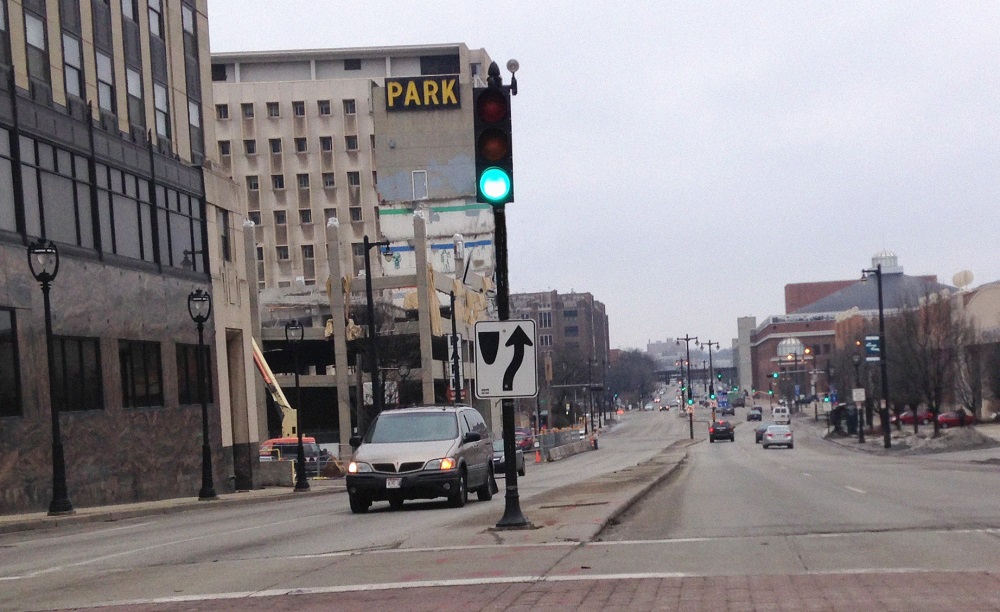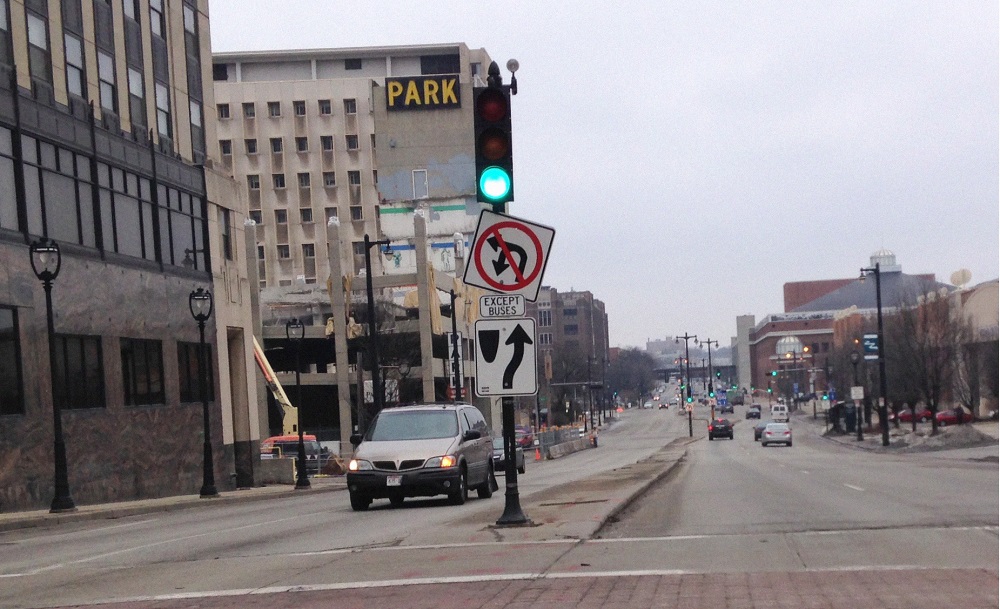 Clarity is important.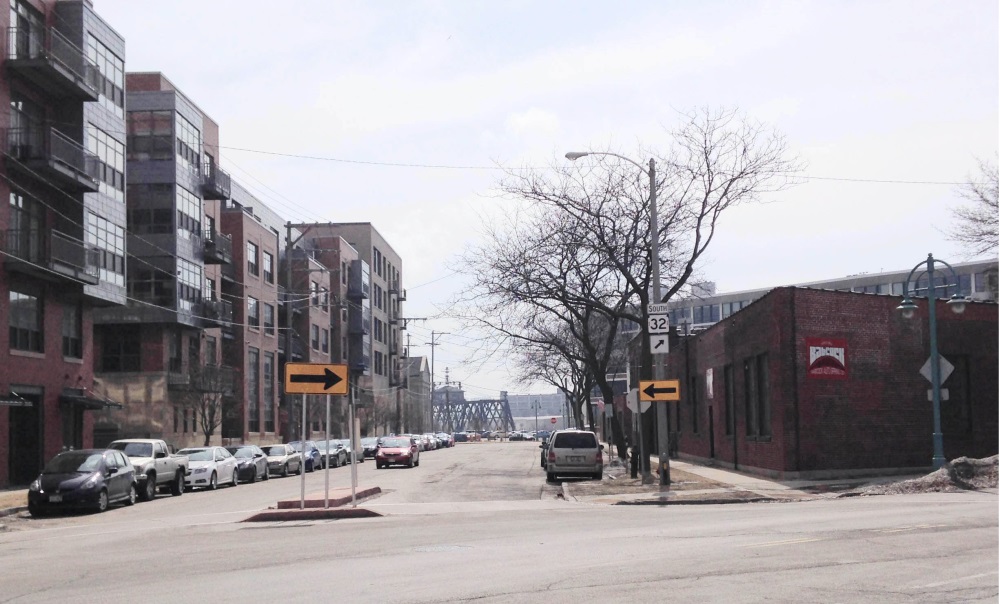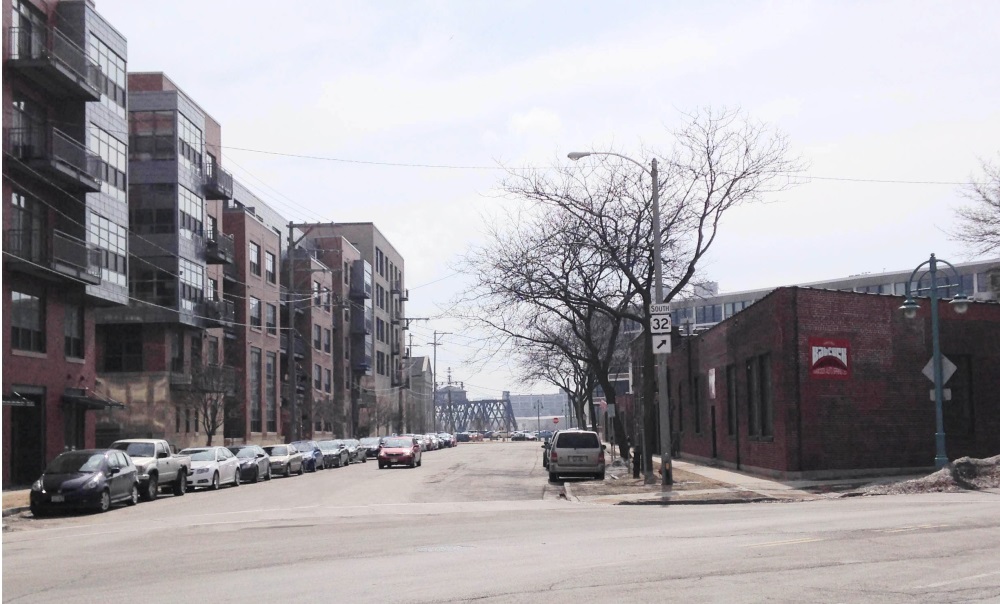 I got rid of the pedestrian island as well.  "Safety measures" in the middle of a normal city street are a dumb idea. So are bump-outs that need warning signs not to bump into them.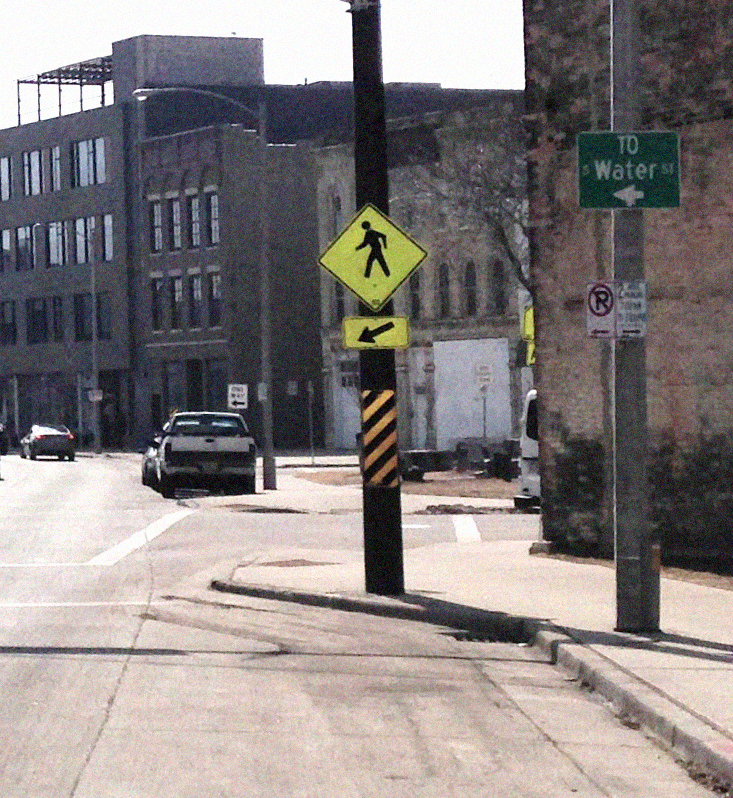 What would it say about us if this worked, if it was the only way to keep motorists from mowing down pedestrians?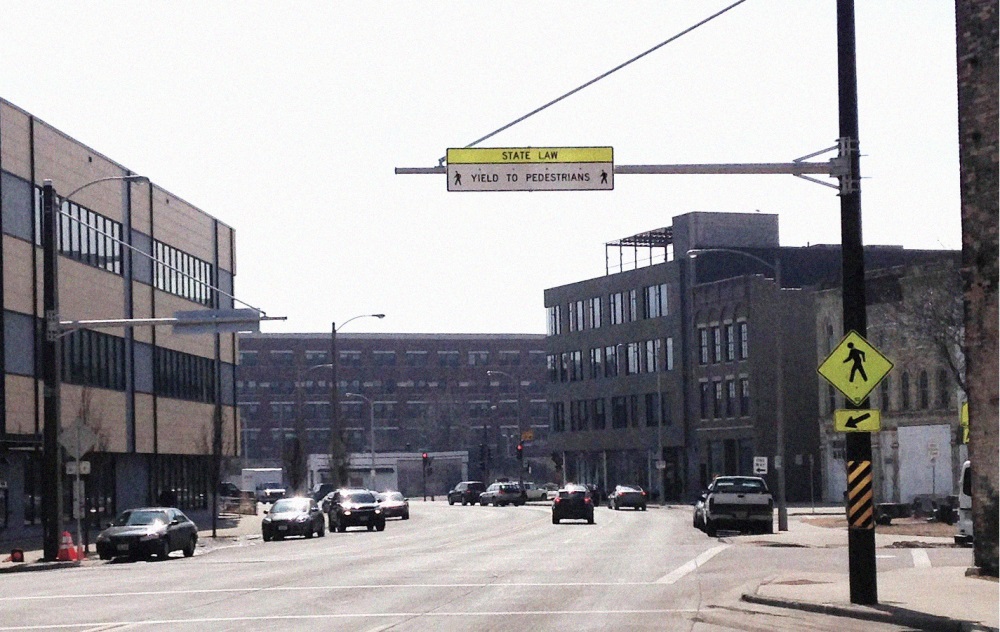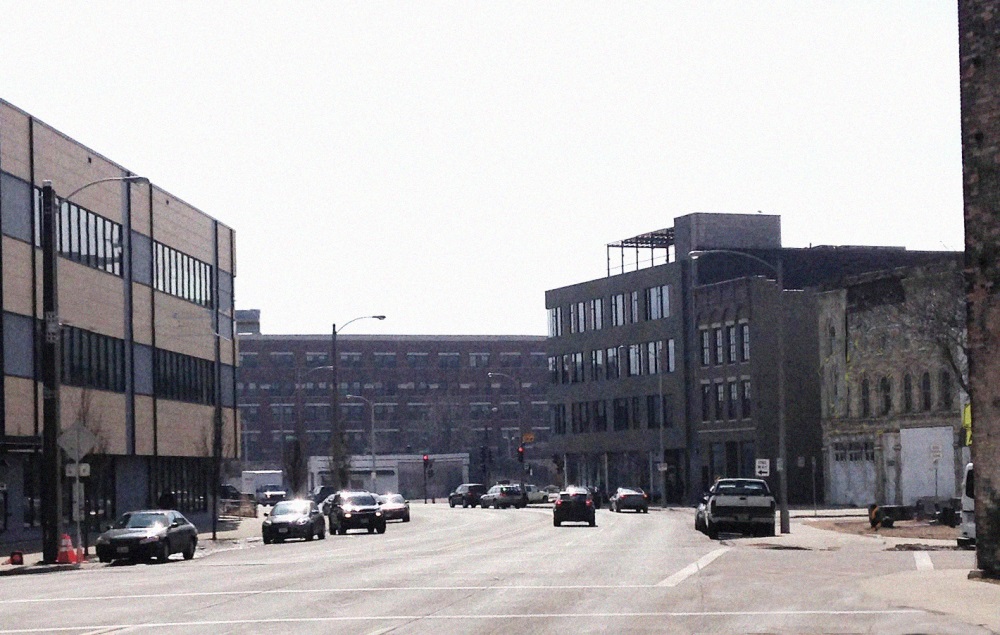 Now that's better.  The world falls into register without all the messages begging for our attention.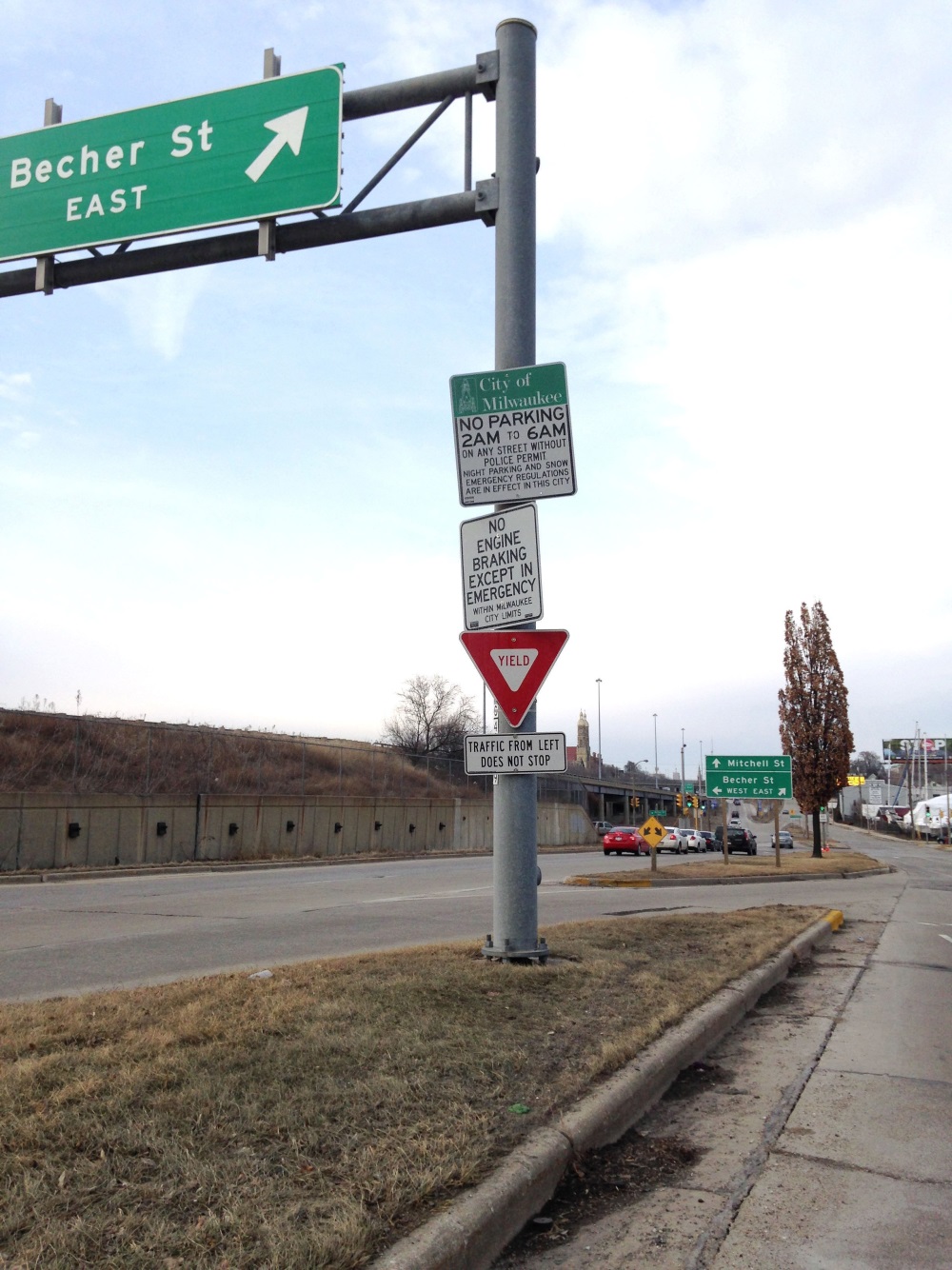 No Engine Braking Except In Emergency. I had to think about that for a minute.
Only a lawyer would think to post parking regulations when drivers are stressed out navigating their way on to a freeway.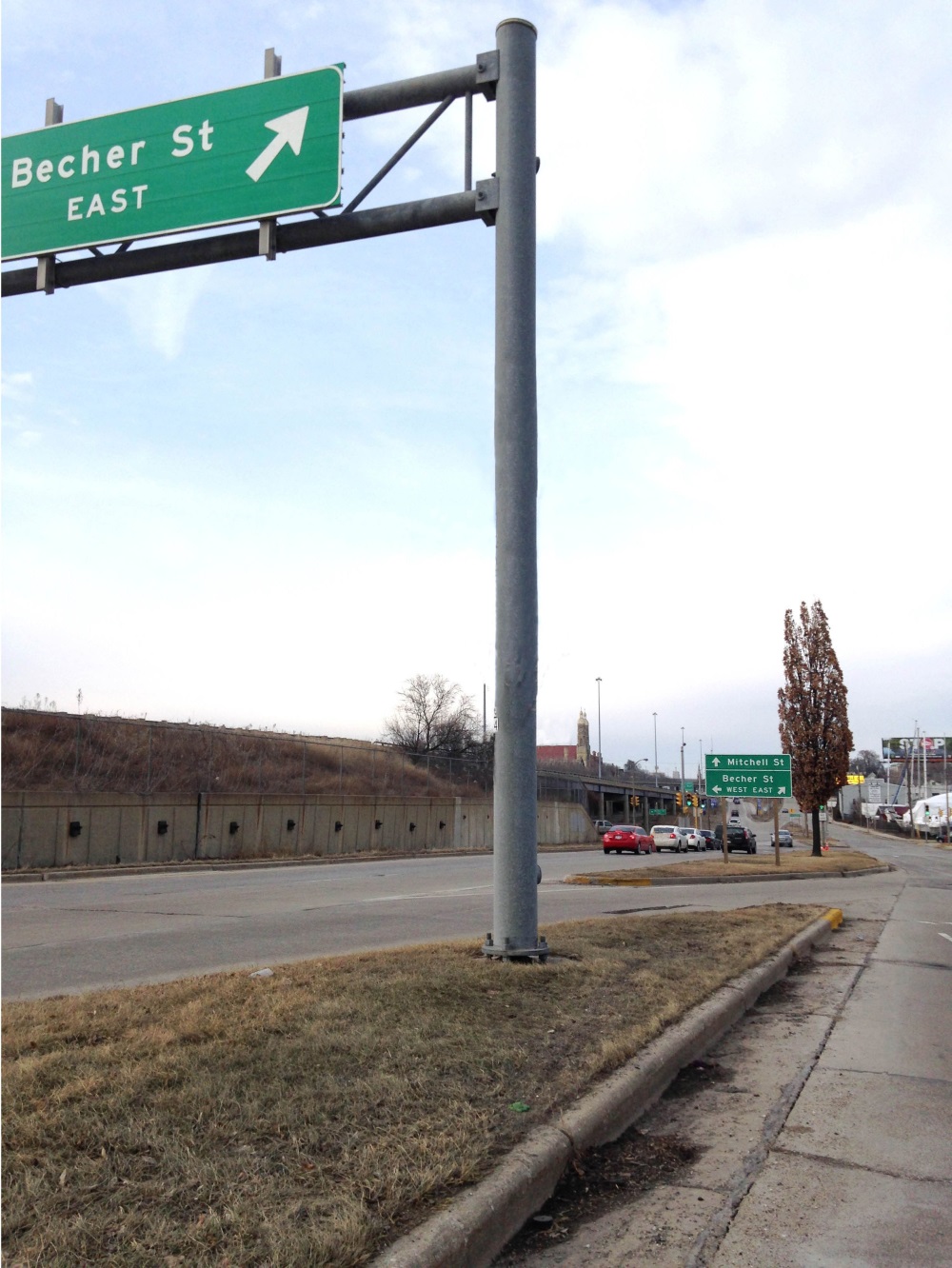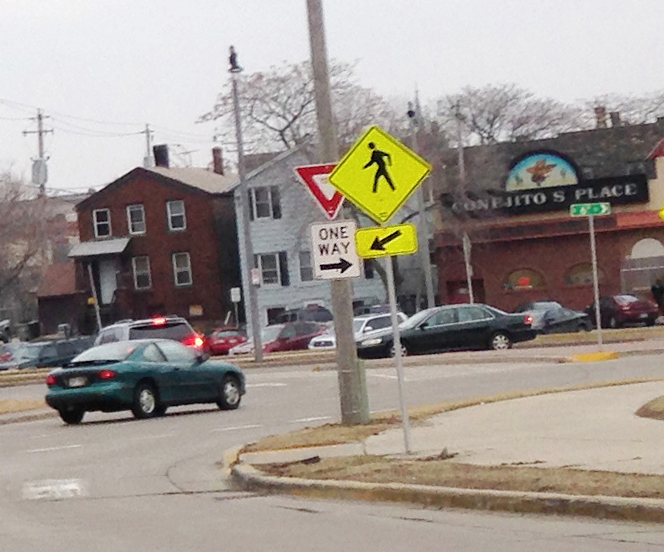 Why make driving harder than it looks?
Roundabouts are a natural remedy that keeps the traffic flowing at complex intersections.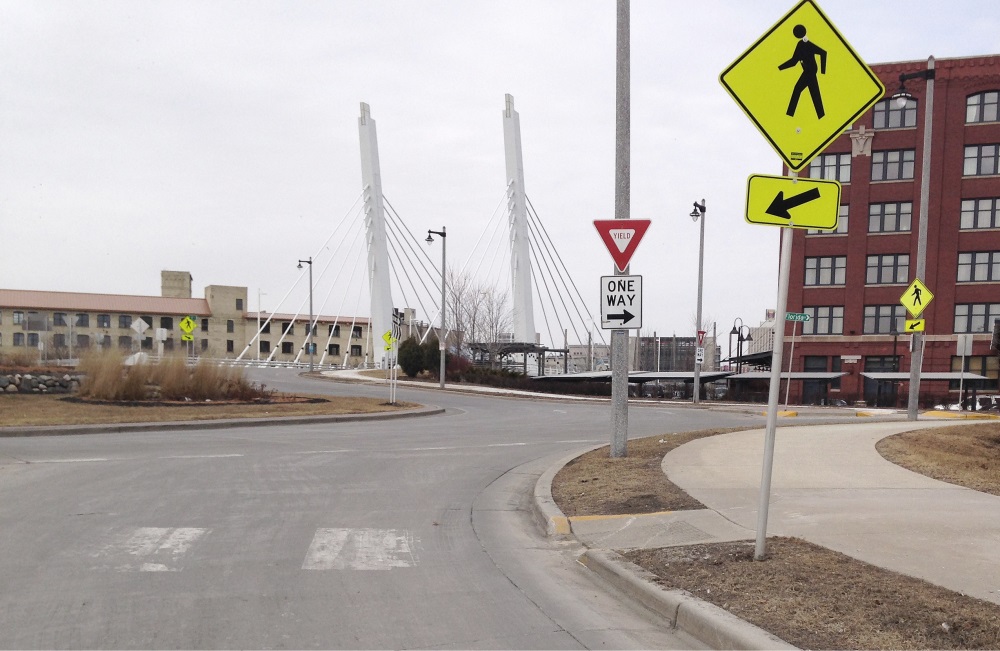 I took 25 signs out of this picture.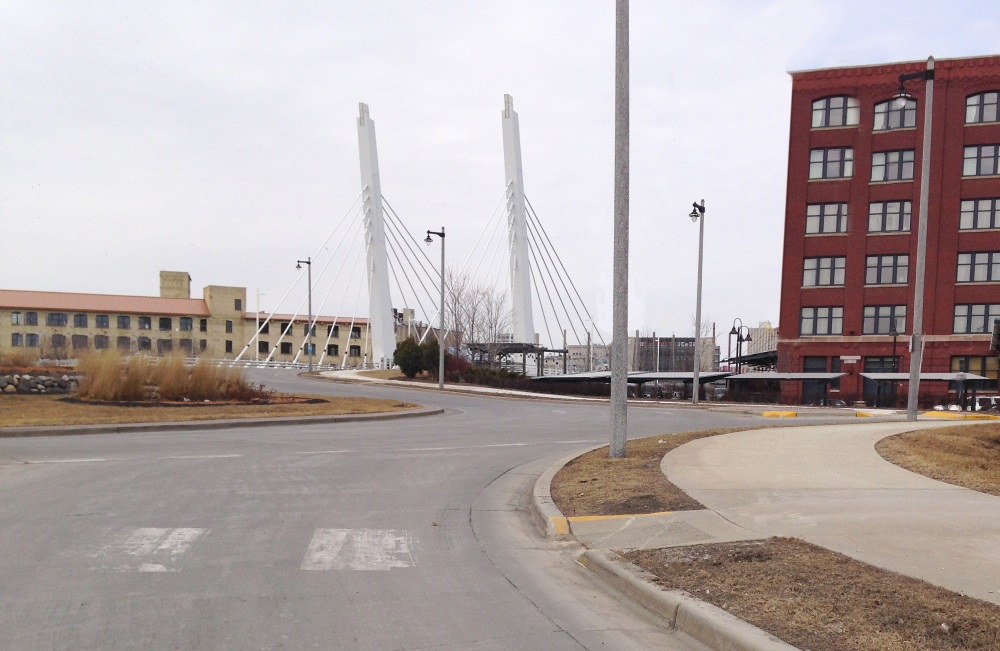 There is no getting past all these pedestrian signs. Lime-yellow is the most visible and aggressive color in the spectrum.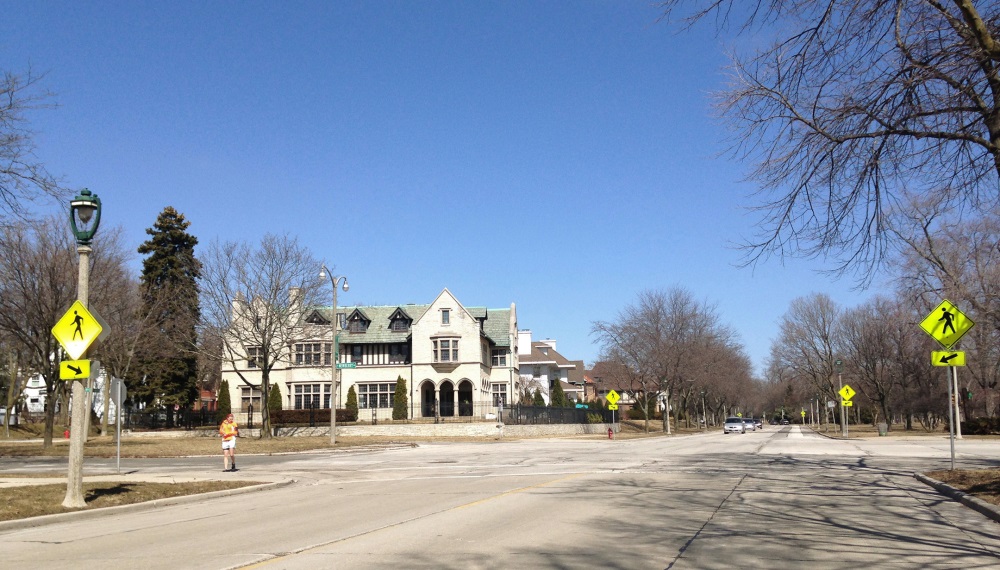 Four signs and arrows pointing in different directions at one intersection grab your attention, which makes it harder to see the pedestrian on the left crossing Newberry Boulevard.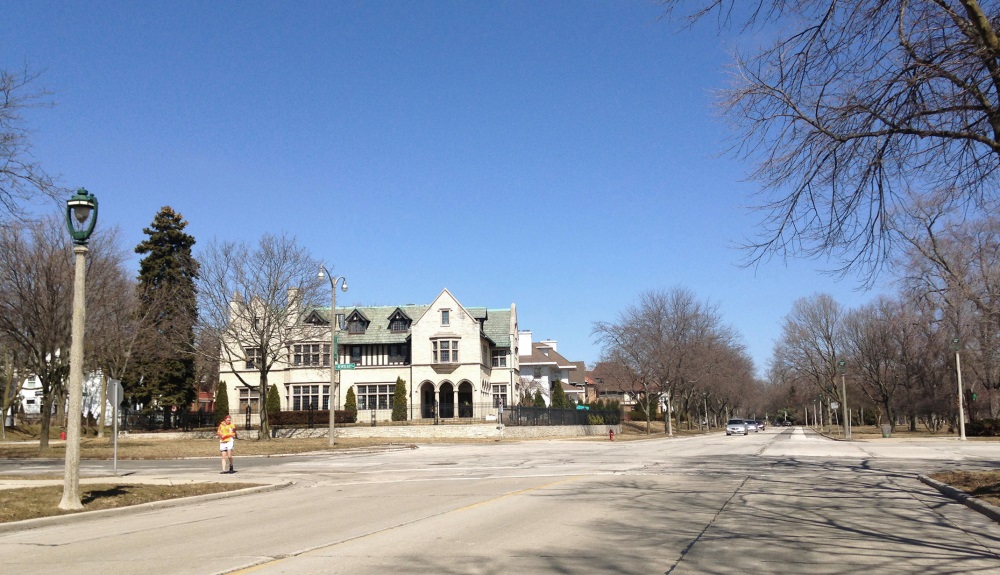 Why all the worry about this intersection that has none of the risk factors associated with pedestrian fatalities (low income and drinking). How many years or decades has it been since we had a traffic fatality of any kind at Newberry Boulevard and Lake Drive?
What about drunk drivers?  They would be the last person you'd want reading signs rather than looking at the road.
Does any sign make us safer?
The research points in the other direction.  Flashing "deer crossing" signs, for example, increase deer deaths even though the number of deer decreased at those crossings. (Deer don't like these signs either).  All the more reason to take down that "children at play" sign you asked the city to put in front of your house.
There are more pedestrian signs than pedestrians in most parts of the city.  You easily can pass 50 of these signs driving to work. It's mind boggling, all the more so after you realize what they are saying.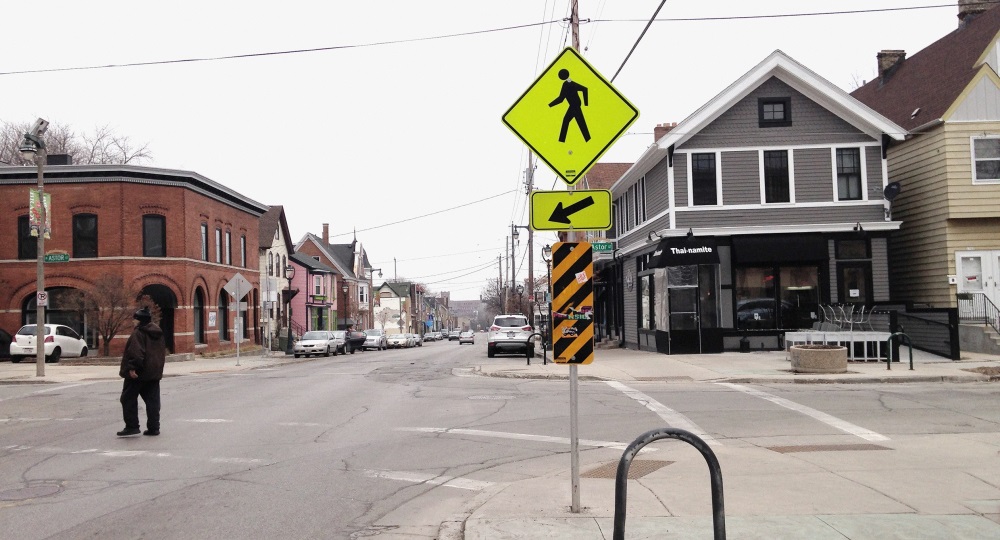 DANGER — People walking.
Do motorists have to be reminded again and again that people walk in cities, that it's not a drive thru?
This excessive alarm about a human presence on the street violates common sense and is annoying.  At a very early age we learn not to bump into things.  We don't need arrows pointing to people, other cars, trucks, buses, lampposts, curbs, trees, or anything else we can see.
Signs will never save us from ourselves. We will all be better off once we realize streets are not for cars.  They're for people in cars, on bikes or walking.  A street is a social place where, if given a chance, we naturally look out for each other.  People are the solution, not the problem.