In Public
The Resistible Rise of Public Art
More and more of it is scattered about the city. But how much of it does anyone actually like? 
//end headline wrapper ?>
Get a daily rundown of the top stories on Urban Milwaukee
Businessman Steve Marcus wants to put sculptures along Wisconsin Avenue. Art will also be a big part of the "Creational Trails" project on Wisconsin Avenue and on a rail corridor in the Riverwest and Harambee neighborhoods.  Art has been proposed or recently installed on Martin Luther King Drive and the lakefront, and in Burnham Park, Franklin Square, Sherman Park, the Menomonee River Valley, Bay View, Park East, Shorewood and the rail road bridges on the Milwaukee River
I'm sure I have missed a few. The RiverWalk and the Downtown convention center are full of art. The foot bridge across Lincoln Memorial Drive at Brady Street is artified as well.
All of this despite the fact a recent online poll found that 93 percent of Americans hate Modern Art. It usually bombs at the box office at the Milwaukee Art Museum and is the butt of more jokes than any other medium. As Tony Pettulo, long time donor and trustee of the Museum explained to the press, Modern Art  "may be worth a couple million bucks, but I don't get much out of it."
"Any dope can marvel at a Rembrandt," the Yale psychologist Paul Bloom explained, "but only an elite few can make any sense of a work such as Sherrie Levine's Fountain (after Marcel Duchamp), and so only an elite few are going to enjoy it." Speaking of  Duchamp, when he was asked if anyone actually likes Modern Art he famously replied: "Oh, maybe ten in New York, and one or two in New Jersey."
Yet countless local leaders and organizations in Milwaukee are convinced that public art, which is almost always the sort of Modern or Postmodern art that prompts such jokes, is an essential component to any "revitalization" or "place-making" efforts in Milwaukee.

Consider this sculpture, Tip by David Middlebrook, at the entrance to Gordon Park on E. Locust St. One simple test is to compare the park with and without the art work. If it looks better without it, that's not a victory for the park or art.
Civic boosters thought this sculpture would give the Riverwest neighborhood an identity.   Not good art, mind you. We are talking about good intentions.  Riverwest Currents publisher Vince Bushell, one of the panelists that chose the work, hemmed and hawed when I asked if he really liked it. He went on to explain this art would be good for people.
I wonder how many people who drive by the park, or worse, walk between these butt ugly things, would agree with this assessment. The public art brought to you by the county, city, and community groups are like bowling trophies that clutter a home, functioning as signifiers of accomplishment for community leaders and but faintly idiotic for the rest of us.

The Stone Bracelet by Zoran Mojsilov in a pocket park in Walker's Point is another example of civic ambition gone awry, like a bad nose job (22 tons of it to exact). Locals refer to this as the "rotting tooth" sculpture. When it was installed, Sue Potts, a community activist who served on the panel that chose the work, told the Milwaukee Journal Sentinel, "this represents the ageless quality of stone – something older than the neighborhood."  There are a lot of things older than the neighborhood that we would just as soon forget.

What can you say about Tree of Life, by Nancy Metz White in Mitchell Boulevard Park, just south of Bluemound Rd.? No green space in Milwaukee needs a $32,000 tree ornament. The aspirations for public art shouldn't be lower than the grass it sits on.

This sculpture by John Barlow Hudson, called Compass, overlooks the footbridge over Lincoln Memorial Drive at Brady Street cost less than 5 percent of what the Milwaukee Art Museum recently spent on a photograph. And it shows. Again, a simple question: Which view do you like better?

If more art is better, why not add Compass to this classic work by 19th century American landscape painter George Innes?
Compass and many other works of the same caliber funded by the county or city were completed about ten years ago. Public art is still seen as pixie dust, a catalyst that can "activate" place. The search for a gesture that could turn neighborhoods around created a whole new species of public art that flocked to cities.
Recently the Pink Planet by Richard Edelman was unveiled in Catalano Square in the Third Ward.  Never mind that Stratiformis (the rusty cage on the left) by Jin Soo Kim is a few feet away, yet another example of unsuccessful public art. "It's been there for 15 years and people have gotten used to it," explains Nancy O'Keefe, the Executive of the Historic Third Ward Association, so apparently more public art was needed.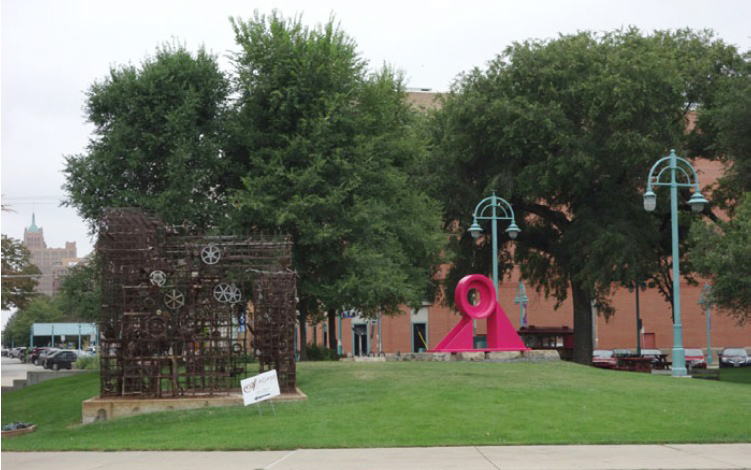 O'Keefe likes the versatility of the Pink Planet: "You can do more fun things on it," she tells me. "Put Christmas lights on it.  Put your face in it and take a picture."
Well, it looks like art. But no one would make the case this is good art.
"I know very little about art," O'Keefe says. "Show me something and I will tell you if I like it or not."
There are three more Edelman sculptures in the Third Ward.  And there are more to come according to the artist: "I have worked a lot in the district. The Third Ward has been developing and upgrading parks and looking for sculpture. I have been putting things on loan and creating sculpture for these spaces as they come up."
Really, as spaces pop up they are filled with sculptures? Art is not like money. More can be so much worse than less. That's why we have museums to make choices of what art to accept (and even then most of it is put into storage). But with public art after you plop it down, it's all but impossible to get rid of it.
Though most of this stuff is fantastically cheap by art world standards, it still adds up.  Over the last 15 years various public entities have spent well more than a million dollars on public art, I would guess, on countless works now cluttering up Milwaukee.
Would it make a difference if public art advocates spent their own money rather than the taxpayers or foundation dollars? Most, if not all of the truly good works in Milwaukee have been funded with private money — the DiSuvero sculpture at the end of Wisconsin Avenue, the Beverly Pepper in Burns Common (the little triangle at Ogden and Farwell avenues), or the Juame Plensa sculpture overlooking the bluff at the end of Capitol Drive in Shorewood's Atwater Park.
There is quite a difference in how the publicly and privately funded works are chosen. All the public art works pictured in this article (except those loaned to the city) were purchased through a process that starts with a request for proposals, which often attract certain kinds of artists, those who frequently apply for such funding. The applications are then reviewed not by knowledgeable professionals (as the city might buy, for instance, parking meters) but by a committee of citizen volunteers.
Privately funded public art, by contrast, is usually a curatorial process, which is just fancy word for intelligent shopping. An art professional, like Russell Bowman the former director of the Art Museum, who was consulted on the DiSuvero, Pepper, and Plensa, helps find the best possible "product" for the site and the budget. This search includes the best artists working today, who are too busy to be applying for RFPs or make the sort of low-cost work that inevitably gets purchased by government public art programs.
All three of the privately funded works I've signaled out each cost several times more than all the works pictured above. Perhaps the bargain basement price tag for civic art automatically lowers the standards of the panel members who chose it. But creating a "point of interest" is a very low standard to begin with. Street vendors or car crashes are points of interest. Art shouldn't just be filler, a knickknack that brands a neighborhood. Unlike toilet paper, bad public art is much worse than no art at all.
Private money doesn't guarantee a good outcome but it raises the bar. Plenza's Crown Fountain in Millennium Park, which is worth a trip to Chicago, was funded by $17 million of private money.
When was the last time private money created public goods that are 10 to 20 times, even hundreds of times more expensive than what government routinely provides?
Most of the public art in town isn't about a passion for the work or a place, but about civic pride, about community betterment, about elevating average citizens to understand that art is good for them. And if they don't come to that realization? The answer, it seems, is to just add more art.