Press Release
Transforming Lives with the Guest House of Milwaukee
Kahler Slater Commits to Fighting Homelessness in Milwaukee
MILWAUKEE, Wis., March 26, 2019 — Kahler Slater has committed to a two-year partnership with the Guest House of Milwaukee as part of its corporate core value to "contribute to the communities we serve." Through ongoing and regular activities, Kahler Slater will directly serve the Guest House and raise awareness for this important organization in the effort to help people overcome homelessness.
According to The Milwaukee Continuum of Care January 2018 Point in Time report, a total of 871 men, women and children were experiencing homelessness in Milwaukee. This number represented a decrease from 2017, and the Kahler Slater team hopes to continue to support this effort through its work with the Guest House.
The Guest House of Milwaukee works with community members facing homelessness and housing instability, but is distinctly More than Shelter. While the organization provides shelter and services to 86 adult men, Guest House also houses individuals and families in over 450 housing units throughout the community; provides clinical and recovery services to those facing mental illness and addiction; and offers homelessness prevention, case management, and wrap-around coordinated care services for eligible clients. The Guest House serves more than 1,200 individuals annually through shelter, housing, education and clinical programs.
"We are honored to be partnering with the Guest House of Milwaukee to support their mission of helping Milwaukee's homeless who seek to transform their lives with dignity and purpose," says Kahler Slater's executive vice president,
Kelly Gaglione
. "Our team hopes to make significant contributions to the Guest House and play our part in addressing this important issue over the next two years."
Kahler Slater kicked off its two-year partnership with the Guest House by coordinating a Winter Supply Drive to collect men's gloves, hats and scarves. Due to this year's harsh winter, the 114 items collected by the Kahler Slater team were especially appreciated. Upcoming events include garden bed reconstruction for the Guest House's Cream City Gardens, meal preparation and service, the Annual Kahler Slater Retreat and Community Service Day in September as well as another donation drive to support the collection of ongoing necessities, such as hygiene products, underwear, white t-shirts and socks.
"We are so excited and grateful to be partnering with Kahler Slater over the next two years. We know this partnership will make an important and lasting impact on our work and in the lives of the families and individuals we serve," said Claire Van Fossen, Guest House of Milwaukee Senior Manager of Strategic Development.
The two-year community partnerships are a firmwide initiative. Kahler Slater's Madison office is working in collaboration with The Road Home Dane County (www.trhome.org) which provides opportunities for homeless children and their families to achieve self-determined goals and affordable, stable housing. The Richmond office is partnering with Safe Harbor (www.safeharborshelter.com) to support those who are experiencing or have experienced domestic violence, sexual violence or human trafficking.
About Guest House of Milwaukee
The Guest House of Milwaukee provides shelter, housing, education and services to Milwaukee's homeless who seek to transform their lives with dignity and purpose. The Guest House has been helping people overcome homelessness for over 30 years. Visit www.guesthouseofmilwaukee.org to learn more.
About Kahler Slater
Through architecture, interior design, environmental branding and strategic advisory services, Kahler Slater leverages design to help our clients reach their strategic goals for advancing their organizations. We use a Performance-Based Design process that is grounded in research to ensure we design for change. The result of our work enriches lives and achieves powerful results. With offices in Milwaukee, Madison, Richmond, VA and Singapore, we serve clients around the US, Canada and Singapore. Kahler Slater's team includes marketplace experts in healthcare, higher education, corporate, living environments, hospitality, sports and wellness.
Learn more about Kahler Slater at www.kahlerslater.com.
NOTE: This press release was submitted to Urban Milwaukee and was not written by an Urban Milwaukee writer. It has not been verified for its accuracy or completeness.
Mentioned in This Press Release
Recent Press Releases by Kahler Slater

Nov 9th, 2020 by Kahler Slater
Move will place architectural firm in Milwaukee's Central Business District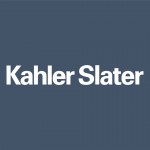 Mar 26th, 2019 by Kahler Slater
Kahler Slater Commits to Fighting Homelessness in Milwaukee