Press Release
Al Krueger and Glenn Roby are named new CEOs at Kahler Slater
Succession plan thrives with collaborative leadership model
MILWAUKEE, Wis. (Tuesday April 13, 2021 – 8:00 AM) – Kahler Slater announced today that Executive Vice Presidents Al Krueger and Glenn Roby have been promoted to the roles of CEOs of the internationally known and growing architectural, strategic advisory and design firm. This move fulfills strategic succession plans that began several years ago.
Krueger and Roby succeed George Meyer and Jim Rasche, who have been with Kahler Slater for more than 35 years each and are transitioning to new roles as Chief Executive Officers Emeritus.
The new Kahler Slater CEOs will lead the 113-year-old firm boldly into the future.
"This is a very exciting time at Kahler Slater," Roby said. "We have many leaders in all levels at the firm propelling us toward our strategic goals. I love to see our people align their passions to fulfill the needs of our clients. Those same clients see the benefit of the many initiatives that focus on our people and their growth as professionals, respectful collaborators and stewards of our resources."
"We've invested in regional growth, marketplace diversity, and subject matter expertise to grow well beyond the commodity services that many firms in the industry offer," Krueger said. "Our diverse portfolio and collaborative nature allows us to come together and create truly innovative design solutions."
Kahler Slater has a long-standing tradition of a collaborative leadership model, dating back to the 1960s when David Kahler and Mac Slater ran the firm. The company believes that the best ideas and decisions are made in a collaborative leadership environment. The model also enables the CEOs to continue to work closely with clients, which is a key to its success.
Krueger and Roby are both active and accomplished architects with more than 20 years of experience. Each has a passion for leading the firm, a long tenure with Kahler Slater and embraces the company's values: respectful collaboration, trusting relationships, integrity, passion, creativity, openness, diversity and community.
Krueger leads the Kahler Slater Healthcare Team. His commitment to growth led to Kahler Slater expanding its staff with high-level team members and service offerings to include strategic advisory services in recent years. Under his leadership, Kahler Slater has added many new client relationships and projects in new geographies including Canada. Krueger has built upon the firm's strong Mid-Atlantic presence with the launch of the firm's office in Richmond, Va., in 2017.
Roby leads the Kahler Slater Corporate, Hospitality and Residential Team and is known in the industry for his deep understanding of the privately funded real estate process. Under Roby's leadership, the team has more than tripled in size and has added new capabilities. Roby also played a leading role in planning, developing and opening Kahler Slater's rapidly growing Chicago office in 2020.
The new CEOs will be supported by a strong team including Executive Vice President and Chief Marketing Officer Kelly Gaglione; Chief Financial Officer, Chief Operations Officer and Vice President Tracie Parent; and Vice Presidents Larry Schnuck, Trina Sandschafer and Jeff Piette, along with other Principal leaders and a strong group of up-and-coming Owners.
Kahler Slater's leadership team, led by the new CEOs, is responsible for implementing the firm's new five-year strategic plan, which will focus on significant growth for the firm, including: continuing to build up a deep team of sought-after experts, expanding the firm's geographic reach and harnessing technology.
Meyer and Rasche, who have led Kahler Slater's significant growth since 1985, are confident their successors and other leaders will continue to build upon the company's momentum.
"Their clients love them. They have each built fantastic teams with expertise and market knowledge," Meyer said.
"We have been intentionally working toward this transition for several years. They have the passion, drive, talent and support of our clients, owners and staff," Rasche said.
Meyer and Rasche will serve as ambassadors for Kahler Slater, will be available for key client relationships in Milwaukee and Singapore and will be available for counsel to the firm's leadership team.
"George and Jim have been visionary leaders at Kahler Slater. Their years of leadership, especially with specific focus on developing our expert market-facing teams, will continue to propel Kahler Slater into the future," Krueger said. "Jim Rasche has been a fantastic mentor to me. He has offered exciting challenges throughout my career at Kahler Slater and has always provided an appropriate level of guidance and resource for success."
"George and Jim have grown the influence of the Kahler Slater brand, delivering their clients' visions with a national and international reach," Roby said. "They have both shaped the special culture at Kahler Slater and the careers of countless professionals who have been part of the Kahler Slater family over the last 30 years.
Kahler Slater designs to enrich life and achieve powerful results. Through architecture, interior design, strategic advisory, and environmental branding, Kahler Slater's dynamic collective of marketplace experts and creative thinkers harness the power of design to move boldly forward. With clients in the United States, Canada, and Singapore, Kahler Slater designs for civic cultural, healthcare, higher education, corporate workplace, residential, hospitality, sports, recreation, and wellness sectors. Kahler Slater is known for leveraging design to help clients achieve their strategic goals for advancing their organizations. They operate offices in Milwaukee, Madison, Chicago, Richmond and Singapore. Follow Kahler Slater at kahlerslater.com, on LinkedIn, Facebook and Instagram.
Mentioned in This Press Release
People
:
Al Krueger
,
David Kahler
,
George Meyer
,
Glenn Roby
,
Jeff Piette
,
Jim Rasche
,
Kelly Gaglione
,
Larry Schnuck
,
Mac Slater
,
Tracie Parent
,
Trina Sandschafer
Recent Press Releases by Kahler Slater

Nov 9th, 2020 by Kahler Slater
Move will place architectural firm in Milwaukee's Central Business District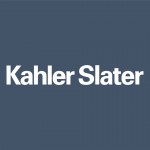 Mar 26th, 2019 by Kahler Slater
Kahler Slater Commits to Fighting Homelessness in Milwaukee