Press Release
Milwaukee Film Announces Full Black Lens Program Lineup
John Ridley returns with new documentary Let It Fall: Los Angeles 1982-1992. Program expands with total of 8 feature films and 2 shorts programs
MILWAUKEE – Tuesday, August 15, 2017 – The 2017 Milwaukee Film Festival, presented by Associated Bank, is excited to announce this year's festival lineup for the Black Lens program. Now in its fourth year, the program features documentary and fiction films by African American filmmakers that explore a range of topics rooted in the black community and are relevant to all.
The lineup includes Academy Award winner and Milwaukee Film Board Member John Ridley's new documentary Let It Fall: Los Angeles 1982-1992, a 20th anniversary, 35mm screening of the classic film Love Jones, and two shorts programs titled Black Lens Shorts: Family Matters and Black Lens Shorts: Lost & Found.
Geraud Blanks, Black Lens co-programmer states, "Adding additional films, including two shorts programs, means a greater diversity of voices and perspectives. We have more women and mixed-race directors, writers, and producers than ever before, in-large part because of our ability to expand our programming this year. The added room also made honoring Love Jones and bringing Let It Fall: Los Angeles 1982-1992 back to Milwaukee possible without eliminating deserving films from emerging filmmakers."
"The addition of a second shorts program is exciting, as it helps us to strengthen the mission of Black Lens," states Donte McFadden, Black Lens co-programmer. "We want to make Black Lens a destination for African American filmmakers to screen their work. The shorts program allows for us to introduce many emerging filmmakers from across the country and allows Milwaukee residents the chance to see films that they wouldn't see anywhere else."
A Black Lens Kickoff Party, presented by Froedtert & the Medical College of Wisconsin, will take place at 88Nine Radio Milwaukee on Saturday, September 23. The event is free and open to the public. The Black Lens program is sponsored by Jammin' 98.3.
The 2017 Milwaukee Film Festival will take place at the Landmark Oriental Theatre, Landmark Downer Theatre, Fox-Bay Cinema Grill, Times Cinema, and Avalon Theater from September 28th – October 12th. Festival Passes and ticket 6-Packs are now on sale at mkefilm.org/tickets.
FILMS
72 Hours: A Brooklyn Love Story?
(USA / 2017 / Director: Raafi Rivero)
Trailer: https://vimeo.com/149212950
Three short days separate 18-year-old Caesar from leaving Brooklyn for a prestigious upstate university. But between his long-time girlfriend calling it quits and his crew already planning for his imminent exit, Caesar finds himself pulled between the comfort of a world he's always known and the exciting promise of a bright future. A vibrant, textured work that powerfully captures the dizzying nuance of teen love and the thrum of a rapidly-changing borough, 72 Hours is an exacting portrait of what it means to be young, gifted and black.
ACORN and the Firestorm
(USA / 2017 / Directors: Reuben Atlas and Sam Pollard)
It's a story whose reverberations will be felt across the political landscape for many years to come: ACORN, America's largest grass-roots community organization (teaching low- and medium-income families across the nation to advocate for themselves), shuttered by a pair of amateur journalists posing as a pimp and prostitute, igniting a media firestorm that helped spawn the Breitbart News empire. This real-life political thriller does much to explain our current divisive state, persuasively drawing a line from ACORN's bankruptcy to our polarized present and its constant cries of "fake news."
Black Lens Shorts: Family Matters
An evening of shorts that tackle the notion of family in all of its complicated glory – whether it's protecting the ones you love, leaning on them for support, bringing each other together or tearing each other apart, these shorts (alternately funny, thrilling and sad – just like family itself!) have something for everyone!
Amelia's Closet (USA / 2016 / Director: Halima Lucas)
Cul-De-Sac (USA / 2016 / Director: Damon Russell)
Gema (USA / 2016 / Director: Kendrick Prince)
The Homecoming (USA / 2016 / Director: Paulina Bugembe)
Night Shift (USA / 2017 / Director: Marshall Tyler)
New Neighbors (USA / 2017 / Director: E. G. Bailey)
Black Lens Shorts: Lost & Found
This second series of Black Lens shorts at this year's MFF showcase the infinite possibilities in the world of contemporary black filmmaking – watch these characters undergo a journey of discovery (in search of acceptance, love, recognition, and more) while covering a wide array of topics ranging from gun violence and love to classic folklore and the radical art of self-acceptance. A fascinating night at the movies.
90 Days (USA / 2016 / Directors: Jennia Fredrique Aponte, Nathan Hale Williams)
Dear Mr. Shakespeare (USA / 2016 / Director: Shola Amoo)
The Forever Tree (UK / 2017 / Director: Alrick Brown)
Hold On (USA / 2017 / Director: Christine Turner)
See You Yesterday (USA / 2017 / Director: Stefon Bristol)
#WhereIsBeauty (USA / 2016 / Director: Angela McCrae)
You Can Go (USA / 2016 / Director: Christine Turner)
Destined
(USA / 2016 / Director: Qasim Basir)
One unforgettable moment in a young man's childhood in Detroit creates two startlingly alternate paths: in one, he's Rasheed, an ambitious architect seeking to ascend the corporate ladder, while in the other he's Sheed, a drug kingpin who has remained on the streets of his childhood, seeking to exert his will over them. A gripping urban crime thriller with a unique approach to cinematic storytelling, Destined weaves between these two stories, each echoing and diverging from one another in mysterious ways, with both Rasheed and Sheed moving inexorably towards their ultimate fate.
Let It Fall: Los Angeles 1982-1992
(USA / 2017 / Director: John Ridley)
Trailer: youtube.com/watch?v=6JGY-GjzKp4
25 years later, the Rodney King verdict and the subsequent riots are still etched in our minds. Culminating a decade of struggle with a justice system unequipped to deal with issues of race and class, the riots seem both entirely preventable and utterly unavoidable. Director John Ridley (Jimi: All Is By My Side, MFF14; Milwaukee Film Board Member) avoids simple moralizing or tidy conclusions as he examines the lead-up to and events of that day, instead letting those who lived through the experience speak for themselves in this heartbreaking portrait whose power is only magnified on the big screen.
Like Cotton Twines
(USA / 2016 / Director: Leila Djansi)
Trailer: https://www.youtube.com/watch?v=9AKgApSQohI
American volunteer Micah sees his teaching job in Ghana as an opportunity to reconnect with his ancestral roots while also helping young Ghanaians reach their fullest potential. But when 14-year-old Tuigi, one of his brightest students, must abandon her studies in exchange for a life as a sex slave as recompense for her father's transgressions, Micah finds himself stuck in the middle of a culture clash, desperate to extricate Tuigi from the cycles of history and tradition that threaten to swallow her whole.
Love Jones
(USA / 1997 / Director: Theodore Witcher)
Trailer: https://www.youtube.com/watch?v=xNMoQ_Cqt4E
Nina (Nia Long) is not looking for love when she meets Darius (Larenz Tate) at a poetry slam. Despite the scorching chemistry that instantly ignites, both insist the relationship is purely physical and certainly not a case of the love jones. A witty, sexy portrait of young Black love and romance (set in a middle-class, bohemian milieu that Hollywood still struggles to showcase 20 years on) that is a generational classic, this film will receive a rare 35mm screening at the historic Oriental Theatre!
Tell Them We Are Rising: The Story of Black Colleges and Universities(USA / 2017 / Director: Stanley Nelson)
Trailer: https://www.youtube.com/watch?v=u8hmqpAzjRo
Over the course of 150 years, Historically Black Colleges and Universities (HBCUs) have paved the way for Black intellectuals, revolutionaries, and artists alike to pursue higher education and defy stereotypes among their peers in an unapologetically Black environment. Now the remarkable story of their role in African-American history is finally told. Fest alum Stanley Nelson (The Black Panthers: Vanguard of the Revolution, MFF15) returns with this captivating panorama of HBCUs from their conception to the modern day, a stirring portrait of perseverance in pursuit of knowledge.
Unrest
(USA / 2017 / Director: Jennifer Brea)
28-year-old Jennifer Brea is in the prime of her life as a PhD student and soon-to-be newlywed, when a sudden fever leaves her perpetually bedridden and desperate for answers. A host of unsatisfactory diagnoses lead her to discover an abandoned online community of those similarly afflicted (with what is commonly known as Chronic Fatigue Syndrome). A medical mystery nestled in an intensely personal portrait of a husband and wife's healing journey, Unrest shines a light on a condition that confounds the medical community through its panoply of personal perspectives on suffering.
NOTE: This press release was submitted to Urban Milwaukee and was not written by an Urban Milwaukee writer. It has not been verified for its accuracy or completeness.
Mentioned in This Press Release
People
:
Alex Lasry
,
Alexander P. Fraser
,
Barry Poltermann
,
Bill Haberman
,
Bob Pothier
,
Carmen Haberman
,
Cecelia Gore
,
Chris Abele
,
Dave Stamm
,
Donna Baumgartner
,
Donte McFadden
,
Emilia Layden
,
Geraud Blanks
,
Jacqueline Strayer
,
Jeff Fitzsimmons
,
John P. Bania
,
John Ridley
,
John Utz
,
Joseph A. Rock
,
Julia Taylor
,
Karen Ellenbecker
,
Katie Heil
,
Kenneth C. Krei
,
Lacey Sadoff
,
Marianne Lubar
,
Mary Ann LaBahn
,
Michael G. Klein
,
Michael J. Koss Jr.
,
Patti Keating Kahn
,
Ramona Rogers-Windsor
,
Sara Meaney
,
Steve Laughlin
,
Steve Mech
,
Susan Haise
,
Tom Barrett
,
Tracey L. Klein
Recent Press Releases by Milwaukee Film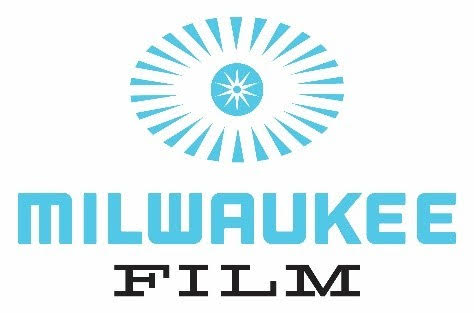 May 10th, 2023 by Milwaukee Film
Milwaukee Film is also pleased to announce the dates for the 16th annual Milwaukee Film Festival, which is set to occur April 11-25, 2024.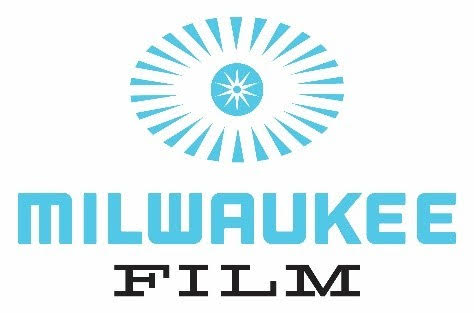 May 9th, 2023 by Milwaukee Film
Gala event to include the film's cast and crew, as well as gay rights leaders from across the state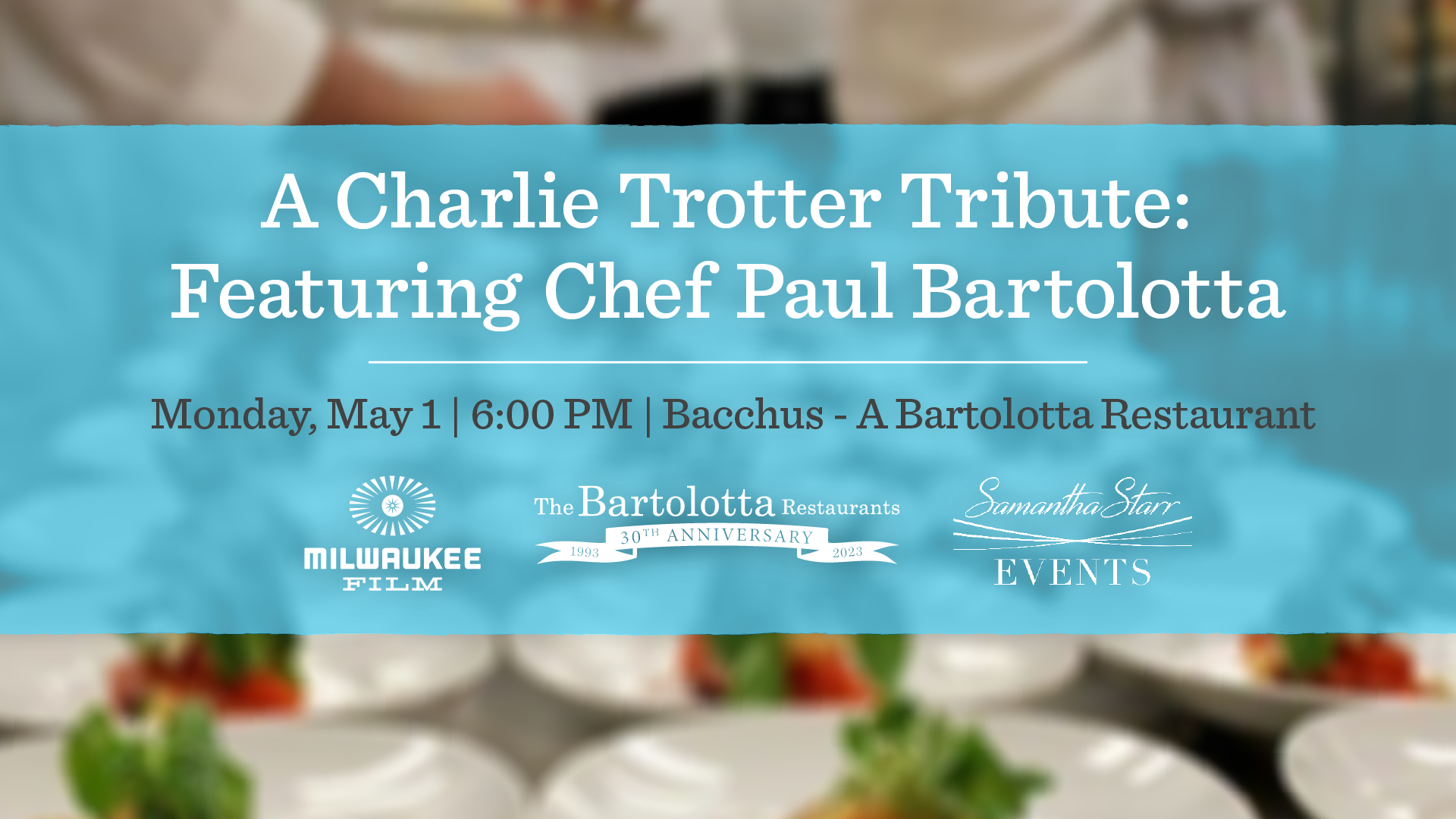 Apr 26th, 2023 by Milwaukee Film
Featuring a five-course meal with five pairings inspired by the film "Love, Charlie: The Rise and Fall of Chef Charlie Trotter," showing at The 2023 Milwaukee Film Festival