Press Release
Milwaukee County Receives $15 Million in Emergency Rental Assistance Funds from U.S. Treasury
MILWAUKEE, WI – This month, Milwaukee County Department of Health and Human Services (DHHS)-Housing Services received $15 million from the U.S Department of the Treasury for the Emergency Rental Assistance program under the American Recovery Program (ERA2). The funds will continue Milwaukee County's rental assistance program operated in partnership with Community Advocates.
"Thank you to the Evers Administration and U.S. Treasury for continuing to help Milwaukee County make investments in housing security. Housing is key social determinant of health and the Emergency Rental Assistance funds have helped keep thousands of residents in their homes since June of 2020," said County Executive David Crowley.
Milwaukee County has distributed $65.4 million in ERA2 funds since June 2020 through a partnership with Community Advocates. To date, the program has prevented evictions to 12,000 unique households.
Residents can call the Emergency Rental Assistance Program at 414-270-4646 or visit RenterHelp.org for more information about the application process.
"Our department's approach to service delivery is reaching some of the community's most vulnerable residents. The No Wrong Door model of customer service creates easier access to quality care for the people we serve. Sustaining our rental assistance program means that anyone who needs help staying in their home can and will be served no matter how they enter the system," said Department of Health and Human Services Director Shakita LaGrant-McClain.
Program data demonstrates funds distributed went to population traditionally the most at risk of eviction. 74% of households that received assistance had an income in less than 30% of the annual median income in Milwaukee County. 76% of households were African American or Black; and 76% of recipients identified their gender as Female.
Milwaukee County has led the way on housing over the last two years. According to the U.S. Department of Housing and Urban Development (HUD), Milwaukee has the lowest unsheltered homeless count in the nation. The number of unsheltered homeless individuals is key metric established by HUD. Achieving a 70 percent reduction in unsheltered homeless count per capita from one year to the next far exceeds any county of comparable size.
The Right to Counsel program established in 2021 provides free legal representation for low-income households. Thus far, more than 3,000 households have been served by the program. Prior to its creation, less than 3% of tenants had legal representation. Today, one in four residents have representation.
"Our Housing Services team is one of the best in the country at keeping vulnerable residents in their homes. We leverage collaborative partnerships to permanently house the unsheltered and make connections with residents to meet their needs. I look forward to making even greater strides as we partner with developers to create new homeowners throughout Milwaukee County," said Housing Services Administrator James Mathy.
Earlier this year, the County was awarded a $7.5M state grant awarded to build up to 120 new single-family homes in the King Park neighborhood around the Marcia P. Coggs Human Services Center.
In October the County commenced its plan to invest millions of ARPA funds into developing affordable housing in Milwaukee's suburbs. In partnership with the Community Develop Alliance, the program recently began seeking developers to build and manage affordable family housing units which must be developed by the end of 2024.
NOTE: This press release was submitted to Urban Milwaukee and was not written by an Urban Milwaukee writer. It has not been verified for its accuracy or completeness.
Mentioned in This Press Release
Recent Press Releases by County Executive David Crowley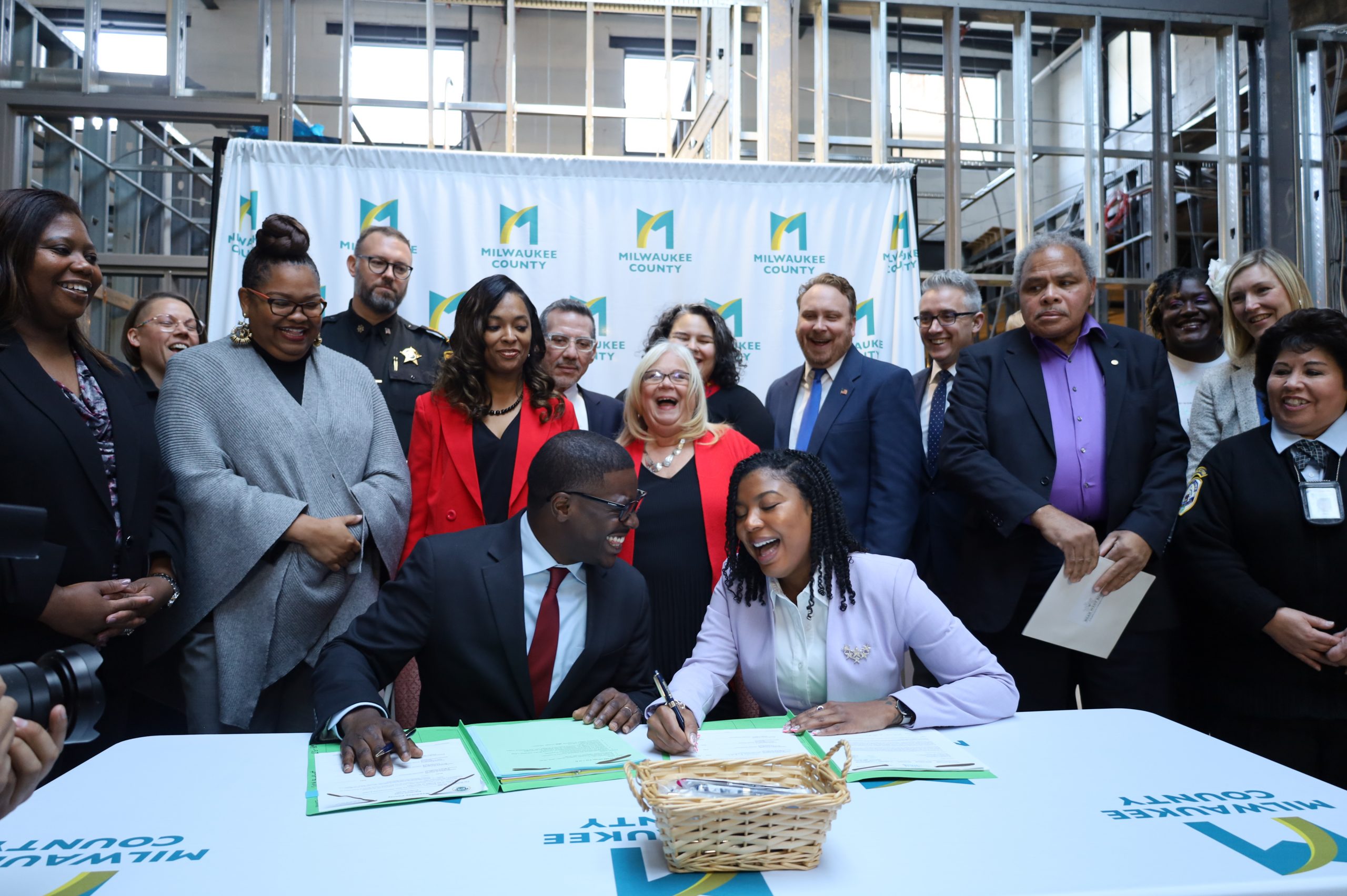 Nov 15th, 2023 by County Executive David Crowley
Crowley signs the budget as passed by the County Board of Supervisors to enhance services and invest in Milwaukee County