Press Release
Hunger Task Force Makes Holiday Giving Easy
Extended hours, family-friendly ways to end hunger this season
MILWAUKEE – (November 13, 2018) – With the abundance of holiday gatherings and commitments in November, Hunger Task Force offers several convenient, practical opportunities to make holiday giving easier for busy families this season.
To accommodate the increased volume of food donations for the holiday season, Hunger Task Force will offer extended hours through the end of the year. Donations can be dropped off Monday through Friday from 8:30 a.m. – 6 p.m. and Saturday mornings from 9 a.m. – 12 p.m. Hunger Task Force is located at 201 S. Hawley Court in Milwaukee. Milwaukeeans can also give back through the warmth and comfort of their own home or vehicle.
On both Tuesday, Nov. 20 and Wednesday, Nov. 21, hurried donors can call into the WISN Food For Families Phone Bank from 6 – 9 a.m. and 3 – 7 p.m. Volunteers from several prominent Milwaukee organizations will be ready to take donations over the phone. A $125 donation covers the cost of one full holiday meal, including a turkey, stuffing, fresh potatoes, fresh apples, vegetables and much more to feed a family during the entire holiday weekend (the phone number will be available at
HungerTaskForce.org
next week). Additionally, all donations made during the phone bank will be matched, dollar-for-dollar.
On Wednesday, Nov. 21, the Brewers Community Foundation will help support the CBS 58 Thanksgiving Drive Thru Food Drive from 5 a.m. – 6 p.m. Making a donation will be quick and easy as drivers pull their cars through the Miller Park parking lot "drive thru," hand their donation through the window and move on their way to the next destination. Each vehicle making a food donation will receive several gifts from corporate sponsors, including a commemorative Brewers' Lorenzo Cain Brewers bobble head, coupons and snacks.
"The people of Milwaukee are really quite generous at this time of year, but we also know that they are very busy, so we want to make donating as easy and convenient as possible," said Sherrie Tussler, Executive Director of Hunger Task Force. "You can donate an entire holiday meal without leaving your home or office. Pick up the phone or open a new web page and give what you can!"
Staff and volunteers will be available at Hunger Task Force through the end of the year to help with donations, drop-offs and food drive needs. High-need donations for the holidays include frozen turkeys and hams, low sodium canned vegetables and low sugar breakfast cereals. Cash donations always offer the most flexibility and versatility for stretching resources. Secure donations can be made online at HungerTaskForce.org or via 414-777-0483.
Hunger Task Force will be closed on Sundays and Thanksgiving Day.
Hunger Task Force is Milwaukee's Free & Local food bank and Wisconsin's anti-hunger leader. The organization provides healthy and nutritious food to hungry children, families and seniors in the community absolutely free of charge. Hunger Task Force was founded in 1974 by a local advocacy group who then formed Milwaukee's first food bank. Today, Hunger Task Force is 100% supported by the community and provides a safety net of emergency food with dignity to a network of 75 food pantries, soup kitchens and homeless shelters. Through legislative analysis, education and community organizing, Hunger Task Force continues to advocate for anti-hunger policy at the local, state and federal level. For more information, visit HungerTaskForce.org.
Mentioned in This Press Release
Recent Press Releases by Hunger Task Force
Jul 18th, 2017 by Hunger Task Force
Traveling brew pub hits Milwaukee Saturday; proceeds benefit Hunger Task Force
Jul 19th, 2016 by Hunger Task Force
Co-op's in-store voucher program provides nutritious milk for Hunger Task Force pantry network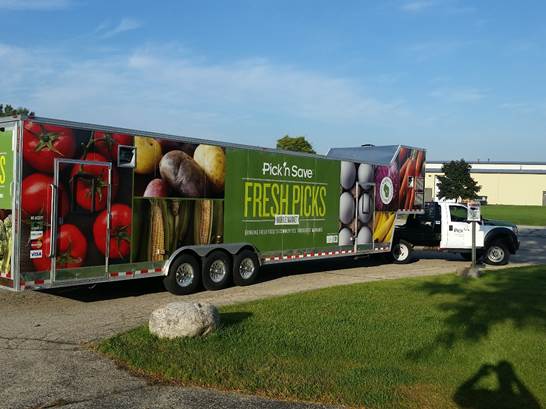 Jun 9th, 2016 by Hunger Task Force
The Mobile Market is stocked with only healthy foods and includes 40+ varieties of fresh fruits and vegetables, and 10+ high-grade meat and dairy items.