Press Release
Commissioner Cedric Cornwall Announces Campaign Kick-Off Event
Candidate for Milwaukee County Circuit Court Judge to Launch Campaign on November 20
Milwaukee (November 18, 2013)— Commissioner Cedric Cornwall and special guests Gary Goyke, Janet Protasiewicz, and Dr. Sheldon Wasserman will gather with supporters on Wednesday, November 20, to officially launch Cornwall's campaign for Milwaukee County Circuit Court Branch 32. The event will be held at Riverfront Pizzeria located at 509 E. Erie St. in Milwaukee, from 5:00 p.m. to 7:00 p.m. Members of the press and the general public are invited to attend.
"I have enjoyed the opportunity to spend the last six months attending events and meeting community leaders throughout Milwaukee County, and I am honored to have earned the endorsement of many judges, including Circuit Court Judge Michael Guolee, who will retire from Branch 32 next year," said Commissioner Cornwall. "My staff and I are very excited to be taking the campaign to the next level and working with our volunteers to start circulating nomination papers."
Commissioner Cornwall has lived in Milwaukee County for 30 years and practiced law here for 27 years. A graduate of Marquette University Law School, he currently serves as a Milwaukee County Judicial Court Commissioner, where he presides over hearings in Children's Court, Small Claims Court, Intake Court, Preliminary Hearing Court, and Traffic Court. Assigned to the Vel R. Phillips Juvenile Justice Center, he also conducts settlement conferences, delinquency hearings, and permanency plan review hearings.
Commissioner Cornwall previously served as a Manager for the City of Milwaukee Equal Rights Commission and in the Trial Division of the Office of the Wisconsin State Public Defender, and was a partner in the Law Offices of Cornwall, Rhiel and Yamahiro and in the small private firm he founded in 1999, where he gained extensive trial experience in criminal, juvenile, traffic, and supervision revocation cases.
A member of the Office of Lawyer Regulation District II Committee, the Wisconsin Association of Judicial Court Commissioners, the Milwaukee Bar Association, the National Council of Juvenile and Family Court Judges, and the Wisconsin Association of African-American Lawyers, Commissioner Cornwall is also active in his community.  He serves on the boards of the Marquette University Law School Alumni Association, the Wisconsin Professional Society on the Abuse of Children, and Word of Hope Ministries, Inc.
Mentioned in This Press Release
Recent Press Releases by Cedric Cornwall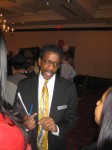 Nov 18th, 2013 by Cedric Cornwall
Candidate for Milwaukee County Circuit Court Judge to Launch Campaign on November 20