Press Release
Children's Theatre presents Holiday Studio Show
African American Children's Theatre - Holiday Studio Show
Milwaukee's African American Children's Theatre (AACT) will present a sampling of holiday songs, monologues and "A Very Speedy Christmas Carol" to the public in a studio show at 4:30 pm on Wednesday, December 10, at the Milwaukee Youth Arts Center (MYAC).
The children enrolled in AACT this year include students from the area and classes from O.W. Holmes School. Youth mentors from Milwaukee High School of the Arts assisted instructors and helped the students adapt a version of the traditional Christmas Carol story, where a grumpy Scrooge is visited by ghosts of the past, present and future.
"This season has been a real treat so far," said Stage Director/Instructor Jason
Drake Hames
. "The combination of enthusiastic and talented O.W. Holmes and community kids with the incredibly gifted Milwaukee High School of the Arts interns has made for an enjoyable, positive and fast-paced theater experience for all. The interns have been great mentors and examples for the younger students, encouraging them to get a full and diverse experience in the theater world. We are proud of what we have achieved and look forward to reaching even higher with our staging of 'Milwaukee Heroes' this spring."
The Studio Show is open to the public. Admission is $5, but donations in any amount will be accepted. AACT will perform in the Sondheim Room at MYAC, 325 W. Walnut Street. For further information, call 414-461-5771, email americanplays@aol.com, or visit www.aact.us or African American Children's Theatre on Facebook.
AACT is also conducting sessions at Elm Creative Arts School and Lloyd Barbee Montessori School. The public is invited to visit the classrooms or rehearsals prior to the December 10 event by calling Constance at 414-324-9821 in advance.
The African American Children's Theatre is now part of an umbrella organization, the Black Arts Think Tank, which includes Ko-Thi Dance Company and Hansberry Sands Theatre Company. More information on this alliance is available at www.aact.us.
Mentioned in This Press Release
Recent Press Releases by African American Children's Theatre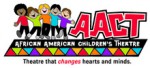 Sep 25th, 2015 by African American Children's Theatre
The fun, interactive after-school theatre arts classes at African American Children's Theatre provide children with opportunities to learn life skills along with singing, dancing and acting.