Building Info
Address

:

1824 E. Park Pl.

Taxkey

:

3160013100

Architect

:

Status

:

Assessment

:

$9,405,000 (2013)

Year Built

:

Size

:

93,000 square-feet
The Park at 1824 is an apartment building geared toward students on Milwaukee's East Side. The 61-unit building is located in the East Side's Murray Hill neighborhood.
From 2011 through 2014 the building is being leased by the Milwaukee Institute of Art & Design (MIAD) to house freshman students.
The project opened in July 2009. Prior to construction, the site was occupied by the Park Manor Healthcare Center. That nursing home closed in 2006. Wangard Partners bought the site for $1 million.
The Park at 1824 has a rooming house permit allowing more than three unrelated persons to live together. The fully furnished building has 173 beds.
The project's general contractor was Altius Building Company.
According to the Wangard website,
Amenities include in-unit hookups for Internet, cable and higher-end finishes. Building amenities include a laundry facility, workout area with state-of-the-art exercise equipment, lounge/study area, and Wi-Fi access throughout the common areas. It is also fully furnished with many details catering to students' needs. The enclosed underground parking garage has approximately one parking stall per unit. This project was completed in July 2009.
References
Activity
| | | | |
| --- | --- | --- | --- |
| ID | Date | Type | Description |
| PWOP-19-01543 | 2019/08/21 | Permit | ROW Occupancy Permit |
| PWOP-19-00179 | 2019/02/09 | Permit | ROW Occupancy Permit |
| PBFS-18-01195 | 2018/10/17 | Permit | Plumbing-Fire Protection Permit |
| PLB-18-03298 | 2018/07/18 | Permit | Building Plumbing Permit. |
| ID | Date | Description | Type |
Content referencing The Park at 1824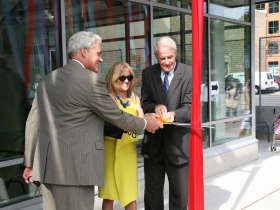 Eyes on Milwaukee
Half-birthday bash, half-ribbon cutting, the ceremony unveiled MIAD's new six-story, Third Ward building.
Aug 27th, 2014 by Jeramey Jannene

Wangard Properties LLC is in the process of demolishing a vacant nursing home at 1824 E. Park Pl. and plans to build a 61-unit four-story apartment building in its place. Although this development seems fairly minor in comparison to many larger projects it is a great example of building by right. This is a case where the developer recognized that the East Side has seen its share of battles between developers and homeowners. For example in recent years homeowner's have fought against the re-development of Downer Avenue, the Park Lafayette project, UWM RiverView Hall and the Hillel Student Center arguing "it's too dense, too tall, it will impact parking, and it doesn't fit the neighborhood". The net result of these arguments have been, reduced tax base, less residents to support local business and slowed development. How this project fits into this discussion is that by legal right Wangard Properties LLC can build to their intended height and density according to their existing zoning and stay outside of the public planning process. Although this may concern some, it is important to note that this is the intention of zoning regulation and it is good to see smart developers continuing to develop projects despite the growing difficulties presented by this ever present NIMBY attitude on the East Side.
May 12th, 2008 by Dave Reid
Building data on this page, including assessment information, was last updated on September 6, 2020
See something wrong? Want to report an issue? Contact us.