Photos
Activity
| | | | |
| --- | --- | --- | --- |
| ID | Date | Type | Description |
| BZCO-19-00086 | 2019/10/17 | Permit | BOZA Activity:Change of Operator- Rooming House |
| NOCC-19-01733 | 2019/10/10 | Permit | |
| NOCC-19-01732 | 2019/10/10 | Permit | |
| PLB-19-03999 | 2019/10/04 | Permit | Building Plumbing Permit |
| PWDR-19-00097 | 2019/09/24 | Permit | Driveway Approach Permit |
| PWRS-19-00274 | 2019/09/24 | Permit | ROW Restoration Permit |
| PWCF-19-18686 | 2019/09/12 | Permit | Department of Public Works Activity:Weed Notice|Caller ID withheld - Grass and weeds over 7 inches |
| PWCF-19-17762 | 2019/08/31 | Permit | Department of Public Works Activity:Weeds/Tall Grass Complaint| entered address: 111 E MITCHELL ST |
| ELEC-19-05779 | 2019/08/21 | Permit | Electrical Permit |
| PWCF-19-15678 | 2019/08/08 | Permit | Department of Public Works Activity:Weeds/Tall Grass Complaint| there are very hi weeds in the back of this building entered address: 1703 S KINNICKINNIC AV |
| PWCF-19-15727 | 2019/08/08 | Permit | Department of Public Works Activity: |
| HVAC-GEN-19-02529 | 2019/08/08 | Permit | HVAC General Permit |
| ELEC-19-04130 | 2019/06/19 | Permit | Electrical Permit |
| ELEC_LV-18-00046 | 2018/03/04 | Permit | Low Voltage Permit. |
| PWEU-16-02593 | 2016/11/29 | Permit | ROW Excavation Utility. |
| PWEU-16-02267 | 2016/10/25 | Permit | ROW Excavation Utility. |
| ID | Date | Description | Type |
Content referencing 101-111 E. Mitchell St.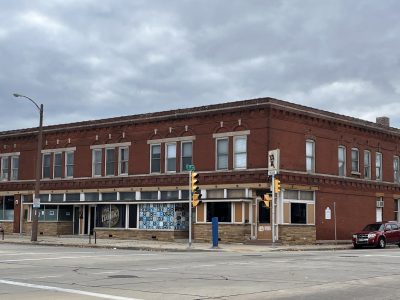 Waterfall Lounge and Event would offer food, drinks and entertainment on 1st and Mitchell.
Nov 9th, 2022 by Sophie Bolich
Building data on this page, including assessment information, was last updated on September 6, 2020
See something wrong? Want to report an issue? Contact us.