In Public
The Plague of Boom Cars
Cars with massive music amplifiers violate noise ordinances, but rarely get stopped by police.
//end headline wrapper ?>
Get a daily rundown of the top stories on Urban Milwaukee
I remember more than once getting a ticket for a blown-out muffler.  Disturbing the peace. According to the law if you can hear something 50 feet away from your property the police can issue a citation. How quaint.
That was back when cars were just a form of transportation. Today "boom cars," as they're called, pack ten thousand watt amplifiers ($16,000) and arrays of sub-woofers that set off cars alarms in my neighborhood. Sometimes the throbbing seems to shake the cars apart.
We are talking talking about young males, driving alone, playing Rap or Latino music. Their testosterone-fueled cruising rattles the windows in my studio and vibrates the glasses on my table. The sound levels peak inside my house at 90db according to the app on my iphone. That's nearly six times louder than a normal conversation, or what the sound ordinance says is a violation even at your property line at night. You easily hear these contraptions more than a quarter mile away. A biologist from another planet would call this a mating display. Boom cars rip a flaming hole in the fabric of the night.
Making an impact is the point. "If you have been searching for that trunk thumping, window rattling, seat vibrating, heart-pounding bass, look no further," Earthquake Sound says on their website. These audio systems are marketed to young men to attract women and impress their peers. A subculture dedicated to assaulting the very people we want to live in cities. Those who sleep at night, for example.
Tony Soprano used a much milder form of this torture — a boat playing Dean Martin at moderate volumes just off the shoreline of an attorney's home — to convince him to return a $200,000 real estate deposit.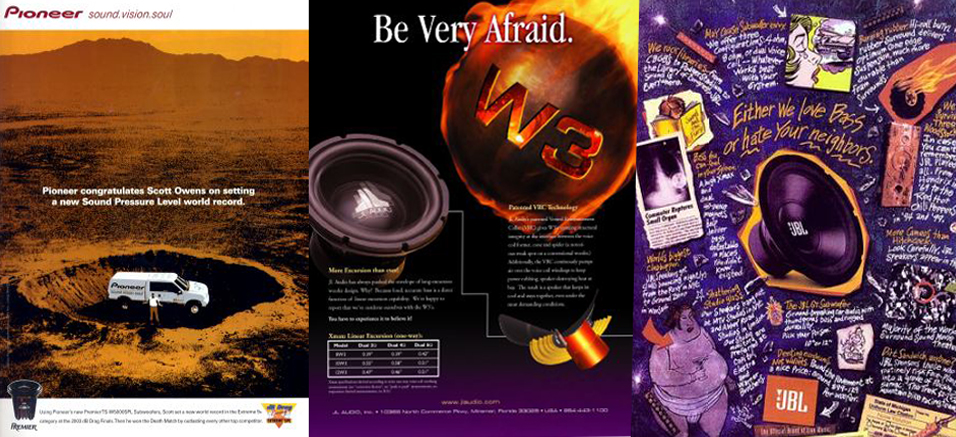 You would think such a total disruption of the civic order demands a response. A boom car designed to be heard "a mile away" is one of the easiest violation in the world to detect. A little enforcement would go a long way. Setting a new social norm for sound would lower the blood pressure of the city. Our blood pressure, too.
Sound levels can reach 150db inside boom cars, which is the same as a jet taking off at 25 meters. An undeniable health hazard for the driver. We'd have to ask the neuroscientist if this any worse than driving after drinking a couple of beers. Not to mention the diminished awareness and cognitive capacity of other motorists and pedestrians. Sound penetrates. And blows your mind. You can't hear yourself think.
The older whiter version of vehicle-produced noise pollution are Harleys and other motorcycles that have been estimated to exceed 100 or even 115 decibels and routinely violate noise ordinances in Milwaukee and cities across America.
So why don't the police do anything about it? They have better things to do. That's the official explanation, the department has to prioritize. That makes sense until you look at what police officers spend their time doing when they are not responding to shootings and the like. According to Municipal Court Records in 2015 they had time to issue 3,290 citations for disorderly conduct, 74 for littering on public property, 287 for a defective tail light, 12 for operating a bike without proper reflectors, 22 for an inadequate muffler, and 21 for defective or unnecessary use of a horn. And just 8 for "unnecessary vehicle noise"? That includes boom cars and roaring motorcycles, but also could be a bumper dragging on the street.
If the police have time to stop you for a broken tail light, they can stop you for broken ear drums as well.
Off the record, beat cops have told me they're discouraged from giving citations to boom cars because, all things considered, the department doesn't want to be seen shaking down people of color for playing music too loud.
Timothy Gauerke, public information officer for the police department, tells Urban Milwaukee via email that "traffic stops are often initiated upon cars playing excessively loud music. Citations may be issued on a case by case basis, based on officer discretion and other factors including the time of day, area of the city (residential versus commercial, industrial, etc.) and if a complainant wanted a citation issued." As for excessively loud motorcycles, Gauerke says police often gives their operators warnings instead of tickets and considers the noise coming from them on a case-by-case basis.
Whatever the reason, there has been a notable downward trend in the number of citations annually for unnecessary vehicle noise:
2008  34
2009  50
2010  38
2012  32
2013  17
2014    4
2015    8
2016    2  (First five months of the year)
Even at its best, in 2009, the enforcement of noise was woefully inadequate. Meaning there is nothing stopping the city from getting even louder. Making our streets as much about self-expression as transportation. Boom cars are just the tip of the iceberg. You have boom motorcycles and now you have boom people walking down street. They set a precedent that encourages everyone else to turn up the volume. Now you can hear the music from restaurant patios and roof top patios blocks away. Night clubs open their doors and blast music to attract customers. And now there are Pedal Taverns whose business plan is based on loud music and screaming in the streets.
That's probably less of a problem in some areas of the city (East Side, far South Side, etc.), but in my Walker's Point neighborhood and other areas the noise can be overwhelming.
When Mayor Michael Bloomberg instituted a 311 call service, he found noise was the overwhelming quality-of-life issue in New York City. And he did something about it, giving police broader powers to issue citations for everything from booming cars to jackhammers to ice cream trucks.
That's the only way real change can happen. This is not just a police enforcement matter. The mayor and Common Council would have to take on this issue and declare it important enough to adopt tougher policies to protect the victims of noise. They have to decide that city noise is not just a nuisance people have to put up with. People used to say pollution was just a nuisance, too, until we learned it was making people sick.