In Public
How We Abandoned our Landscape Art
Milwaukee's parks are credited to Frederick Law Olmsted but have abandoned his vision. Part I of a series.
//end headline wrapper ?>
Get a daily rundown of the top stories on Urban Milwaukee

Fredrick Law Olmsted handpicked the species and placement of every tree you see in this picture. He created the winding paths that never seem to end. It doesn't matter where you stand or how you move. All the views are poised and balanced. Light dances in the foreground as the scene sweeps out to infinity.
Gradually and silently the charm comes over us," Olmsted wrote, "we know not exactly where or how."
This park, The Wade Lagoon in Cleveland, was recently restored and is maintained according to Olmsted's original plans. Nothing stops the eye. The scenery is layered and porous, leaving the impression of "an enlarged sense and bounteousness of nature," as Olmsted noted. It wraps around and sweeps you away.
Olmsted grew up in turbulent times. As a young man (and a journalist) he traveled and wrote about the slave states in America. Meanwhile the population of New York City quadrupled between 1821 and 1855. Workers and slaughter houses were filling and fouling cities a half a century before the germ theory of disease and the practice of sanitation became widespread. The citizens of great cities, which Olmsted realized were great engines of opportunity for all kinds of people (including women), desperately needed relief from claustrophobic conditions of raging capitalism and the industrial revolution.
He built the parks to foster an egalitarian democracy. "All classes [are] largely represented, with a common purpose," Olmsted wrote in 1870, "each individual adding by his mere presence to the pleasure of all others, all helping to the greater happiness of each. You may thus often see vast numbers of persons brought closely together, poor and rich, young and old, Jew and Gentile."
In other words, Olmsted was not interested in letting nature have its way. More than ten million cartloads of soil and rocks were carried out of Central Park. He used more gun powder to shape the park than was used in the Battle of Gettysburg, and planted more than four million trees, shrubs and plants. In Milwaukee, Olmsted filled in a ravine in Lake Park to make another meadow.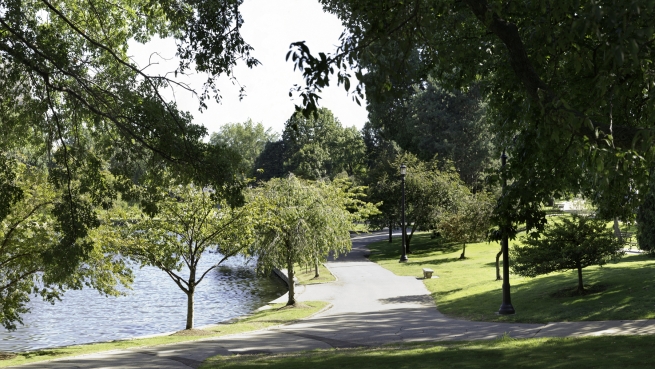 His parks were not "natural," like the reconstruction of the prairie the Urban Ecology Center is doing along the Milwaukee River. They were pure artifice that takes a lot of work to maintain.

It didn't take long for the spaces between the trees to fill in, for Lake Park to become overgrown. As long as I can remember Olmsted's parks in Milwaukee, touted in all promotional materials for the city, they have been just a series of anonymous plots of parkland, pods of grass that do nothing other than hold walls of weedy trees at bay.
When was the last time you saw a professional forester doing anything in a Milwaukee Park? We not only lost all of Olmsted's individual brush strokes, we lost the big picture. Originally Lake Park was all about the lake. Olmsted's company was commissioned to turn this spot into an overlook, a wide open vista of Lake Michigan.
According to the Milwaukee Park Commission reported in 1892.
"In selecting this noble promontory, the Commissioners were actuated to give back to the people of Milwaukee the only chance left them to reach the lake without being compelled to cross railway tracks. They have always considered the lake the most beautiful feature of Milwaukee's surroundings, and the fact the lake shore from St. Francis on the south to the water works on the north, had fallen into the hands of private parties or of corporations, inspired them to secure this magnificent lake frontage at all hazard. The park … overlooks the beautiful bay of Milwaukee clear to South Point."

Americans followed Olmsted's curvy lines and kidney-shaped ponds to cul de sacs and golf courses in the suburbs. These pods, now stripped of his artistry, became a model for office parks and estates in River Hills and Mequon. The only thing left of Olmsted's plan are the bones.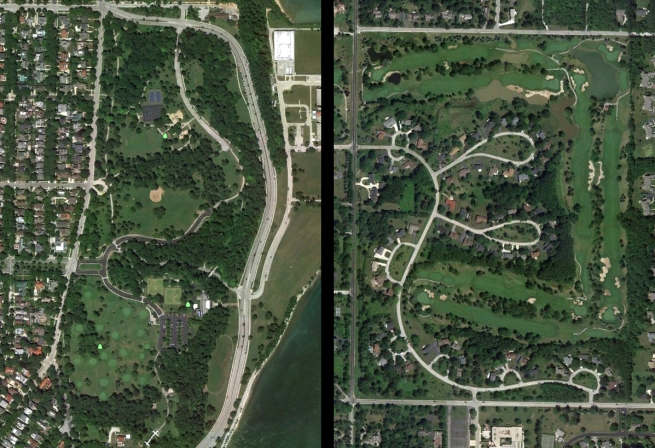 | | |
| --- | --- |
| Lake Park | Mequon Wisconsin Photos: Google Earth |
Perversely, Olmsted's park became the model for buffers between private property that not only separate the classes, but neighbors as well. Olmsted's picturesque vista for the masses morphed into a series of lonely voids.
No one is tending Olmsted's trees because no one knows what or where they are. Still, we continue to wear Olmsted as a badge of honor. The Lake Park Friends' website goes on about how he took advantage of its proximity to Lake Michigan, and how Olmsted's "sinuous paths lead to surprising vistas."
But there is nothing left of Olmsted's ideals except the curvy roads and paths that almost never lead to a surprising vista in Lake Park, Riverside Park or Washington Park, the three parks whose design is credited to him. You can't even see Lake Park's namesake lake except for a small patch on Wahl Avenue where a vigilante, chain-saw wielding homeowner living across the street carved out his view of Lake Michigan.
The Cleveland example suggests it is possible to restore Olmsted's original vision, which might be a worthy goal for the leaders of Milwaukee County Parks, one arguably more important than where to put the next splash pad or water slide. As it is, we are left with Olmsted's skeleton, stripped of all his scenic beauty and democratic ideals.
Coming next: What happened to the Art Museum's Kiley Landscape?