Giddyup! It's almost Gallery Night
//end headline wrapper ?>
Get a daily rundown of the top stories on Urban Milwaukee
Luckystar Studio

The Good, the Bad and the Chimp
Marshall Building, 207 E. Buffalo St., 3rd Floor
Friday: 6-10 p.m.; Saturday: 11-4 p.m.
TCD is proud to sponsor the grand (re)opening of the Luckystar Studio on the 3rd Floor of the Marshall Building, and might we say, that this inaugural exhibit is much more than an art show. Special guests John Scotello, Jeremy Wolf and Jeff Sadowski will have artwork on display while Friday night features teenage phenomenon Ruadhan Ward performing live.
Inova
Nohl Fellow's Exhibition
2155 N. Prospect Ave.
Friday: 12-9 p.m.; Saturday: 12-5 p.m.
Inova opens their doors for an exhibition of artists who received the Greater Milwaukee Foundation's Mary L. Nohl Fund Fellowships for Individual Artists in 2009.  The exhibition showcases work from a wide range of media by four established and emerging Milwaukee artists: Peter Barrickman and Harvey Opgenorth (established) and Kimberly Miller and John Riepenhoff (emerging).  Also, for the first time in the history of the Nohl Fellowship, work that represents a year-long collaboration between all four artists will be on view.
Tory Folliard Gallery
Robert Cocke – New Paintings
233 N. Milwaukee St.
Friday: 11-9 p.m.; Saturday: 11-4 p.m.
Robert Cocke's landscape paintings are surreal and beautiful.  Using everyday images of the natural world formed into improbable combinations, his paintings exude a dream-like quality without anything necessarily being unnatural about them.
Katie Gingrass Gallery
Urbane: Portrait of a City
241 N. Broadway
Friday: 5-9 p.m.; Saturday: 10-6 p.m.
This exhibition explores the notion and beauty of the cityscape.  Artists include: Stephanie Barenz, Karen Goetzinger, Erin Liljegren, Jody McLeane, Tom Nachreiner, Christian Ricco, Neil Rongstad, Bridget Wolf and Ray Zovar.  Each artist's work will contribute a singular snapshot of their interpretation of urban life that, altogether, forms a harmonious glimpse into everyday city living.
Dean Jensen Gallery
Wisconsin Moderns
759 Water St.
Friday: 6-9 p.m.; Saturday: 10-4 p.m.
Six modernist artists' work with ties to our fair state come together at the Dean Jensen Gallery: Fred Berman, Carl Holty, Karl Knaths, Jon Schueler, Lucia Stern and Mark Tobey. Each has exhibited work in galleries in the States and Europe during their time as active artists (1930s and 40s).  This project is believed to be the first to celebrate these six innovators as a group.
David Barnett Gallery
Alayna Rose Paintings
1024 E. State St.
Friday: 11-9 p.m.; Saturday: 11-5 p.m.
Alayna Rose is a painter, jewelery designer and former illustrator whose work has a rhythmic and passionate energy that captivates the imagination of the viewer.  Beautiful and seductive, her large-scale abstract works in oil will draw you in without you even knowing.
The Tool Shed
The P is for Penis
2427 N. Murray Ave.
Friday: 5-9 p.m.
Keith P. Rein's illustrations combine humor, sex and geek culture that will make you laugh — and possibly turn you on.  Examples of exhibited artwork include "Pocahontits" and "Bombs Away," which is described as a "gang bang gone awesome."  Cheeky and sexually brazen, the Tool Shed is the perfect place for this exhibition.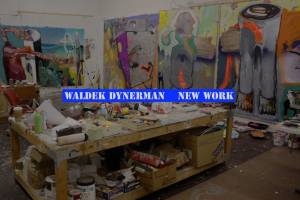 Cedar Gallery
Waldek Dynerman – New Work
326 N. Water St.
Friday: 5-9 p.m.
Milwaukee-based artist and educator Waldek Dynerman's mixed media artwork will be on display for one week starting Friday October 15th.  His pieces are large, loud and colorful.  Dynerman has been exhibiting his work for over 35 years.
Helios
Beyond the Canvas
1207 W. Canal St.
Friday: 5-9 p.m.; Saturday: 10-8 p.m.
A culmination of MARN's non-traditional plein air event in the Menomonee Valley (which included all types of artistic media) every piece of artwork created during the event will be exhibited and for purchase at this show.  Over $2,000 in prizes will be awarded in five different media categories. Get there early on Saturday for the free Collecting 101 talk with Executive Director Melissa Mussante at 3 p.m., and stick around for guided tours of the Valley.
The Borg Ward
What the f***?
823 W. National Ave.
Friday: 6-10 p.m.
An installation-based art show featuring Milwaukee tattoo artist Adam Werther of the Adambomb Gallerie, featuring work that is as bold and colorful as his designs in ink.
Sky High Gallery
The Temporary Pop-up Boutique
2501 S. Howell Ave.
Friday: Noon-10 p.m.; Saturday: 11-6 p.m.
Curated by author, collector and director Faythe Levine, this art opening is bursting with beautiful and strange handmade, fair trade and vintage pieces. Porcelain gilded bullets, custom crocheted doilies, crayons made out of pine trees and 70's political books for kids are some of the many interesting and eclectic finds. Objects range from $5 to $300.  Also featured will be a site-specific mural by Milwaukee artist Sofia Arnold in cooperation with the Tory Folliard Gallery.
Freya
Davey Noble
2318 S. Kinnickinnic
Friday: 5-9 p.m.
Davey Noble's work is bold, bright and reminiscent of pop art and graffiti.  The artwork is uncomplicated but arresting and shines through with an obvious nod to a DIY work ethic.  Something about this art will make you feel good, although you probably won't know what or why.
Gallery Grand @ GAC
Of Images : Multi-Star Photography
604 N. Water St.
Friday: 4:30-8:30 p.m.; Saturday: 1-3 p.m.
Gallery Grand at the Grand Avenue Club presents photography by Francis Ford, Doug Krimmer, Ellen Pizer, Philo, J. Karl Bogartte, Tara Bogart, Harvey Taylor, Fred Stein, Colleen Shoop-Kassner, Michael R. Flasch and the GAC Art Collective.
Gallerie M at at InterContinental Milwaukee
Pink Exhibit
139 E. Kilbourn Ave.
Friday: 5-9 p.m.
The InterContinental's two pink rooms have been covered in new artwork that is, you guessed it, pink.  The artist is Wanakee Pugh and the artwork is on display in all its pink glory in honor of Breast Cancer Awareness month.  Come and peruse the bright and bubbly artwork and support ABCD: After Breast Cancer Diagnosis.
Pfister Hotel
Artist-In-Residence
424 E. Wisconsin Ave.
Friday: 5-9 p.m.
The Pfister's Artist-In-Residence, Katie Musloff will display several pieces currently in progress in her series depicting the hotel staff.  The event will take place in The Pfister's lobby level studio space, and will feature new as well as older work completed during Musloff's residency.  Stick around for the closing reception in The Pfister at The Rouge from 9 p.m. to midnight with complimentary hors d'oeuvres.
Of course, these are just a handful of the many, many great shows our fair city has to offer this Gallery Night and Day. Where will you be this weekend? Share your must-see exhibits and events below!