Building Info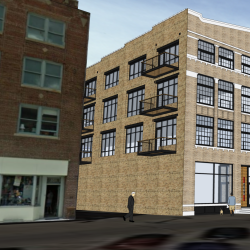 Address

:

211 N. Broadway

Taxkey

:

Architect

:

Alexander Eschweiler

Status

:

Assessment

:

$943,000 (2015)

Year Built

:

Size

:

28,8000 sq-ft
Warehouse building in the Historic Third Ward being converted to apartments and retail by owner Margaret Martin. Eric Ponto of Engberg Anderson is leading the design work of the conversion. Will include 15 apartments when finished.
Building was originally designed by prominent Milwaukee architect Alexander C. Eschweiler.
Was formerly home to Hot*Pop store, owned by Margaret Martin.
Photos
Show All
Activity
ID
Date
Type
Description
PWEC-17-02169
2017/08/18
Permit

ROW Excavation City Contract.

PLB-17-01576
2017/04/18
Permit

Building Plumbing Permit.

ELEV-16-00017
2016/12/13
Permit

Elevator Permit.

PLB-16-00308
2016/10/25
Permit

Building Plumbing Permit.

PWOP-16-01364
2016/10/25
Permit

ROW Occupancy Permit.

ELEC-16-00009
2016/10/25
Permit

Electrical Permit.

HVAC-GEN-16-00015
2016/10/25
Permit

HVAC General Permit.

1191463
2016/09/29
Permit

Plumbing-Alteration

1190548
2016/09/20
Permit

Occupancy

803459
2016/06/30
New Service Request

LIFT INSTALLED WITHOUT PERMIT

1182767
2016/06/25
Permit

Fire Alarm-New Install

1181198
2016/06/11
Permit

Occupancy

1179991
2016/06/01
Permit

Fire Suppression r

1179351
2016/05/26
Permit

Low Voltage-New Install

1179310
2016/05/24
Permit

Electrical-Addition

1177313
2016/05/05
Permit

Plumbing-Alteration

1176994
2016/04/30
Permit

Alteration

1171896
2016/03/08
Permit

Low Voltage-New Install

1171837
2016/03/05
Permit

Gas Piping

1166893
2016/01/08
Permit

Fire Suppression r

1166249
2015/12/29
Permit

Kitchen Exhaust Hoods

1166250
2015/12/29
Permit

Space or Room Heater

1166247
2015/12/29
Permit

Air Conditioning

1166248
2015/12/29
Permit

Gas Furnace

11759461
2015/10/20
Violation

FIRE PREVENTION
~~Service fire extinguisher(s)

1159733
2015/10/20
Permit

Elevator-New Passenger

1159383
2015/10/20
Permit

Plumbing-New

1159349
2015/10/14
Permit

Electrical-New

1147536
2015/06/13
Permit

Alteration-Units Added

1143499
2015/05/05
Permit

Fire Alarm-New Install

1134524
2015/02/04
Permit

Plumbing-Repair

1134523
2015/01/22
Permit

Plumbing-Seal/Abandon

1134229
2015/01/21
Permit

Razing

1130211
2014/12/02
Permit

Asbestos Project

739252
2014/10/24
New Service Request

Litigated order (#9311641). Please check this property for code violations and issue appropriate order per Court Administrator.

11039801
2014/08/19
Violation

EXTERIOR
West Side
Repair or replace defective downspout
Repair or replace defective rain gutters
Properly discharge rainwater from gutter system
Replace defective bricks or blocks exterior wall
Replace mortar missing exterior wall (tuckpoint)
Board requirements on boarded buildings. Boards shall be a minimum of 5/8 inch thick and be painted to match the trim or siding color of the structure, or be painted forest green. Paint all boards covering windows and doors and seal perimeter of boards to structure to a weather tight condition. .. / 275-32-7-a-5 /

1117852
2014/07/28
Permit

Plumbing-Alteration

10963071
2014/07/10
Violation

Remove and dispose of all debris, junk, etc.

724835
2014/07/02
New Service Request

Debris/Litter:Small Items; broken glass near alley.

10781641
2014/04/02
Violation

Remove and dispose of all debris, junk, etc.

714287
2014/04/02
New Service Request

Debris/Litter:Small Items; Debris and dog waste West side near alley.

ID
Date
Description
Type