Building Info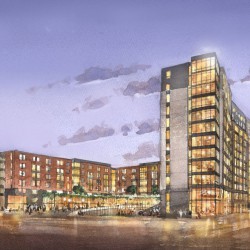 Address

: 721 N. 17th St.

Owner

: Marquette University

Architect

: Design Collective / Workshop Architects

Status

: Under Construction

Tax Key

: 3632711100
A 750-bed, two-building residence hall under construction on a parcel at 721 N. 17th St. The complex will be owned and operated by Marquette University. The project has an estimated cost of $96 million.
Baltimore-based Design Collective and Milwaukee's Workshop Architects are leading the design and J.H. Findorff & Son is leading the construction.
Ray and Kay Eckstein gave a $10 million donation to support the complex's construction. The complex is named after Rev. Robert Wild.
Photos
Show All
Activity
ID
Date
Type
Description
PWEN-17-00112
2017/03/30
Permit

ROW Excavation Non-Utility.

PWEN-17-00110
2017/03/30
Permit

ROW Excavation Non-Utility.

PWEN-17-00111
2017/03/30
Permit

ROW Excavation Non-Utility.

PLB_WS-17-00059
2017/03/30
Permit

Water Service.

PLB_WS-17-00058
2017/03/30
Permit

Water Service.

PWRS-17-00054
2017/03/30
Permit

ROW Restoration Permit.

PWRS-17-00053
2017/03/30
Permit

ROW Restoration Permit.

PWRS-17-00055
2017/03/30
Permit

ROW Restoration Permit.

PLB-17-01292
2017/03/30
Permit

Building Plumbing Permit.

PLB-17-01288
2017/03/30
Permit

Building Plumbing Permit.

PLB_WS-17-00056
2017/03/28
Permit

Water Service.

ELEC-17-00716
2017/02/03
Permit

Electrical Permit.

PLB-16-01238
2016/12/14
Permit

Building Plumbing Permit.

PLB-16-01237
2016/12/14
Permit

Building Plumbing Permit.

TANK-16-00041
2016/12/10
Permit

Tank Permit.

ECP-16-00064
2016/11/02
Permit

Erosion Control Permit.

PWRS-16-00298
2016/10/25
Permit

ROW Restoration Permit.

12154251
2016/06/24
Violation

FIRE PREVENTION
~~Correct exterior maintenance violations cited in the Facade Inspection Report submitted by RCL Engineering Group dated 09-01-205 and provide a second report by a professional when the required work is completed. / MCO 275-32-13-i-2 /

1172925
2016/03/18
Permit

Plumbing-Repair

1172453
2016/03/16
Permit

Plumbing-Repair

1166812
2016/01/07
Permit

Plumbing-Addl Fee

1165121
2015/12/15
Permit

Plumbing-Alteration

1162681
2015/11/17
Permit

Plumbing-Addl Fee

1160146
2015/10/22
Permit

Plumbing-Addl Fee

1158316
2015/10/02
Permit

Electrical-Alteration

1156150
2015/10/02
Permit

Plumbing-New

1154929
2015/08/26
Permit

Alteration

1154318
2015/08/20
Permit

Plumbing-Alteration

1154313
2015/08/20
Permit

Low Voltage-New Install

1154165
2015/08/19
Permit

Elevator-Remod Freight

1154166
2015/08/19
Permit

Elevator-Remod Freight

1152949
2015/08/07
Permit

Low Voltage-Alteration

1152129
2015/07/30
Permit

Plumbing-New

1151221
2015/07/22
Permit

Razing

1151222
2015/07/22
Permit

Razing

1151223
2015/07/22
Permit

Razing

1151224
2015/07/22
Permit

Erosion Control with Raze

1151176
2015/07/22
Permit

Heating Rooftop Unit

1151174
2015/07/22
Permit

Distribution Sys(ductwork)

1151175
2015/07/22
Permit

Cooling Rooftop Unit

1150242
2015/07/14
Permit

Razing

1149801
2015/07/08
Permit

Fire Alarm-New Install

1149705
2015/07/07
Permit

Asbestos Project

1148110
2015/06/19
Permit

Erosion Control with Raze

1148109
2015/06/19
Permit

Razing

1148035
2015/06/19
Permit

Asbestos Project

1148036
2015/06/19
Permit

Asbestos Project

1147903
2015/06/17
Permit

Plumbing-Alteration

1147492
2015/06/13
Permit

Plumbing-Seal/Abandon

1147489
2015/06/13
Permit

Plumbing-Seal/Abandon

1147157
2015/06/10
Permit

Asbestos Project

1146172
2015/06/03
Permit

Plumbing-Seal/Abandon

1145170
2015/05/21
Permit

Asbestos Project

1145155
2015/05/21
Permit

Fire Suppression r

1144685
2015/05/15
Permit

Electrical-New

1144540
2015/05/13
Permit

Alteration

1144541
2015/05/13
Permit

Alteration

11264491
2015/01/09
Violation

~~WIS REG #10210 (SOUTH)~~~~Properly maintain emergency in-car telephone

11234101
2014/12/13
Violation

~~WIS REG #8732~~~~Properly maintain hoistway doors or gates~~~~MAKE DOORS OPERABLE / NOTE /

1117543
2014/07/24
Permit

Fire Suppression r

1084542
2013/08/22
Permit

Asbestos Project

ID
Date
Description
Type