Building Info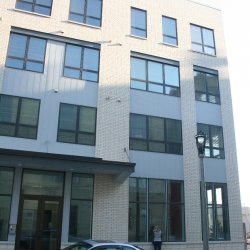 Brewery Point Apartments is a 48-unit apartment building for adults 55 and older at The Brewery. The building by CommonBond Communities was developed using WHEDA affordable housing tax credits.
Construction costs were approximately $8.4 million. The general contractor for the project was Catalyst Construction.
Immediately south of the development a 100-unit apartment building, the Frederick Lofts, is under construction.
Photos
Show All
Activity
ID
Date
Type
Description
ELEV-17-00002
2017/01/05
Permit

Elevator Permit.

11456771
2015/04/30
Violation

FIRE PREVENTION
~~Repair or replace defective fire door
~~Provide self-closing device for fire door
~~IBC 708.13.1 - A shaft enclosure containing a refuse or laundry chute shall, including those from access rooms and termination rooms, shall be protected in accordance with this section. Openings into chutes shall not be located in corridors. Doors shall be self or automatic closing upon the actuation of a smoke detector in accordance with section 715.4.8.3, except that heat-activated closing devices shall be permitted between the shaft and termination room. (Repair or replace tracks and door to ensure proper operation of trash chute fire door at base of shaft in garage area) / 214-3 /

712828
2014/03/21
New Service Request

Garbage on the floor of the trash room. Carpets dirty. No maintenance in building.

10665191
2014/01/31
Violation

Perform fire pump performance tests for inspectorTest cross connection control devices on sprinkler

ID
Date
Description
Type