Press Release
World class cycling returns to Shorewood
New this year, extended race day, additional children's activities , and the return of the cowbell!
On June 27 th , the 16th Annual Shorewood Criterium Cycling Classic, presented by Ascension, will be wheeling into town! Shorewood is excited to once again be a host city for the largest cycling event in the country, the Tour of America's Dairyland. On day 8 of the 11-day tour, Shorewood will welcome 500 cyclists from around the country and abroad as they compete for prizes and primes, while reaching speeds up to 35mph!
For the first time ever, the Shorewood Criterium Cycling Classic will be extended to begin at 10:40 am, with the addition of junior-level races for children 9-and-up. The Decoration Station, sponsored by Little Sprouts Play Cafe, has moved next to No. 1 Chinese on E Kensington Blvd. There, children can decorate their bikes from 4-6pm, in preparation for the Kid's Roll, a race for children 12-and-under sponsored by North Shore Bank. Kid's Roll registration is from 12- 6pm near the start-finish line on N Oakland Ave/E Lake Bluff Blvd and concludes with custard in the Coffee & Bagels parking lot, courtesy of Culver's. (Don't forget your helmets!)
Over a dozen vendors will be set up along N Oakland Ave providing food, drinks, games and giveaways. Be sure to stop by the Ascension tent near the start/finish line to learn about the new Shorewood clinic! Three Lions Pub will once again be throwing their block party with food, drinks and music. This year the pub will also have a kid's zone with a kid's bike track. Shorewood Family Chiropractic will be providing cowbells to help build excitement and cheer on the pros!
The Shorewood Criterium Cycling Classic pr omises an electric energy that will be shared across all racing categories. Four corners and a bonus S-curve on Kensington Blvd., with a big party at the finish, make the Shorewood race the perfect summer event for racers and spectators alike!
Race Schedule
10:40am Junior 9-12 Boys and Girls 11:10am Junior 13-14 Boys and Girls
11:40am Category 4/5 (including Junior 15-16 & 17-18 Boys Cat 4/5)
12:30pm Category 3/4
1:30pm Category 2/3
2:30pm Category 3/4/5 Women 17-18 (including 15-16 & 17-18)
3:20pm Masters 40+, 50+ Cat 1/2/3
4:30pm Junior 15-16 & 17-18 Boys Cat 1/2/3
5:20pm Pro 1/2 Women 6:20pm Kid's Roll
7:20pm Pro 1/2 Men
Mentioned in This Press Release
Recent Press Releases by Shorewood BID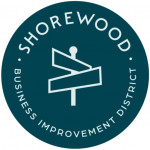 Jun 7th, 2019 by Shorewood BID
New this year, extended race day, additional children's activities , and the return of the cowbell!