Press Release
UW Health Nurses Present Over 1,500 Cards Showing Strong Majority Support for a Union Voice in Meeting with CEO
Nurses say they must have a strong, independent union to solve the growing crisis at UW Health and advocate for safe, quality patient care
Madison, WI- On Thursday, Jan. 13, at 8 am, a group of 11 UW Health nurses met with CEO Alan Kaplan and presented him with over 1,500 cards signed by nurses showing strong majority support for a union voice. More than 100 other nurses stood outside the meeting holding supportive signs to show their unity. Nurses told Kaplan that it is imperative for the UWHCA Board and administration to recognize their union voice so they can work together to solve the growing crisis at UW Health and ensure safe, quality patient care.
"Advocating for my union is about advocating for my community and the children I take care of," said Kelly O'Connor, a registered nurse in the pediatric medical/surgical unit who has worked at UW Health for seven years and attended the meeting. "It's become particularly difficult to do my job because the families we care for are under increased emotional, physical, and financial stress related to the pandemic. Families need our attention now more than ever but with the staffing and retention crisis, it's difficult to give the care they need."
In the meeting with Dr. Kaplan, nurses described the crisis at UW Health, and how it is affecting themselves, their families and their ability to care for their patients. Over many years, UW Health executives have implemented a series of harmful cuts, including to nurses' staffing levels, health insurance and continuing education benefits, resulting in severe difficulties with recruitment and retention. The pandemic has aggravated these long term systemic problems, and many nurses are suffering from extreme physical, mental and emotional exhaustion.
The meeting with Dr. Kaplan comes after more than 400 UW nurses logged on to a forum with Governor Evers on Jan. 5. During that online forum, the governor listened to nurses' urgent concerns, and reaffirmed his strong support for their union. In a statement after the forum, Gov. Evers said:
"I firmly believe that nurses can advocate most effectively for themselves and their patients when they have a union voice and have actual power in the decision-making process while also having the opportunity to hold management accountable around urgent issues such as safe staffing, health benefits, continuing education, and recruitment and retention of nurses," said Gov. Evers. "I want UW Health nurses to know they can count on me to stand with them and do whatever I can to encourage all stakeholders to come together so that the UWHCA Board and administration recognize their union voice."
UW nurses used to have a strong union, but when their last contract expired in 2014, executives used Wisconsin Act 10 as an excuse to not negotiate a new agreement. In October of last year, the Wisconsin Legislative Council, a non-partisan government agency, reviewed all applicable law and concluded that UW Health can voluntarily recognize the nurses' union and start negotiating a contract.
A memorandum from the Legislative Council states that "2011 Act 10 simply deleted the obligation and duty for UWHCA to engage in collective bargaining with its employees, and did not replace the former duty with language prohibiting collective bargaining… [E]mployees may seek…voluntary recognition by UWHCA." The foremost labor attorneys in Wisconsin have come to the same conclusion that Act 10 simply deleted the obligation for UWHC to recognize the nurses' union, but no law whatsoever prohibits voluntary recognition.
"Being a nurse is deeply fulfilling to me because I care for members of our community during some of the most challenging moments of their lives," said Alex Dudek, a registered nurse in the COVID intensive care unit at UW Hospital. "But it is getting harder and harder to care for them safely. Over the last few years, nurses have been asked to care for more patients with more complex needs, but with less resources and less support. We have people on life support who require highly focused one-on-one care, but often we have to care for two or more of these types of patients who may be barely hanging on. If these patients die, we can't help but to carry the weight of their deaths home with us. It's a burden that sits heavily on our shoulders, minds and hearts. After all, it's us nurses – not hospital executives – who coach patients to breathe through the scariest moments of their lives; who hold patients' hands as they die in isolation; who wake up in the dark of night remembering the names and faces of those we've lost. I've had patients who are young parents, and I've had to hold up an iPad while they say their last goodbyes to their children. It's absolutely crushing."
UW Health can certainly afford to make urgent improvements in order to ensure safe staffing, recruitment and retention of nurses, and quality patient care. According to UW Health's October 28, 2021, annual report to the governor and legislature, the system's profits rose 162% in one fiscal year to over $538,107,000 for 2021. Nurses said they will be dramatically ramping up their actions inside and outside the hospital, and continuing to raise public support through social media, press outreach and other means at the local and national level.
"There continues to be a mass exodus of nurses from UW Health, and the nurses who have stayed are exhausted, defeated, some have PTSD and all of us have had enough," said Jill Starkweather, who has been a nurse for 30 years, the last 15 of which have been at UW Health. "UW Health's handling of the latest surge should alarm every elected official and community member. Our patients are our friends, family, and neighbors, so we will not stop until we've won a union voice to protect them."
Mentioned in This Press Release
Recent Press Releases by SEIU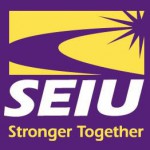 Feb 4th, 2019 by SEIU
Plaintiffs Demand Preservation of State's Constitution; Restoration of Powers to Governor, Attorney General; Immediate Injunction