Press Release
Public Invited to Taste Nation's Best Cheeses at Champion Cheese Charity Event – A Benefit for Hunger Task Force
The Champion Cheese Charity Event – A Benefit for Hunger Task Force opens at 5:30 p.m. Thursday, March 19
MILWAUKEE, Wis. – The U.S. Championship Cheese Contest is coming to town, and with it, an exclusive opportunity for the public to taste dozens of the nation's best cheeses and witness the final round of judging to determine the 2015 U.S. Champion Cheese – all while benefitting a great cause:  the Hunger Task Force.
The Champion Cheese Charity Event – A Benefit for Hunger Task Force opens at 5:30 p.m. Thursday, March 19 in the Ballroom at the Hyatt Regency Hotel in downtown Milwaukee. Tickets are $35 and are on sale now at http://www.hungertaskforce.org/donate/us-championship-cheese-gala/.  All ticket proceeds will go directly to Hunger Task Force with the hosts guaranteeing a donation of at least $10,000 that evening.
An elaborate cheese tasting, chef creations, appetizers and cash bar open at 5:30 p.m. and the Championship Round of Judging begins at 6:30 p.m.  Attendees will witness the final round of cheese judging, as judges determine and name the best-of-show, 2015 U.S. Champion Cheese.
Steve Palec, a Milwaukee radio veteran who has been the host of Rock And Roll Roots on WKLH 96.5 Milwaukee for the past 26 years, will serve as guest MC for the evening.
Attendees will also enjoy unique culinary creations prepared especially for this event from local chef, Michael Feker from Il Mito.  Chef Feker will be on hand to discuss how to use cheese in your everyday recipes.
Cow, goat and sheep milk cheeses sampled are entrants in the 18th biennial U.S. Championship Cheese Contest.  These cheeses will be fresh from the judges' evaluation, arriving from across the U.S.  Fans of great cheese can also visit, free, the first round of judging in the Contest, March 17 & 18 in Exhibit Hall A at the Wisconsin Center from 9:00 a.m. to 4:00 p.m.
For more information, visit: www.uschampioncheese.org/attend/ or contact Jane Cisler at 608-828-4550 or jcisler@wischeesemakers.org.
Mentioned in This Press Release
Recent Press Releases by Hunger Task Force
Nov 13th, 2018 by Hunger Task Force
Extended hours, family-friendly ways to end hunger this season
Jul 19th, 2016 by Hunger Task Force
Co-op's in-store voucher program provides nutritious milk for Hunger Task Force pantry network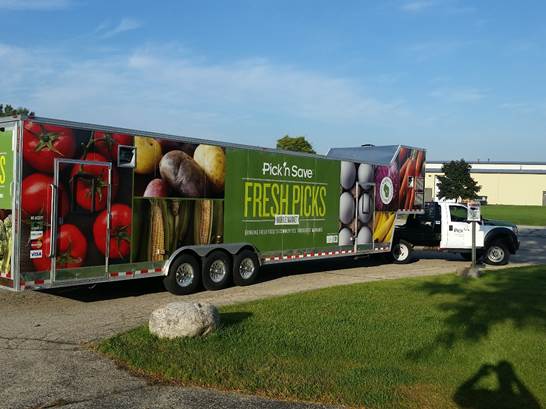 Jun 9th, 2016 by Hunger Task Force
The Mobile Market is stocked with only healthy foods and includes 40+ varieties of fresh fruits and vegetables, and 10+ high-grade meat and dairy items.