Press Release
Paradise is Home: Local artist Rosy Petri's collaboration with authors, inviting Milwaukee artists to pursue publication
Rosy Petri finishes off book tour by demystifying the publishing process and raising programming funds to help Milwaukee's emerging artists
Coming off a "tri-coastal" book tour covering the east, west and "fresh" coasts, Rosy Petri is finishing where she started. In the company of award-winning podcasters-turned-authors Lauren Schiller and Hadley Dynak, she wants to share what she's learned about the publishing process with her community.
Through the month of March, Petri has toured with Schiller and Dynak to promote "It's a Good Day to Change the World," a collection of 30 stories of feminist change to fire you up without burning you out. With interview-based essays from feminists like Gloria Steinem, Sarah Silverman, Betty Reid Soskin, and Favianna Rodriguez, the book offers ways of imagining a better world and concrete steps for building power.
As the book's illustrator, Petri brings to life the book's focus on women's empowerment, solidarity and feminist action with pop art-inspired portraiture. "The visual aesthetic of the book is rooted in the typographic works of Sr. Corita Kent, a pioneering pop art nun and contemporary of Andy Warhol. Sr. Corita used color and texture to convey hope and inspiration, and that's what we wanted to convey with the book. The portraiture is meant to emphasize the dynamic nature of each storyteller, while rooting the book in the tradition of joyful resistance," said Petri.
For Petri, this means giving back to the Milwaukee-based artists working to build their professional practice in our city today. To do this, she's ending the tour with a trio of special events geared toward preparing creatives to take ideas from podcast to publication.
On Friday, March 31, Petri will host a series of three events at the MARN ART + CULTURE HUB to raise funds for the MARNmentorship program:
a Milwaukente block printing workshop, 10 a.m. to 12 p.m.
Happy hour, 5:30 to 6:30 p.m.
Conversation on the publishing industry, 5:30 to 6:30 p.m.
Learn more about these events and buy tax-deductible tickets here.
Proceeds from the fundraiser will go to
MARNmentorship
, a program developed by the
Milwaukee Artist Resource Network
( MARN), where she cut her teeth as a working artist under mentor
Della Wells
before being recognized as an Artist-in-Residence at the
Pfister Hotel
, Nohl Emerging Artist Fellow, Mildred L. Harpole Artist of the Year, and inaugural artist in residence at the bell hooks Center at Berea College.
Tickets to the happy hour or book conversation include a copy of "It's a Good Day to Change the World."
Rosy Petri can be reached for interviews at thisisparadisehome@gmail.com
About the book:
Lauren Schiller and Hadley Dynak, the award-winning team behind the nationally syndicated Inflection Point podcast and radio show about women's power in our modern world, have created an essential guide for action drawn from their interviews with groundbreaking activists, authors, artists, entrepreneurs, and visionaries who have mobilized change and can show us the way. In It's a Good Day to Change the World, readers learn from established icons and meet new ones, too. From Ijeoma Oluo to Sarah Silverman, each trailblazer's story features firsthand narratives and vibrant illustrations. The authors highlight key takeaways for change, along with strategies to keep going.
On Thursday, March 30, Petri and the book's authors will be leading a talk on the book at Boswell Book Company from 6:30 p.m. to 7:30 p.m. More information and free registration here.
About Rosy:
Rosy Petri fuses portraiture and storytelling as an act of witness. She's been an Artist-in-Residence at the bell hooks center and Pfister Hotel, a Nohl Emerging Artist Fellow, and Mildred Harpole Artist of the Year. She illustrated the new book It's a Good Day to Change the World. Her art and fine craft can be found at www.thisisparadisehome.com.
Mentioned in This Press Release
Recent Press Releases by Milwaukee Artist Resource Network
Mar 21st, 2023 by Milwaukee Artist Resource Network
Rosy Petri finishes off book tour by demystifying the publishing process and raising programming funds to help Milwaukee's emerging artists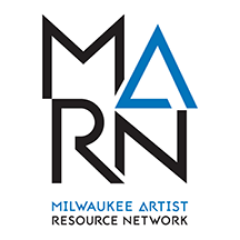 Apr 29th, 2022 by Milwaukee Artist Resource Network
For the 18th year this July, the Milwaukee Artist Resource Network's hallmarkmentorship program returns, with a focus on intergenerational exchange
Mar 1st, 2022 by Milwaukee Artist Resource Network
The Milwaukee Artist Resource Network's first exhibition of 2022 explores how to make sense of contradictory expectations with three events in its final month