Press Release
Milwaukee Opera Theatre presents: VICTORY FOR VICTORIA
A premiere
Music by Alissa Rhode / Lyrics by Peggy Peterson Ryan / Book by Susan Peterson Holmes
An original musical about Victoria Woodhull, the first woman to run for the presidency of the United States. Just in time for election season!
Dates:
Thursday, October 27 at 7:30 PM (preview)
Friday, October 28 at 7:30 PM (opening night)
Saturday, October 29 at 4 PM and 7:30 PM
Sunday, October 30 at 2 PM
Tickets: $28 General Admission / $18 Student, Artist / $16 Preview
Order online at milwaukeeoperatheatre.org or by calling 1-800-838-3006
Location: Wauwatosa Woman's Club, 1626 Wauwatosa Avenue, Wauwatosa WI 53213
Stage Direction: Jill Anna Ponasik Music Direction: Brian Myers
Featuring:
Allie Babich as Victoria Claflin Woodhull
Katy Johnson as Tennessee (Tennie) Claflin
Joel Kopischke as Reuben (Buck) Claflin
Nathan Wesselowski as Dr Canning (Doc) Woodhull
Samantha Sostarich as Josie Mansfield
Adam Estes as Col. James Blood
Bryce Lord as Cornelius Vanderbilt and the Rev Henry Ward Beecher
Diane Lane as Susan B. Anthony
Cecilia Davis as Isabella Beecher Hooker
Rick Pendzich as Anthony Comstock
VICTORY FOR VICTORIA:
Based on the life of Victoria Woodhull (1838-1927), Victory for Victoria traces the life of this pioneering feminist from obscurity to prosperity. Guided by spirit visions, she overcomes childhood poverty and an abusive early marriage, becoming the first female stockbroker on Wall Street, the first woman to address Congress, and the first woman to run for President. She galvanizes the women's suffrage movement with her bold advocacy of women's political, economic, and sexual equality, but her career crashes after she exposes the adultery of America's beloved clergyman Henry Ward Beecher. A multifarious and fascinating character study, Victory for Victoria examines Woodhull's life and legacy in all its complexity. Milwaukee Opera Theatre presented Victory for Victoria in a staged reading in 2013 and is proud to present its fully staged premiere this season. Fiercely committed to the development of new works, Milwaukee Opera Theatre has produced 7 new music-theater pieces in as many years: Fortuna the Time Bender vs. The Schoolgirls of Doom!, Guns N' Rosenkavalier, The Eurydice Project, The One
Stop Opera Shop, Lucy, Thank You. NEXT?, and now, Victory for Victoria.
BIOS:
Alissa Rhode (composer) holds a Bachelor's in Music Composition from the University of llinois and a Master's in Liberal Studies from UW-Milwaukee's Century for 21st Century Studies. She serves as Lead Music Director for the First Unitarian Society of Milwaukee and works extensively as a freelance music director, arranger, composer, performer and private teacher. Alissa's piano/vocal stylings have been featured on WPR's "Tent Show Radio," and she has collaborated with companies such as Northern Sky Theater, Milwaukee Chamber Theatre, First Stage, Children's Theater of Madison, Skylight, Door Shakespeare, Theatre Gigante & Lake Superior Big Top Chautauqua. New work in development includes the score for Dairy Heirs, a family farming musical conceived by Joel Kopischke. Recent projects include music direction for Northern Sky Theater's 20th anniversary production of Lumberjacks in Love, as well as music direction for Children's Theater of Madison's October production of The American Girls Revue™. This fall has been particularly devoted to artistic explorations of history and strong female characters.
Peggy Peterson Ryan (lyrics) received her B.A in English Literature from
Carroll University
. After a brief career as a public relations account executive, she opted to work on- and off-stage in all areas of the performing arts for several local and regional theaters, including Skylight Music Theatre, First Stage Children's Theatre, Broadway Baby Dinner Theatre, M&W Productions, and Great-American Children's Theatre. Highlights of Peggy's theatrical career include touring nationally and internationally as an illusion assistant, recording numerous voice-overs and jingles, and performing in industrial shows. She currently serves as the producer/director of SideNotes Cabaret Series at Sunset Playhouse and resides in Waukesha.
Susan Peterson Holmes (book) received her B.A. in English/Art from Carroll University. She has enjoyed a varied career in such diverse fields as copywriting/graphic design, retail, publishing, substitute teaching, and music. As a choral or solo singer, Susan has performed with the Sullivan Ensemble, Milwaukee Opera Company, UWM Opera Theatre, Master Singers, and Plymouth Chorale. She serves as a professional church soloist and currently resides in Germantown.
ABOUT VICTORIA WOODHULL
In an era marked by strict sexual and social mores, Victoria Woodhull's candidacy for the presidency of the United States was radical – even more so when one considers that women had not yet received the right to vote. Her stance on such issues as women's suffrage and divorce were foundational to the cause of first-wave feminism and laid the groundwork for subsequent social reforms. Because of the controversial nature of some of her views, her name was initially expunged from the history of women's suffrage, but a more thoughtful reassessment of her life and contributions began in the latter half of the twentieth century. Ultimately, her legacy continues to be felt long after her death, and history will remember her as a forceful instigator of revolutionary social change. In our own times, when the role of women in public service has never been so prominent, Woodhull's story reminds us of the long road women have trod toward achieving sexual equality, and the struggles they continue to face in the current highly-charged political climate.
ABOUT OUR VENUE
The Wauwatosa Woman's Club was founded in 1894 and is open to all women in the Wauwatosa community and surrounding areas. The clubhouse has been a place for women to gather, enjoy each other's company, learn, grow, and support each other and the community since it was built in 1925.
The following excerpt from Memoirs of the Wauwatosa Woman's Club encapsulates the Club's unique mission: "Our club offers opportunities for service, for culture, for inspiration. Every member may find here a way of life and a challenge to the highest development. Our lovely Georgian Club House is not only built of steel, stone, bricks and mortar. It is built from the dreams of its founders, the faith of its leaders and the labor of its members. It offers to all who come to serve windows that look out on the heights of ever widening horizons. May the sun never set on its ambitions, its activities and its usefulness."
"The day may be approaching when the whole world will recognize woman as the equal of man."
~Susan B. Anthony
"I come before you to declare that my sex are entitled to the inalienable right to
life, liberty, and the pursuit of happiness."
~Victoria Woodhull
Mentioned in This Press Release
Recent Press Releases by Milwaukee Opera Theatre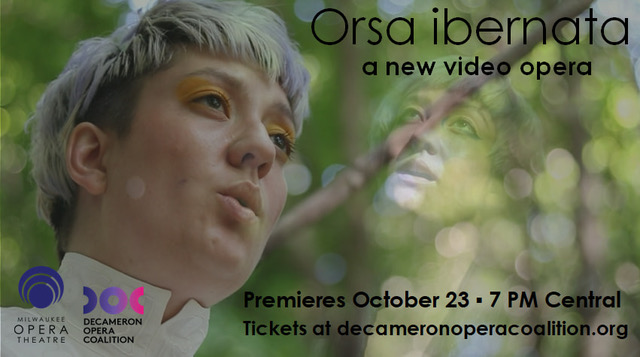 Oct 8th, 2019 by Milwaukee Opera Theatre
Ancient Prophecies | Modern Revelations. Music by Orlande de Lassus and Amanda Schoofs | Poetry by Amanda Schoofs