Press Release
Milwaukee County Treasurer Caught Cheating in Son's Election
This is not just a matter of someone using someone else's signs.
The spring election for 15th District Milwaukee County Supervisor has come down to a matter of substance vs. last name… experience vs. family legacy.
That is all the more evident by the recent discovery that Eddie Cullen has been manipulating his father's (David Cullen) old yard signs for use in his own race. Not only does a basic strip of red tape replacing David's name with his own expose him as a proxy candidate, it also breaks basic campaign finance rules.
As of today, these signs have yet to be recorded as any kind of contribution and the "paid for by" disclaimer still bears the name of his father's committee.
Any candidate will tell you that it is easy to make a mistake. No single campaign is immune from flaws.
But this is not just a matter of someone using someone else's signs.
While Eddie Cullen may still be naïve, David Cullen certainly is not. He is a degreed lawyer, lifelong politician and currently holds an influential position in County government.
This was a deliberate attempt to skirt the rules, avoid contribution limits, game the system for personal expediency and cheat to get his son elected to fill the seat he abandoned.
The 15th District and Milwaukee County as a whole deserves better.
Mentioned in This Press Release
Recent Press Releases by Nick Hunt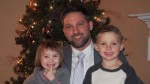 Jan 5th, 2015 by Nick Hunt
Local entrepreneur Nicholas (Nick) Hunt has officially entered the race for 15th District County Supervisor.