Press Release
Miami HEAT's Dwyane Wade makes gift to Marquette University to enhance literacy for inner-city children
Marquette University alumnus and Miami HEAT star Dwyane Wade has given a gift to the university's Ralph C. Hartman Literacy and Learning Center.
MILWAUKEE – Marquette University alumnus and Miami HEAT star Dwyane Wade has given a gift to the university's Ralph C. Hartman Literacy and Learning Center to help improve the region's literacy gap among inner-city children. Wade, who attended Marquette University from 2000 to 2003, made the gift through his Wade's World Foundation which provides support to community-based organizations that promote education, health and social skills for children in at-risk situations.
"We believe that every child deserves a shot, and I am proud to impact children on the very same campus of Marquette University where I was a student," said Dwyane Wade. "My hope is that the children will envision themselves as future Marquette students where they can one day transform their lives through higher education."
Wade is providing the lead gift to launch the Dwyane Wade "Live to Dream" Summer Reading Program. The program, to be hosted by the Hartman Center, will be open to second- and third-graders from Milwaukee. The Hartman Center is a teaching, research and service site where Marquette University undergraduate teachers in training tutor inner-city Milwaukee school children who struggle with reading and math. Wade will donate $65,000 a year for three years and is challenging others in the Marquette community to match that amount to fund the program for a full six years. The program will begin in 2015 through 2020.
"While Dwyane has made an impression on basketball fans across the world, there is no greater gift and impact one can make than in giving back to the community for an important cause," said President Michael R. Lovell. Earlier this fall, President Lovell met with Dwyane's sister, Tragil, who is the executive director of Wade's World Foundation. "I was impressed with how Tragil, Dwyane and the entire foundation staff have adopted literacy as a core focus area," President Lovell said.
The foundation has supported several community-based organizations focusing on literacy. Wade previously donated 18,000 books to the Miami-Dade and Chicago Public Schools libraries (1,000 books per point scored during a 2013 Miami Heat vs. Chicago Bulls game). In 2012, he became a New York Times bestselling author with the release of his first book, A Father First: How My Life Became Bigger Than Basketball. Additionally, Wade and bestselling author James Patterson have teamed up numerous times for a series of discussions about their love for books and the impact reading can have.
"Marquette has always been a champion of literacy, and this significant gift from Dwyane Wade and his foundation will give more children at risk of reading failure a much greater chance at a high quality of life," said Dr.
William Henk
, dean of the College of Education. "To ensure their success in today's world, we need to help them become skilled and confident in terms of their ability to read, write and listen."
The "Live to Dream" Summer Reading Program will provide free transportation for children to and from the Hartman Center on Marquette's campus. It builds off the center's existing school-year reading program for second- and third-grade students. More than 800 prospective Marquette teachers have tutored approximately 2,800 kids in the Hartman Center's 20-plus years on campus. In addition to the free tutoring services to approximately 150 low-income children annually, the center conducts research related to children's growth and learning.
To kick-off the "Live to Dream" Summer Reading Program, a book drive will be held in conjunction with the December 6 Marquette vs. Wisconsin men's basketball game at the BMO Harris Bradley Center. New and gently used books appropriate for elementary-age children will be collected and provided to the Hartman Center and partnering schools.
Interested donors for the "Live to Dream" Summer Reading Program can do so through an online site, marquette.edu/livetodream, or by contacting Kelley McCaskill, director of development at Kelley.McCaskill@marquette.edu.
Dwyane Wade's Marquette University History
While attending Marquette from 2000 to 2003, Dwyane Wade became one of the most decorated players in the school's history, playing two seasons. He recorded a career 19.7 points per game scoring average, and became the first Marquette player in 24 years to earn both Associated Press First Team All-American honors and First Team All-American honors by the United States Basketball Writers. Chosen as the fifth overall selection by the Miami HEAT in 2003, he is the highest drafted player from Marquette University. Wade's ascent has continued as a three time NBA Champion, ten-time All-Star, and winner of a gold medal at the 2008 Beijing Olympics.
Wade, who has often said Marquette is the place where he "became a man," has remained active with his alma mater, most recently partnering with Marquette University and the Boys and Girls Club of America scholarship winners. When visiting with the scholarship winners in 2011, Wade said in a video, "Coming here to Marquette and getting that basketball scholarship to come here was the best thing that happened to me. To me it feels great that I can help give them an opportunity in life to be able to succeed."
About Marquette University's College of Education
For more than 90 years, Marquette University's College of Education has helped prepare individuals to work as professionals in public and private school settings. The college's undergraduate programs position students for teaching in elementary, middle and secondary schools, and graduate programs prepare students for several roles including: counselors who work in schools and other human service organizations, master teachers, school principals and superintendents, private practice counseling psychologists, and higher education faculty and administrators.
About Wade's World Foundation
The mission of Wade's World Foundation is to help inspire and provide support to community-based organizations that promote education, health and social skills for kids in at-risk situations so they have the necessary tools they need to leave a positive footprint within their community and succeed in their life experiences. Since the foundation launched in 2003, Wade and his family have been committed to giving back in Chicago, South Florida and throughout the country.  More information on Wade's World Foundation can be found at www.wadesworldfoundation.org.
Mentioned in This Press Release
Recent Press Releases by Marquette University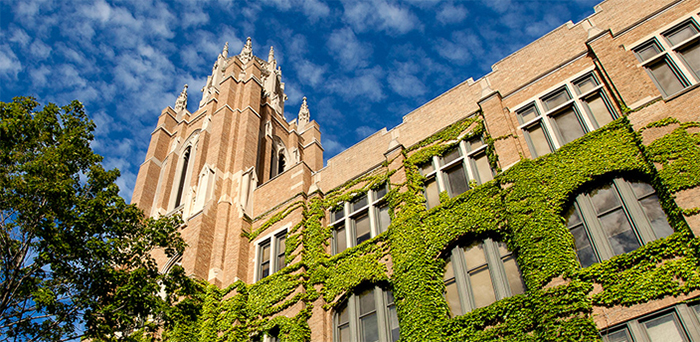 Jan 24th, 2022 by Marquette University
Marquette University and TMJ4 News will co-host a series of televised political debates as Wisconsin voters prepare to go to the polls in three high-profile 2022 elections.