Press Release
Mary L. Nohl Fellowship Panelists to Give Public Talk at the Haggerty Museum, November 9
The event is free and open to the public.
The fifteenth cycle of the Greater Milwaukee Foundation's Mary L. Nohl Fund Fellowships for Individual Artists program continues with the appointment of a panel of recognized visual arts professionals to select five Fellows from among 142 eligible applicants. Michelle Jacques, Chief Curator, Art Gallery of Greater Victoria, Canada; Allison Peters Quinn, Director of Exhibitions & Residency Programs, Hyde Park Art Center, Chicago; and Gabriel Ritter, Curator and Head of Contemporary Art at the Minneapolis Institute of Art, will arrive in Milwaukee on Thursday, November 9, 2017 and will be welcomed at an informal reception at 6 pm at the Haggerty Museum of Art, 13th and Clybourn Streets, on the Marquette campus. The panelists will offer brief overviews of their home institutions and curatorial interests beginning at 6:30 pm. The event is free and open to the public.

Funded by the Greater Milwaukee Foundation's Mary L. Nohl Fund and administered by the Bradley Family Foundation, the Mary L. Nohl Fund Fellowships for Individual Artists provide unrestricted funds for artists to create new work or complete work in progress. In addition to receiving an award, the Nohl Fellows can participate in an exhibition at the Haggerty Museum opening in June 2018. An exhibition catalogue will be published and disseminated nationally. The program is open to practicing artists residing in the four-county area (Milwaukee, Waukesha, Ozaukee, and Washington counties). The program also includes a Suitcase Fund for exporting work by local artists beyond the four-county area.

The panelists will spend two days reviewing work samples and artists' statements and visiting the studios of up to seven finalists in the Established Artist category. The two Established Artist awards, worth $20,000 each, and the three $10,000 Emerging Artist awards will be announced on Monday, November 20, 2017.

About the Jurors
Michelle Jacques is currently the Chief Curator at the Art Gallery of Greater Victoria (AGGV), Canada, where she is responsible for guiding a curatorial and education program that links contemporary practices, ideas, and issues to the Gallery's historical collections and legacies. Since joining the AGGV, she has curated exhibitions with contemporary artists Carol Sawyer, Rodney Sayers and Emily Luce, Gwen MacGregor, and Hiraki Sawa; co-curated major retrospectives of the work of the Canadian artists Anna Banana and Jock Macdonald; and developed a series of installations that use the Gallery's collection to evoke cross-cultural conversations. Prior to moving west, she held various roles in the Contemporary and Canadian departments of the Art Gallery of Ontario, Toronto; was the director of programming at the Centre for Art Tapes in Halifax; and taught courses in writing, art history, and curatorial studies at NSCAD University, University of Toronto Mississauga, and OCAD University.

Allison Peters Quinn is a curator and writer based in Chicago. Over the past ten years, her work has been focused on projects that address intersections between art, public space, and civically-minded practices. Her essays have appeared in art anthologies including Service Media: Is it Public Art or Art in Public Space (2013), and The Artists Run Chicago Digest (2009) in addition to Proximity Magazine and artists' monographic publications on Cándida Alvarez, Susan Giles, Jefferson Pinder, William Steiger, and Rodrigo Lara Zendejas, to name a few. Awarded the Ramapo College Curatorial Prize, Quinn has served as juror for national art organizations including the Artadia Award, Efroymson Award, Oklahoma Visual Arts Fellowship, and the Ragdale Foundation, among others. She has organized significant exhibitions for emerging and established contemporary artists such as Bibiana Suarez, Theaster Gates, and Karen Reimer. She received an MA at the Center for Curatorial Studies, Bard College, and a BA at the University of Wisconsin – Madison. Quinn is currently the Director of Exhibition & Residency Programs at Hyde Park Art Center and teaches at the University of Chicago Graham School.

Gabriel Ritter assumed the role of Curator and Head of Contemporary Art at the Minneapolis Institute of Art (Mia) in May 2016. Since that time, Ritter has organized Now Where Were We?, an encyclopedic reinstallation of the Contemporary permanent collection galleries in collaboration with LA-based artist Dave Muller. Upcoming projects at Mia include a three-month long residency and solo exhibition with New York-based artist Aliza Nisenbaum, as well as the first U.S. museum survey for acclaimed Japanese artist Shinro Ohtake. Prior to his appointment at Mia, Ritter served as the Nancy and Tim Hanley Assistant Curator of Contemporary Art at the Dallas Museum of Art for four years. There he oversaw the long-running Concentrations series focusing on internationally emerging and underrepresented artists including Lucie Stahl, Margaret Lee, Chosil Kil, Slavs and Tatars, and Stephen Lapthisophon. Ritter specializes in postwar and contemporary Japanese art, and served as the co-organizing curator for the exhibition Between Action and the Unknown: The Art of Kazuo Shiraga and Sadamasa Motonaga (2015) and editor of the accompanying scholarly catalog. In 2013, he was selected as one of the first non-Japanese curators for the triennial exhibition Roppongi Crossing 2013: OUT OF DOUBT at the Mori Art Museum, Tokyo. Ritter holds a PhD in art history from the University of California, Los Angeles, where he also earned his MA in art history.

For more than a century, the Greater Milwaukee Foundation has helped individuals, families and organizations realize their philanthropic goals and make a difference in the community, during their lifetimes and for future generations. The Foundation consists of more than 1,300 individual charitable funds, each created by donors to serve the charitable causes of their choice. The Foundation also deploys both human and financial resources to address the most critical needs of the community and ensure the vitality of the region. Established in 1915, the Foundation was one of the first community foundations in the world and is now among the largest.

For further information about the Greater Milwaukee Foundation's Mary L. Nohl Fund Fellowships for Individual Artists program, please visit lynden.art/nohl.
Mentioned in This Press Release
Recent Press Releases by Lynden Sculpture Garden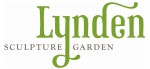 Dec 13th, 2018 by Lynden Sculpture Garden
Expect performances from former Nohl Fellows, Suitcase awardees, their families, and friends.

Nov 21st, 2018 by Lynden Sculpture Garden
In December, the Lynden Sculpture Garden is open from 10 am to 5 pm every day except Thursdays (closed).

Sep 20th, 2018 by Lynden Sculpture Garden
Admission is $9 general, $7 for students and seniors. Members and children under 6 are free.