Press Release
Marquette President Michael R. Lovell delivers fifth Presidential Address, announces new initiatives
Creation of Institute for Women's Leadership, $250,000 President's Challenge grant winner and varsity esports team announced
MILWAUKEE — Marquette University President Michael R. Lovell spoke about the state of the university and implementation of Marquette's strategic plan, Beyond Boundaries, and announced several new initiatives and three Difference Maker Award winners during his fifth Presidential Address on Jan. 23, 2019.
$5 million gift will establish a research-based Institute for Women's Leadership Building upon its historic role as the first co-educational Catholic university in the world beginning in 1909, Marquette will establish a research-based Institute for Women's Leadership. The institute is expected to launch in summer 2019, and will focus its efforts on research, leadership development programming and networking opportunities related to women's leadership topics and gender equality in education and the workplace.
The new Institute for Women's Leadership will help Marquette develop cutting-edge research to influence the national discussion on gender inequality, as well as enhance leadership and career development programming serving women on campus and in the community. Research will explore development and evaluation of strategies for providing equitable and effective access to leadership opportunities in order to create proven solutions that can be optimized for different contexts and implemented at other universities and corporations.
"Gender equity and inclusive representation in the workforce and education at all levels are critical topics both nationally and within our campus community at Marquette," President Lovell said. "I am personally committed to raising the profile of female leaders on campus and ensuring we have the right support systems and leadership development opportunities available for emerging women leaders, and now we have an institution-wide commitment in the new Institute for Women's Leadership."
The creation of the Institute for Women's Leadership was made possible by a generous $5 million gift from the Thomas J. Rolfs Family Foundation. The institute will be overseen by Marquette's Office of Research and Innovation. A faculty director will be named, and a to-be-determined space on campus will be designated for the institute.
$250,000 President's Challenge grant awarded to team of faculty and community organizations
At last year's Presidential Address, President Lovell announced a President's Challenge grant award opportunity focused on addressing inequities in Milwaukee neighborhoods. Developed in partnership with the Johnson Controls Foundation, the President's Challenge will provide a $250,000, two-year grant for one interdisciplinary, collaborative proposal that seeks to change the trajectory of lives in our community by addressing one or more of the critical areas in which neighborhood inequities exist, including health, education, safety, housing, transportation and economic prosperity.
Grady Crosby, vice president of public affairs and chief diversity officer at Johnson Controls, announced the grant winner at the Presidential Address. The winning proposal, led by Dr. Amy Van Hecke, associate professor of psychology, along with Marquette nursing, education, counseling psychology, computer science, communication, psychology, and speech pathology and audiology faculty members, is titled, "Next Step Clinic: A Partnership Targeting Mental and Developmental Health for Milwaukee's Underserved Children and Families."
The proposal was submitted in collaboration with the Milwaukee Coalition for Children's Mental Health, Mental Health America of Wisconsin, Milwaukee Area Technical College, MIRACLE Network, Next Door Foundation, True Love Baptist Ministries, and Milwaukee Succeeds Kindergarten Readiness Partnership/United Way of Greater Milwaukee & Waukesha Counties.
The Next Door Foundation, located in the Metcalfe Park neighborhood of Milwaukee, has an empty space that will be transformed into the Next Step Clinic to serve Milwaukee children and families struggling with mental health and developmental concerns. The clinic will seek out and serve Milwaukee families adversely impacted by racial and socioeconomic health disparities, with an additional focus on families who have been affected by Adverse Childhood Experiences (ACEs), trauma or chronic toxic stress and developmental delays.
"The Next Step Clinic is a truly inter-disciplinary, collaborative idea that will provide a centrally located site for comprehensive, trauma-informed evaluation, assessment and treatment of mental and developmental health conditions of Milwaukee children and their caregivers," President Lovell said. "Thanks to the generosity of the Johnson Controls Foundation, the Next Step Clinic will help bridge the gap between families and service providers, providing a unique response to the pressing issue of health disparities in our city. As someone who experienced childhood trauma myself, I know firsthand just how important these types of services are, and I'm thrilled that so many organizations have come together to be a part of the solution."
True Love Outreach Center, the MIRACLE Network and MATC will also offer space for mental and developmental health screenings and educational sessions to form a city-wide referral pipeline for the Next Step Clinic. The clinic will also serve as a training site for graduate students, increasing the number of professionals trained in these areas, and serving children and families, for generations to come.
Proposals were due in April 2018 and in order to be eligible for the grant, teams had to be made up of at least five people, including at least one faculty member from each of the following areas: humanities, social sciences and STEM-related disciplines, as well as a substantial partnership with a Milwaukee community organization.
Marquette is first major conference NCAA Division I institution to add a varsity esports program in athletics
President Lovell also announced the creation of a Marquette varsity esports team, which will be the first in the nation to be run by a major conference Division I athletics program. Esports – the world of organized video gaming – mirrors the traditional athletics team model with many of the same benefits for players: leadership development, teamwork, communication and the pursuit of excellence.
The new varsity team will be managed by the Department of Intercollegiate Athletics, in close collaboration with the Division of Student Affairs, the Klingler College of Arts and Sciences, and the Office of Admissions. When it launches in fall 2019, Marquette's varsity esports team will be run like any other varsity sport – there will be tryouts, a coach will be hired, regular practices will be held and the team will represent Marquette at esports tournaments.
"Being named after an explorer means it's in Marquette's DNA to define the opportunities of tomorrow and ensure we're anticipating what future students will expect," President Lovell said. "Marquette embraces new methods of teaching and areas of study, and esports and gaming in general have the potential to impact both, while also helping to strengthen our student recruitment prospects in an increasingly competitive environment."
With the estimated global audience of esports expected to increase to 580 million people by 2020, the creation of the varsity esports program aligns with Marquette's ongoing commitment to support a variety of student interests and provide innovative avenues for student success.
Marquette will work with corporate partners and donors to build an area for the varsity esports team to practice together on campus, which will include multiple gaming systems, a dedicated broadcast and production station, and a casual, console gaming area. When not being used by the varsity esports team, the space will be available to student groups and activities.
Marquette has had an esports club team since 2015. About 40 students, mainly in STEM fields of study, participate in the club team, which represents Marquette at BIG EAST-sponsored esports tournaments.
For more information about esports, visit GoMarquette.com/esports.
Difference Maker Awards
In addition to the new initiatives, President Lovell gave out three Difference Maker Awards to faculty, staff and students who have gone above and beyond the call of duty to positively impact an individual, group or community organization. This year's recipients were:
Katie Simet, assistant director for academic services in Intercollegiate Athletics, along with 15 student-athletes who travelled to Costa Rica to build a basketball court for underserved kids, in partnership with the nonprofit Courts for Kids.
Angela Schultz, assistant dean for public service at Marquette University Law School, for her leadership of the Milwaukee Justice Center, a collaboration among Milwaukee County Clerk of Courts, Milwaukee Bar Association and the Law School. The Milwaukee Justice Center addresses unmet legal needs of low-income individuals through court-based programs and legal resources.
Malaina Moore, a junior in the Diederich College of Communication and the playwright behind "White Privilege," a play about how the color of one's skin can lead to a very different experience of the world. The play was selected for the regional Kennedy Center American College Theater Festival in Madison.
Mentioned in This Press Release
Recent Press Releases by Marquette University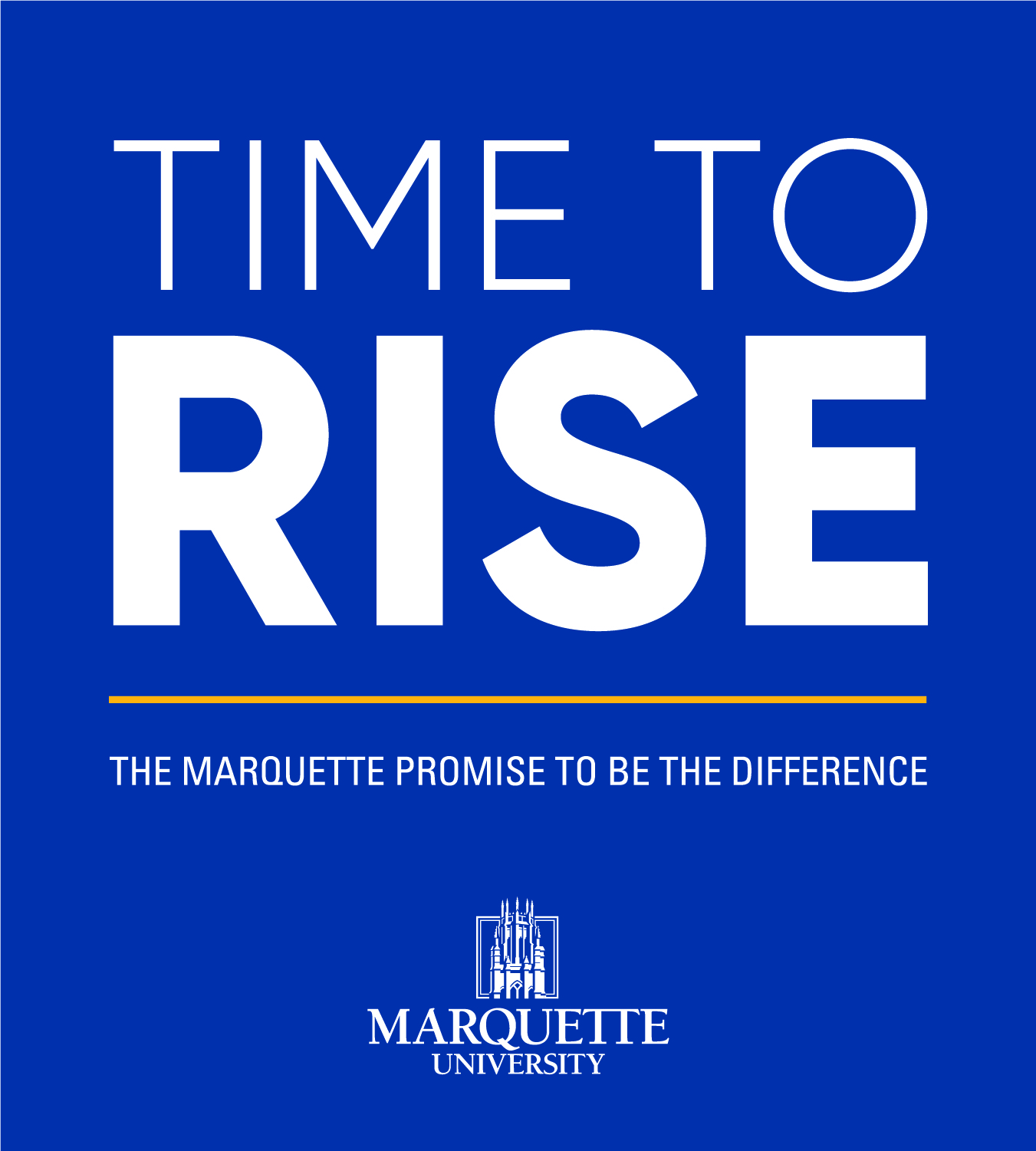 Apr 8th, 2021 by Marquette University
Time to Rise is largest comprehensive fundraising campaign in university history